The Frigo Cheese Heads Build a Bright Future program is giving out $150K in grants and educational prizes. Applications will be accepted now  through December 2nd. Anyone ages 8-15 with big dreams can apply with the help and permission of a parent or guardian. A total of 35 winners will earn their share of $75,000 in cash prizes, along with educational prizes worth a total of $75,000, in early 2024.
How to apply: United States-based applicants ages 8-15 will create a short video and answer two questions about their creative idea/business. We want to learn how you will use your grant money to push that idea forward. Frigo Cheese also wants to know how your project can help make your community a better place. With the help and permission of a parent or guardian, you can submit your entry.
Eligibility: open to permanent legal residents of the fifty (50) United States or District of Columbia who are over eighteen (18) years of age and the parents or legal guardians of a child between eight (8) and fifteen (15) years of age
Entry Dates: October 2, 2023 – December 2, 2023 at 11:59 pm ET
Entry Limit: one entry per household
Important! By applying, the parent or legal guardian of the Applicant represents that his/her/their Application is the Applicant's original work; that neither the Application itself nor the act of preparing the Application infringes or infringed on the property rights or other rights of any third party; and that the Application has not been submitted in any other contest or won any award in any contest. Modifying, enhancing or altering a third party's pre-existing work does not qualify as Applicant's original creation. Applications must be created solely by the Applicant without the use or assistance of AI or AI like tools currently available or to be developed (e.g. ChatGPT, Google Bard, Nightcafe, Starry AI, etc.)
Your 30-second–1-minute video pitch should address the following:
Written responses to brief demographic and contact questions
Please upload a video of yourself between 30 seconds and 1 minute.
Written responses to the following prompts
Please share your dream with us! Describe the current or future business, nonprofit, side hustle or passion that you'd like us to help fund.
Word count limit: 200
Please include information about where you are in the process: Have you launched your business or project? Or is this an idea you are hoping to get off the ground with some financial help and mentoring? How is it unique and creative?
Word count limit: 200
Share with us a little bit more about how this idea will improve and help your community. If it's already launched, tell us about the impact you've already made.
Word count limit: 100
We want to know about you, too!
All entrepreneurs have a "why" — it's their reason for caring about their idea or cause. What's your "why?" Why do you care about this issue or cause? Do you remember the spark that made you care?
Word count limit: 100
Thinking ahead, where would you like to see your idea/project/business go in the next five years?
Word count limit: 100
Judging Criteria: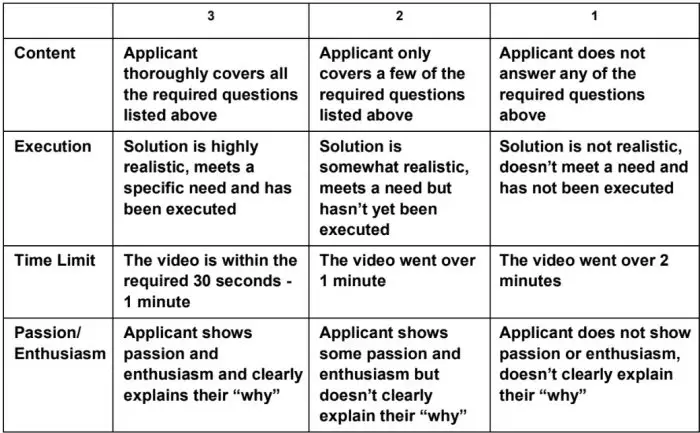 Prizes: The prizes distributed will equal $75,000 in cash prizes and $75,000 in mentorship and educational programming prizes, distributed in the following way:
Five (5) Grand Prizes are available, each consisting of:
$5,000 cash awarded in the form of a check distributed by WIT to be used to support the winner's creative idea/business to help make the world a better place
Leadership education: Participation in a custom, four-week virtual leadership/entrepreneurial/creativity education course, hosted by WIT, during the spring of 2024
Mentorship program: Includes four virtual meetings of one hour in length each with to-be-determined leaders, such as CEOs, entrepreneurs and influencers, one of whom will be an executive of Sponsor.
Leadership network: Free access for one (1) year to the WIT community, which includes networking opportunities, access to further education and other like-minded entrepreneurial youth
Ten (10) First Prizes are available, each consisting of:
$3,000 cash awarded in the form of a check distributed by WIT to be used to support the winner's creative idea/business to help make the world a better place
Leadership Education: Participation in a custom, four-week virtual leadership/entrepreneurial/creativity education course, hosted by WIT, during the spring of 2024
Leadership network: Free access for one (1) year to the WIT community, which includes networking opportunities, access to further education and other like-minded entrepreneurial youth
Twenty (20) Honorable Mention Prizes are available, each consisting of:
$1,000 cash awarded in the form of a check distributed by WIT to be used to support the winner's creative idea/business to help make the world a better place
Leadership education: Participation in a custom, four-week virtual leadership/entrepreneurial/creativity education course, hosted by WIT, during the spring of 2024
Leadership network: Free access for one (1) year to the WIT community, which includes networking opportunities, access to further education and other like-minded entrepreneurial youth