Join me on Facebook "Live" on Monday, August 22nd at 5:30 pm ET for your chance to win @Townleygirl Disney products. I will be hosting a TownleyGirl Live Facebook party with my grandkids, sweetieskidz.com. We will be showing you some of the licensed Disney products that TownleyGirl sells and giving you the chance to win them too! There will be 15 winners in all.
Official Rules: You have until Wednesday, August 24th at midnight ET to enter each giveaway. One entry per person is allowed using one email address for each giveaway. Open to US residents, 18 and older. Your information will remain private and only shared with TownleyGirl who will ship out the prizes. Winners will be notified by email and listed here. This giveaway is hosted by Sweeties Sweeps/Sweeties Kidz and townleygirl and as such participants may receive information or special offers by email from townleygirl.com. This promotion is in no way sponsored, endorsed or administered by, or associated with Facebook. By entering these giveaway you will be added to Sweeties email notifications list. You are not obligated to remain on this email list after the winners have been chosen.
If you missed the Live Facebook party you can use these links to enter for each of the products we showed.
ENTRY FORMS:
You have until August 24th to enter. One entry per person per giveaway. Open to US residents, 18 and older.
BONUS ENTRIES:
Disney Frozen Non-Toxic Nail Polish Set – 5 Winners
Buy it at townleygirl.com
Eighteen different shades of nail polish feature a different Frozen character. Use them as party favors or let her keep them all! With all these colors, she can alternate or mix and match. It's all a part of the fun!
18 piece peelable nail polish set
Polish is bubble gum flavored
Polish shades include: pink, yellow, green, orange, sky blue, dark blue, red, and more
Disney Frozen packaging; each bottle features a Disney Frozen character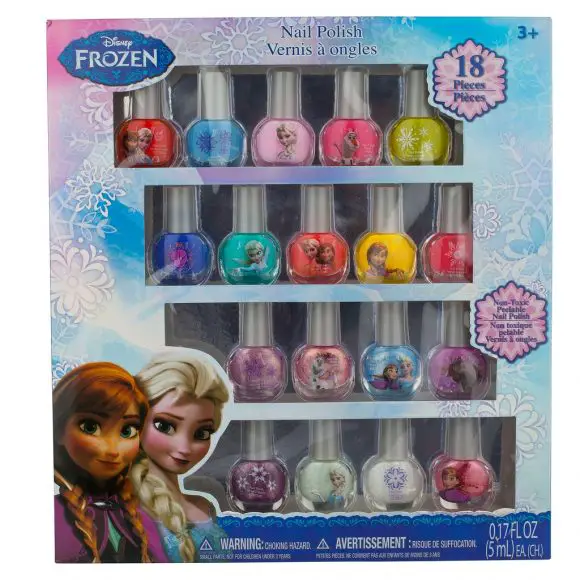 Disney Frozen Cosmetic Set – 5 Winners
Buy it at townleygirl.com
Every Frozen fan will love playing dress-up with this sparkly Cosmetic Set. The set comes with nail polishes and lip glosses she'll treasure. Plus, there's a dressy cosmetic bag and a hard travel case, each decorated with pictures of Anna and Elsa.
Assortment contains lip gloss compact, 2 lip tubes, 2 nail polishes, and a pouch all packaged in a hard travel case
Colors and flavors include: rose strawberry lipgloss; purple bubblegum and pink cotton candy lip tubes; fuchsia and purple nail polish
Disney Frozen packaging featuring Disney Frozen characters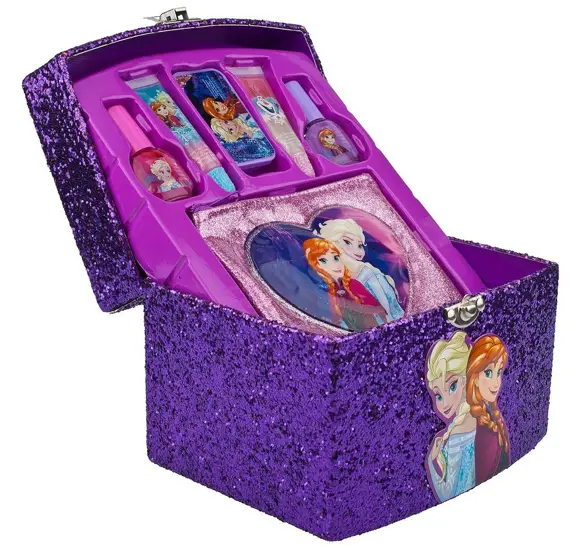 Finding Dory Cosmetic and Hair Variety Set – 5 Winners
Buy it at townleygirl.com
No need to search the deep blue sea for the perfect gift! This box set includes a variety of beauty products for her to enjoy. She can pucker up with two shiny lip glosses and two lip balms. When it's time to dip her toes in the water, she can give herself the perfect pedicure. And then she can put Nemo and Dory bows in her hair like a beautiful mermaid!
Kit includes: 2 shimmery lip tubes; 2 shimmery lip balms; 1 mirror; 2 glitter har bows; 2 shimmery nail polishes; 1 nail file; 1 pair of glittery toe spacers; 1 bag
Lip tubes and glosses colors and flavors include: teal watermelon; yellow pineapple; purple mixed berries; pink bubble gum
Polish is bubble gum flavored; shades included: fuchsia and blue
Bag filled with sequins
Finding Dory packaging; products feature Finding Dory characters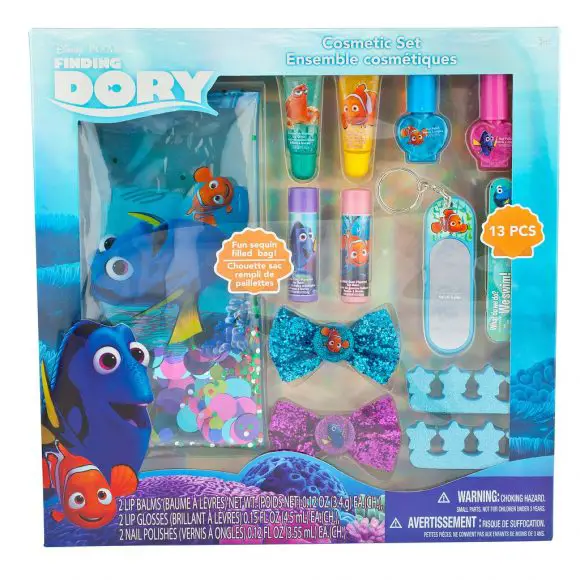 You can find Townley products at retailers nationwide including Amazon, Target, Kohl's, Toys R Us and online at townleygirl.com. Also be sure to find Townley Girl on social media (Twitter, Instagram, Facebook, Pinterest) @Townleygirl!
WINNER NOTIFICATION:
Winners have been chosen using Random.org. Prizes will be shipped to the address you gave us in the entry form. Winners will not be notified individually by email. An email newsletter was sent out announcing the winners list.
Finding Dory Set Winners
Jerry Lerson
Mikki Heilig
Warren Foster
Christina Oddy
Renee Signorelli
Disney Frozen Nail Set Winners
Heather Butts
Lisa Fix
Linda Withrow
Fontella Wall
Diane Potts
Disney Frozen Cosmetic Set Winners
Christy Pence
Vicki Bonagofski
Aleta Perryman
Mary Stovall
Joyce Harrell
Click Here to Enter Sweeties ForagerGO Metal Detector Giveaway with 5 WINNERS!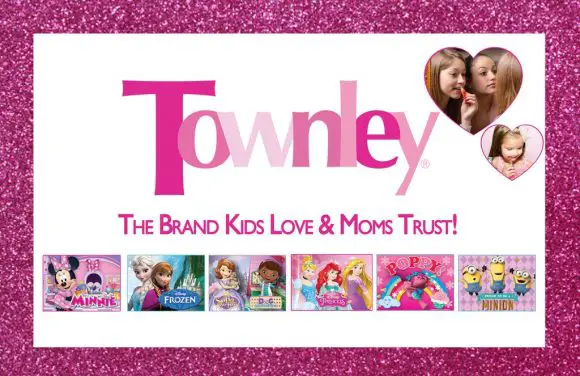 About Townley Girl
Make sure to also follow Townley Girl on Twitter, Instagram, Facebook, Pinterest, and YouTube
Founded in 1952, townleygirl is the leader in children's cosmetics and hair accessories. Partnering with top-notch brands like Disney, Universal and DreamWorks, we not only create great products, but also some of the safest ones on the market. With products like sheer lip gloss and peelable nail polish, kids will have a fantastic time dressing up as their favorite characters, and parents will have an easy clean up when they are all done.
townleygirl's mission is to design and distribute safe, fun and high quality branded beauty products at affordable prices for children and preteen markets. We strive to be the category leader for both markets; offering relevant, compelling, and innovative beauty products that inspire imagination.