On December 26, 2015, be one of the first 500 people to call and let Zappos know you have an unwanted gift to donate to charity. Zappos will send you a pre-paid return label, so you can mail them your unwanted gift. Then you tell them where to send the $100 Zappos.com Gift Card.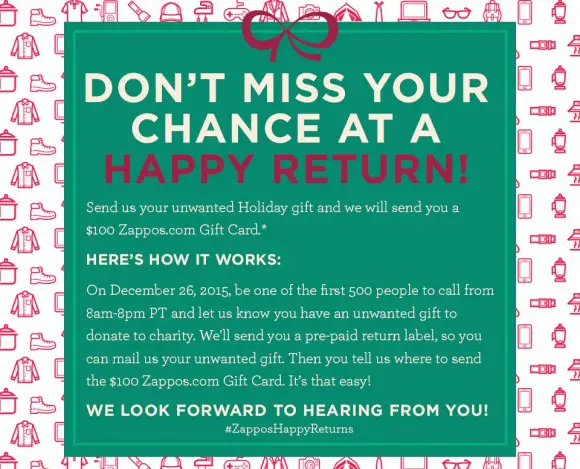 Sweepstakes Rating: Good (Official Announcement)
Eligibility: no eligibility or age given
Entry Dates: the first 500 eligible callers on December 26, 2015 between the hours of 11:00 a.m. ET (8 am PT) and 11:00 p.m. ET (8 pm PT) and shall end the earlier of 8:00 p.m. PT or as soon as 500 eligible callers are confirmed
Call (800) 927-7671 between 11 a.m. and 11 p.m. ET on Saturday, December 26, 2015
To be eligible for the Zappos.com gift card you must provide their customer loyalty representative a valid email address and it must be your own email address. You must also provide your first and last name and physical mailing address. If you do not have an existing Zappos account, our customer loyalty representative will use this information to create a Zappos account. In order to receive your Zappos.com gift card, your unwanted gift must first be received by Zappos in new and unworn condition and you must use the pre-paid return label provided by us that is specific to this promotion. Our customer loyalty representative will provide instructions on how to mail us your unwanted gift. For the avoidance of doubt, Zappos.com gift cards shall not be distributed until after Zappos receives the unwanted gift pursuant to the instructions we provided. All unwanted gifts that Zappos receives shall be donated to charity at Zappos' sole discretion. Zappos may select one or more charities based on the nature of the unwanted gifts. Employees of Zappos.com Inc. and its affiliates and their immediate family members are not eligible for this promotion.
Five Hundred (500) Prizes: $100 Zappos Gift Card
Limit one gift card per household.