I keep hoping to post a winners list every 2 weeks but life keeps getting in the way and with so many winning stories there are too many to post. Since there are so many stories I just have time and energy to post the ones from the secret site tonight.
I am also having a physical problem. I found out yesterday that I have a bad disc in my neck and that is causing me severe pain in my right arm, shoulder and numbness. It sure makes it hard to work when you body won't cooperate. So, I am keeping up with the basics, posting sweepstakes, and the rest seems to be going by the wayside. If I don't answer your email when you write please don't take it personally.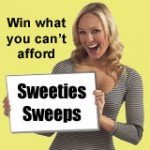 I haven't been winning much myself but I know when the time comes the "luck" will swing back around for me. It always does and it will do the same for you if you find yourself in the non-winners category too. No one can lose all of the time and no one can win all of the time. We all have our day in the sun so smile and keep entering.
There have been so many winners in the last month that I won't be able to post all of their stories. If you have won something and don't see your story here feel free to leave it in the comments.
If you are looking for even more sweepstakes to enter visit my Sweepstakes Daily Digest. These are sweepstakes that I do not post on this site because they are not considered as winnable. I just post a summary of the rules and prizes and give you the link to enter, nothing pretty. I also posted sweepstakes on my Facebook Fan page that aren't always posted on either site.
Here are some winners from the Secret site:
Many readers are finding the $25 yearly fee for the secret site is definitely worth the cost and while I can't promise there will be a plethora (don't you just love that word) of sweepstakes for your state you should definitely win your subscription fee back and then some.

Hello Sweetie and fellow secret sweepers, I won this contest on behalf of my mother.  She lives in Maryland and I signed up for her while I was there taking care of her.  She has cancer and is getting chemo.  Never dreamed she would actually win.  Well she did – woohoo.  The person taking care of this was wonderful.  I planned on being back there this week for Spring break and could not be.  She let me notarize from in Texas and fax to her.  She is going to send the prize to my mom/caretaker as this is special circumstance with her health and being so weak.  I will be going up when school lets out with the kiddos and we will take her to "dinner and a movie".  My first win from the secret site-more than paid for my $25.  Thanks for everything you do.

The prize: One (1) grand prize winner will win dinner and a movie of their choice via an AMEX Gift Card, plus a Maryland Lottery Cinema Cash Prize Pack. ARV $135.

haydonna9
I came home to a couple great SSS wins in the mail today!

$10 in lottery tickets (won 2 more tix)
$100 Pepsi charity donation
plus my Weiner cash entries

Additionally, I won $180 IWG Sweetie posted here last Sunday – "Congratulations! You have won two (2) roundtrip coach tickets on either the San Joaquin or Pacific Surfliner routes, courtesy of Amtrak."  $300 of wins just from the SSS site in 8 days.  Nice.

Cryptic Mama
I haven't seemed to be able to win anything lately (I can't even win salsa.) However; Kikkoman was my saving grace, I'm not sure what I'll do with 4 spoon rests, 3 basting brushes & 3 pairs of tongs, but I was just happy to be getting a prize in the mail.

Since January it's been a virtual dry spell. But recently my luck seems to have changed:

~On March 28th I was quite surprised to receive a huge yellow box filled with 12 boxes of Golden Grahams. I'd won the Golden Grant (my 8 year old was ecstatic!)

~Not sure of the date, but I won a box of granola bars in the Nature Valley Get Some Nature sweeps.

~On April 4th I won a Adidas Duffel Bag valued at $60, I was pleasantly surprised when it arrived at my door just a few days later.

~On April 8th I won a trip to the San Fransisco International Film Festival!!!! (I'm sure many of you know this, because I don't hide my excitement well) This trip includes Two tickets to the SFIFF53 Awards Night, Cocktails and dinner at the event with Chronicle columnist Leah Garchik, Transportation to and from the event (I'm guessing this means a limo ride!) and hotel accommodations for two at the Prescott Hotel (very swanky hotel in SF) Oh & Robert Duvall is supposed to be there! I'm excited about meeting stars & a black tie dinner, but frankly I'm just happy to have a night child-free conversing with other adults.

~Last night (4/10) I won $100 in the Kid Cuisine Krazy Combo Sweepstakes! My advise to anyone who wins this is to choose the $100 in one lump sum. Breaking it up makes it very difficult to use, as there are some weird stipulations on this one. That being said, my hubby figured it out & now we have 4 new video games on the way!

I was so bummed out recently by my bad luck that I wasn't even sweeping daily, only 2 or 3 times a week. I just wanted to let you all know to keep at it. Those wins will come & persistence does pay off.

p.s.

The high of winning is incredible I haven't stopped smiling in days!!!!!

jilly82899
Won a $500 grocery gift card today. Looks like it's time for a road trip to Texas to pick up some stuff! Thanks Sweetie for posting this!

franknsense
I won this!! I received passes for 4 to see "Furry Vengeance", April 24, 2010.10 a.m. At a St. Louis area theater. I think this is my 1st SSS win. got it fast!! My grandsons will go and have fun I hope.

cameo
I just received an email congratulating me! I won the Grand Prize for Period 1!!!! Six tickets to winner's choice of one of the Chivas USA home games scheduled for either May 8, 2010 or May 22, 2010 (mid-field seats), one parking pass for the game, unlimited food and beverages at the game, pre-game tour of the Home Depot Center, opportunity to walk and touch the grass on the field before the game, and gift bag with at least one autographed item included. ARV $599.

syreselectric
Won 4/8/10 $100 check

Won 3/19/10 $500 check for Progressive Commercial Insurance's "$500 a Day Holiday Giveaway Contest"

I'm unemployed and shoot almost exclusively for cash prizes. So far, so good!

Thanks, Sweetie!

Tom
Wahoooooo!!! Won another $100 Publix card today in the mail.

savannahbetty
Thanks to all that contribute and make this site work for everyone. I got my 100 dollar card Saturday. My 1st SSS win. Membership paid and 75 dollars profit…minus supplies of course, lol. Not Bad…Not Bad at all. Thanks again. I too sent in to all regions.

Gloria
I've been entering sweeps since I read about Sweeties in a CNN.com article. Today I got a phone call from 'Gooch' at a local Philly radio station to tell me I'd won a $250 spa gift certificate and a $300 Amex gift card, and I'm entered into a national Lifetime contest for a trip to Arizona! I never thought I would be so happy to receive a phone call from a man named Gooch!

I only entered the contest after finding a list of Philly-local contests when I joined this secret sweeps site last week. I've had fun entering the contests every day, but after now I'm definitely sold. Thank you Sweetie! I'm so grateful that I read the CNN article that day!

Marissa
I too got a phone call that i won 2nd prize from the Philly radio station and i won $100 American Express card…I am so excited as well…I also won a $100 Best Buy gift card this week…and a big basket of goodies at a tea and a 50/50 ($352) at a fashion show…I am so blessed this week..I was having a terrible dry spell but no more…

sprinkling some lucky dust for all

mimi710
Stay tuned for winners from this site.