I got an interesting email from reader, and thought I would respond publicly. Maybe others have the same thought.  Amber wanted to know if there was a way to rate sweepstakes to find which ones have the best odds for winning.
Hi Sweetie,

I found your site from Freebies4Moms the other day and I'm so glad I did. Although I found out about the MyCoke Twist and Text game elsewhere I would have never won without your website and the tips and tricks you blogged about.

Now I'm hooked. This is the 3rd thing I've won in 2 weeks. First it was a blog giveaway from MySpark of a gift basket (not to much to brag about but I won and that was fun). Next I won a $25 Amex card and reusable shopping bag from another blog. Now the MyCoke $20 eDo.

I'm looking through your website and hitting all the games and just keep wondering…what your opinion is on the games you post. I love your most win-able list but what about the others, what's your rating on a scale of 1-5 or 1-10 on your win-able scale. Do you only post sweeps and IWGs that are worth entering or do you post all of them you come across? Is every sweep and IWG worth the time? I would love to see you rate each contest/sweep/iwg you blog about.

Just some silly questions from a newbie.

Thanks for taking the time to blog – I really enjoy your site.

~Amber
NO question is ever silly or unimportant. If you have a question then obviously you need an answer. Asking questions is how we learn so never be afraid to ask anything.
Here is my answer:
Because my site is about sweepstakes I don't just post all winnable sweeps because if I did there would be lots of days I wouldn't post anything.
I post winnable sweeps that I feel a lot of people will have a chance to win from and the criteria is such that it is easier to win and I post them under Sweeties Picks.
The rest of what I post usually falls somewhere in between winnable and okay. I try to post sweeps that have more prizes than just a handful so more people have a chance to win. Sometimes I do throw some in with 1 prize just because I like it.
Even though I rate sweepstakes, you have a chance to win from ANY sweepstakes or instant win game whether I say it is winnable or not. I have won prizes where thousands of people entered and there was only one grand prize. The trip I won to France is a great example. I have actually won that way many times.
Here's a breakdown:
Sweeties Pick/Winnable Sweepstakes
A winnable sweepstakes is one that has great odds for everyone who enters. It might have 1,000, 5,000, 10,000 or 50,000 prizes so many people have a chance to win a prize. It might be an Instant Win Game that gives out prizes every 5 minutes. If it is an Instant Win Game the remaining prizes may be given away in a Second Chance drawing. It might be short running and only last a day, a week, a month or 6 weeks.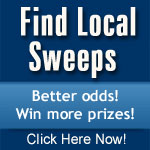 It might be restricted to a certain age group or a limited amount of states. It might also have other restriction or require extra work like finding a one-time code that only one person can use, or sending away for a code. It might be a sweepstakes or instant win game that can only be won by buying a product to get a game ticket or code and the alternative method of entering is sending an entry in the mail. A winnable sweepstakes usually has only one way of entering it but may have a second chance drawing for leftover, unclaimed prizes.
Can't find sweepstakes for your state you say?
We've got you covered. Join Sweeties Secret Sweeps. We do the work of finding local sweepstakes for you.
Good
This sweepstakes may have a lot of prizes but may not be short ending. On the other hand it may have less prizes but be short ending so less people will find out about it. It may not be highly advertised yet so entering early might be a better bet, especially if it is an instant win game. If it is an Instant Win Game the remaining prizes may be given away in a Second Chance drawing.
Okay
Enter this sweepstakes and move on. Don't spend a lot of time entering over and over because it is probably not worth the extra effort. It may have only one prize, have a long entry period, or be overly exposed from too much advertising, both national and online.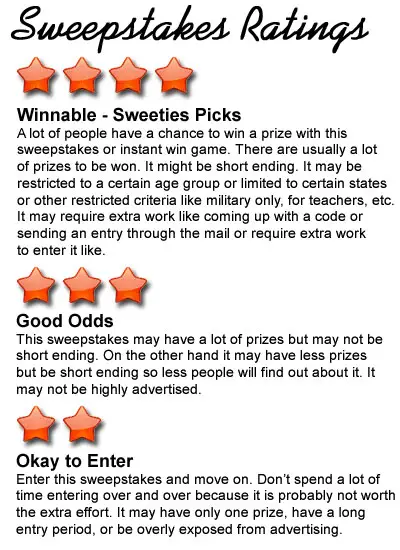 Most of us are busy and have a limited amount of time to enter sweepstakes each day. When you do have the time to enter, focus that time on entering more winnable sweeps. If you have more time enter everything starting with the winnable sweeps and work your way down the list. You will never run out of sweepstakes to enter. How many you enter and what kind all depend on the amount of time you have to invest.