PetSmart teamed up with Hilton for the latest Treats Super Giveaway! One Grand Prize winner will receive a 5-night stay at any Hilton hotel, a PetSmart x Hilton swag box, 100,000 Treats points (worth $250 in savings), a $1,500 tax offset check & a $200 gift card. Plus, two first prize winners will receive a 2-night stay at any Hilton hotel, a PetSmart x Hilton swag box, 40,000 Treats points (worth $100 in savings), a $600 tax offset check & a $100 gift card.
Eligibility: Open to legal residents of the 50 U.S. and D.C., Puerto Rico and Canada (excluding Quebec), who as of date of entry are members of the PetSmart Treats Loyalty Program and are 18 years of age or older and the age of majority in their jurisdiction of residence
Entry Dates: September 30, 2023 – November 19, 2023 at 11:59 pm ET
How to Enter:
Create a PetSmart Treats account here
Go to the Treats Offers page here
Scroll to the right and click to Activate Offer
Complete the Entry Form Without Using Points: Click Here and complete and submit the entry form as instructed to receive fifty Entries. Limit fifty Entries per Entrant via redemption or online alternate Entry.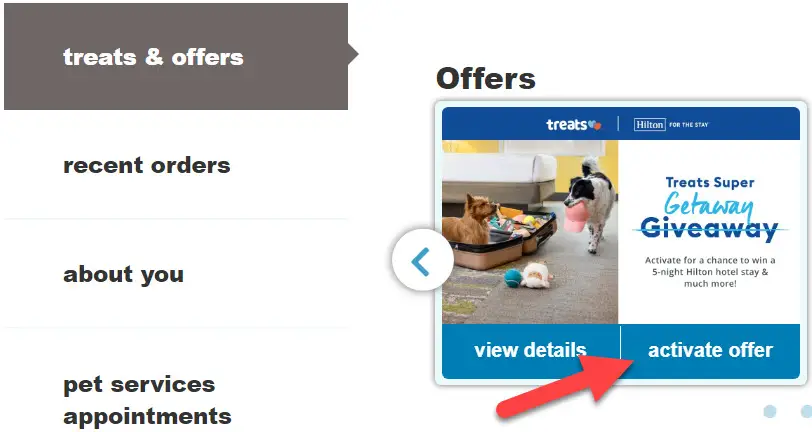 Limit: one Entry per Entrant via activation. This method of Entry must be completed before Entries for any other method of Entry are included in the Sweepstakes Random Drawing for the Entrant. Total Limit: 56 Entries per person, regardless of combination of methods of entries.
How to Earn Points:
Redeem Treats Points or via Online: Sign in to your Treats account and activate the offer card directing you to "Redeem 500 Treats points" to receive one Entry. Maximum redemption is 500 points for a maximum of fifty additional Entries. Points will be deducted on or before November 20, 2023. Must have five hundred or more points in your account on the date points are deducted.
Complete your Treats Profile: Go to the PetSmart website online at petsmart.com or petsmart.ca or from within the PetSmart Mobile App and sign in to your Treats Account. Once you are signed in, go to your Accounts page and complete/update your Account Profile, including Name, Phone, Email, Address and Pet information (or member can check they don't have a Pet) to receive 5 Entries. Limit five Entries per Entrant via completing Treats Profile.
Grand Prize (1): A PetSmart x Hilton Pet Promo Box, a Hilton BMG Certificate for a five-night stay at any Hilton hotel across the Hilton Enterprise, 100,000 Treats points (worth $250 in savings at PetSmart), a $200 Sponsor-specified gift card to apply to winner's Pet Fees if they travel to a pet friendly location (if winner travels without their pet, gift card can be used however they choose) and a $1,500USD tax offset check. ARV: $5,100USD/CAN
First Prizes (2): A PetSmart x Hilton Pet Promo Box, a Hilton BMG Certificate for a two-night stay at any Hilton hotel across the Hilton Enterprise, 40,000 Treats points (worth $100 in savings at PetSmart), a $100 Sponsor-specified gift card to apply to winner's Pet Fees if they travel to a pet friendly location (if winner travels without their pet, gift card can be used however they choose) and a $600USD tax offset check. ARV: $2,150
A PetSmart x Hilton Pet Promo Box, a Hilton BMG Certificate for a two-night stay at any Hilton hotel across the Hilton Enterprise, 40,000 Treats points (worth $100 in savings at PetSmart), a $100 Sponsor-specified gift card to apply to winner's Pet Fees if they travel to a pet friendly location (if winner travels without their pet, gift card can be used however they choose) and a $600USD tax offset check. ARV of First Prize: $2,150