Fill out your #MarchMadness bracket and compete for a trip to the #NCAA 2021 Final Four. Start a pool now to compete against your friends, family and co-workers.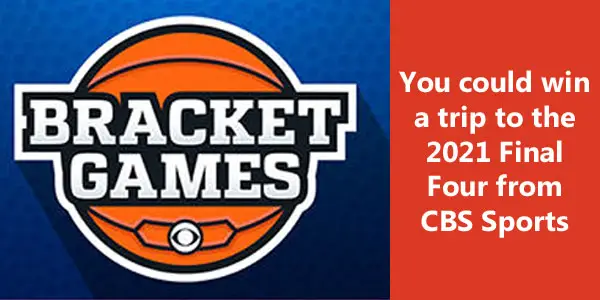 Official Rules: US, Canada, Void Quebec, 18+/age of majority, and a valid driver's license. February 25 – March 15, 2020 at 11:59 pm ET. One entry per person.
Register: register at cbssports.com starting on February 245 2020, but no later than five (5) minutes prior to the start of the first round of the Tournament, on March 19, 2020.  Fill in your Bracket in order to enter the Sweepstakes.
Selection Deadline: Administrator will fill in the Brackets with the names of the teams participating in the Tournament, on March 15, 2020 and post the Brackets on-line on the Sweepstakes related pages on the CBS Sports Service. Participants must register into the Sweepstakes, fill in their Bracket with their picks and submit no later than 11:00 a.m. ET on March 19, 2020.
Making Picks: After you sign up and the teams/matchups have been announced, you will have access to the online Bracket page listing 60 of the 68 eligible 2020 NCAA® Division I Men's College Basketball Tournament teams and their round two match-ups.
Note: The 61st through 64th teams will be determined by the first four games of the Tournament, played on Tuesday, March 17, 2020 and Wednesday, March 18, 2020. Those games will not be counted in this Sweepstakes. Prior to completion of those games, the 61st through 64th teams will be listed on our brackets page as "Team 1/Team 2", and Participants are free to pick "Team 1/Team 2" in the first round, if they want to submit picks before such games are completed.
Grand Prize (1): (4) tickets to the Final Four games of the 2021 NCAA® Division I Men's College Basketball Tournament*, which include entry into the Semi-Finals and Final games, and Six Thousand Dollars (US $6,000) cash for luxury hotel accommodations, airline tickets (to and from Indianapolis, IN, subject to change) and ground transportation for up to four people. Money portion of the Grand Prize is to be awarded via the CBSSports.com Wallet. ARV: $10,000.