Are you ready to win big? Play Microsoft Rewards Select 3 for your chance to win one of 2,000,000 amazing prizes!
Here's what's up for grabs:
4 prizes of $250,000.00​​
500 x Surface Go 64GB
500 x Xbox One X​
Over 1,000 gift cards to the Microsoft and Xbox stores
Millions of Microsoft Rewards points
Play now for your chance to be a lucky winner!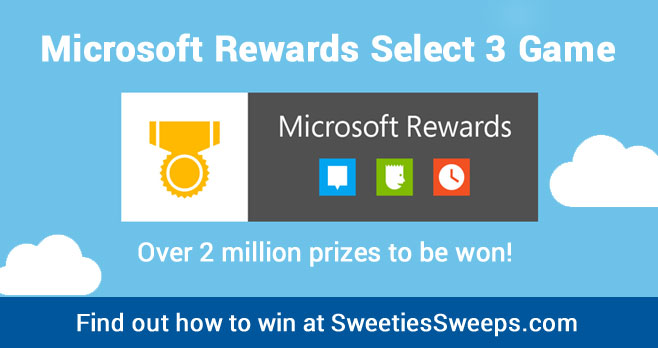 Official Rules: US, Canada, the United Kingdom, France and Germany, 18+, and a member of the free Microsoft Rewards Program. December 3 – February 4, 2020 at 11:59:59 PM PT, or while supply of 2,000,000 Game Plays last, whichever occurs first. After notifying the winners directly, Microsoft will announce winner's here.
How to Earn Free Microsoft Rewards Points
You don't have to make a Microsoft purchase to earn free Microsoft Rewards Points. You can earn them for free after you log into your Free Microsoft Rewards Point account and complete some of these tasks: make Bing your mobile search engine, search for a recipe using Bing, take the 1-minute Bing homepage quiz, complete a daily poll, take a Turbocharge quiz, play a game, refer a friend, add the Microsoft Rewards browser extension, take the Supersonic quiz, take the Lightspeed quiz, take the Warpspeed quiz or watch a video.
Each task has a different point value. Check the Microsoft Rewards points website for the actual points you earn for each task completed.
Microsoft Rewards Points Redemption
On the Microsoft Rewards redeem page, redeem 400 Microsoft Rewards points for a game play in the Promotion during the Promotion Period.
How to Create a Free Microsoft Rewards Account
To create a Free Microsoft Rewards account, visit microsoft.com/rewards and follow the links and instructions to create a Microsoft Rewards account  or log-in to your Account at account.microsoft.com/rewards.
Microsoft Rewards Points Redemption: Account holders may redeem Microsoft Rewards points to gain entry into an available Sweepstakes draw during the Sweepstakes Period. See Rules for point redemption information.
AMOE Mail: to play without purchase and without redeeming any Microsoft Rewards points, visit microsoft.com/rewards and follow the links and instructions to create an Account (if you do not already have an Account). Then, on a 3″ x 5″ card or piece of paper, hand-print your full name, complete address, phone number (with area code), date of birth, and the email address associated with your Microsoft Rewards Account, and mail it to:
Microsoft Rewards "Select 3" Game
Free To Enter
P.O. Box 8554
Big Sandy, Texas, 75755-8554
Requests must be postmarked by February 4, 2020 and received by February 10, 2020. Only one request per outer postmarked envelope allowed. Game Play requests mechanically reproduced or made in any fashion other than as specified herein are void. Upon receipt of your request, you will be sent a link by email, which will allow you one Game Play for this Promotion. For participants who are participating via mail-in request, the game will remain open until February 14, 2020 at 11:59:59 PM PT after which time the link will become null and void.
Microsoft Rewards Sweepstakes Prizes:
(4) $250,000 Cash (awarded as a check in local currency)
(500) Surface Go 64GB  (black). ARV: $499
(500) Xbox One X 1TB Console. ARV: $499
(500) Xbox One S – 1TB Starter Bundle. ARV: $299
(500) Surface Headphones. ARV: $349
(1,000) Xbox Elite Wireless Controller Series 2. ARV: $180
(1,000) 12 Months of Xbox Game Pass Ultimate. ARV: $180
(2,000) 12 Months of Office 365 Home. ARV: $99.99
(45,000) 50,000 Microsoft Rewards points
(48,996) 10,000 Microsoft Rewards points
(150,000) 5,000 Microsoft Rewards points
(250,000) 1,000 Microsoft Rewards points
(500,000) 500 Microsoft Rewards points
(1,000,000) 200 Microsoft Rewards points