Play the Gymboree Surprize Surprize Instant Win Game daily for your chance to win your share of over 151,000 prizes! Gymboree launched a custom-made interactive mobile app called "Made You Smile" that animates its designs with a layer of augmented reality. The app also includes other features, such as a Smile Generator that creates emojis that are animated based on facial expressions.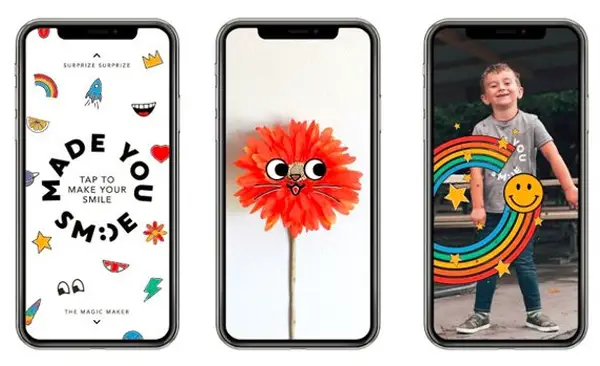 Click Here to Enter | Official Rules
Official Rules: US, Canada, Void Quebec, 18+. Begins on July 16 and ends on September 4, 2018. One entry per person per day.
App: Download the Gymboree Made You Smile app to at least one mobile device from the Apple App Store or Google Play Store.
Note: we haven't found the link to download the app yet and it isn't found in the app store. If anyone has the link please leave it below.
Sweepstakes Purchase Entry: During the Promotion Period, make a purchase at a participating Gymboree retail location in the United States or Canada or online at gymboree.com. You will receive an order ID or transaction number with your purchase.
Sweepstakes Mail-in Entry: hand print your name, address, day and evening phone numbers, email address, and date of birth on a 3″ x 5″ piece of paper and mail it in an envelope with proper postage to:
Gymboree Surprize Surprize
c/o HelloWorld, Inc.
P.O. Box 5006, Department 836981
Kalamazoo, MI 49003-5006
You will receive one Sweepstakes entry into the applicable Weekly Entry Period drawing. Limit: One entry per envelope. All mail-in entries must be handwritten and must be postmarked by and received by the dates listed below.
Week 1: Postmarked by July 23 and received by July 30
Week 2: Postmarked by July 30 and received by August 6
Week 3: Postmarked by August 6 and received by August 13
Week 4: Postmarked by August  13 and received by August 20
Week 5: Postmarked by August  20 and received by August 27
Week 6: Postmarked by August  27 and received by September 4
Week 7: Postmarked by September 4 and received by September 11
Sweepstake Prizes:
Week 1 (1): A trip for five to New York City, NY. Trip package includes round trip, coach class air transportation for five from a major airport near winner's home to New York City, NY; two nights accommodations  (two rooms triple occupancy); five tickets to NYC Color Factory ; and travel agent services. ARV: $5,665 USD or $7,485 CAD
Week 2 (5): A $5,000 shopping spree awarded as ten $500 Gymboree gift cards and $300 Uber credit for transportation.  ARV: $5,300 USD or $7,003 CAD
Week 3 (10): Ice cream for a year awarded as a $1,040 Baskin-Robbins gift card and is defined as $20/week for 52 weeks. ARV: $1,040 USD or $1,375 CAD
Week 4 (5): A Backyard playhouse awarded in the form of a $5,000 Gorilla Playsets gift card, and a $1,000 Visa Prepaid Card that can be used for installation costs. ARV: $6,000 USD or $7,928 CAD
Week 5 (5): A $1,500 Visa Prepaid Card that can be used for a private movie screening and pizza party. ARV: $1,500 USD or $1,982 CAD
Week 6 (5): Jeans for your class awarded as thirty $40 Gymboree gift cards. ARV: $1,200 USD or $1,586 CAD
Week 7 (1): A 2018 Toyota Rav4. ARV: $30,050 USD or $39,715 CAD
Instant Win Prize (151,875): 
(100,000) 20% off coupon
(50,000) $10 promotion code. ($14 CAD)
(300) a free pair of Gymboree PJs awarded as a promo code. ARV: $20 USD/$27 CAD
(300) a free pair of Gymboree socks awarded as a promo code. ARV: $10 USD/$14 CAD
(300) a free pair of Gymboree shoes awarded as a promo code. ARV: $30 USD/$40 CAD
(300) a bottle of Gymboree bubbles awarded as a promo code. ARV: $10 USD/$14 CAD
(300) a pair of Gymboree jeans awarded as a promo code.  ARV: $37 USD/$50 CAD
(300) a Gymboree graphic tee awarded as a promo code.  ARV: $17 USD/$23CAD
(50) a Razor scooter. ARV: $25 USD or $34 CAD
(25) One Orange bike. ARV: $300 USD or $397 CAD
Prize Limit: One Instant Win Game prize per person, per day.