Vaultz annual #LockItUpContest is BACK! There are 13 chances to win up to $5,000 CASH prizes available so put your creativity to work and submit a photo! Entering is simple click below for your chance to WIN!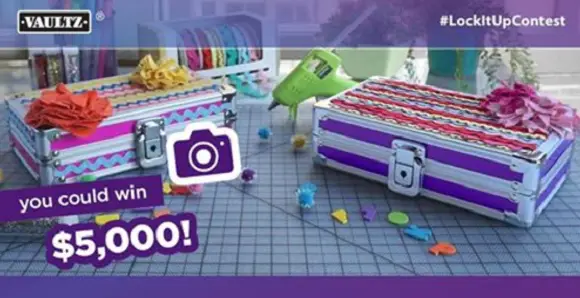 Click Here to Enter | Official Rules
Official Rules: open to US, DC, 18 and older. Begins on July 14 and ends on October 31, 2017. You can enter as many unique photos as you have.
How to Enter: Enter the contest by either filling out the entry form (link above) and submitting your photo, or by posting your photo to either Twitter, Instagram, or Facebook. All entries must use the hashtag #LockItUpContest.
Your photo must include one or more of the following details: a Vaultz product holding a prized possession, a customized or decorated Vaultz product or a Vaultz product being used in an innovative or unique way.
You can enter as many unique photos as you have, but they have to be different designs or application than one another and have to use a different product in each application shot (for example, if you have three of the same box you can make three different designs on each box and enter each one. you cannot, however, use the same box to show it holding several different prized possessions).
This is a voting contest. 50 photos with the most votes in the gallery section on Entry page will be shortlisted, and then a panel of judges will select the winners from there. Winners will be notified by a Facebook post with their first and last name on or about November 3rd, 2017 and will be sent an email notification to the email address provided on contest entry form.
One (1) First Prize: $5,000 Visa gift card
One (1) Second Prize: $2,500 in Visa gift cards
One (1) Third Prize: $1,000 Visa gift card
Ten (10) Runner-up Prizes: $200 in store credit to Vaultz