Enter QVC's Christmas in July Sweepstakes once every 24 hours for a chance to win fabulous weekly prizes from Luminara, HomeWorx by Harry Slatkin, Berkshire Blanket, Hallmark, Harry London & Cheryl's. Each entry also counts toward the grand prize of $30,000.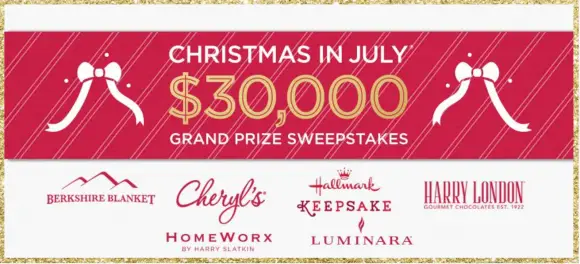 Click Here to Enter | Official Rules
Official Rules: open to US, DC, 18 and older. Begins on June 24 and ends on July 31, 2017. One entry per 24 hours per person. Grand Prize Random Drawing on August 1, 2017. Entries from one drawing period WILL NOT be carried forward to any other remaining drawing period (if any remain), except all entries will be carried forward to the Grand Prize drawing.
Entry Periods:
June 24 to July 7 (Drawing on July 10)
July 8 to July 14 (Drawing on July 17)
July 15 to July 21 (Drawing on July 24)
July 22 to July 31 (Drawing on August 1)
One Grand (1) Prize: 
$30,000.00 in Cash
1 Malden Mills Polar Fleece Sheet Set w/ Extra Contrast PCs $39.00
1 Berkshire Oversized Reversible Velvet Soft Printed Blanket $40.00
1 Cheryls Cookies – Holiday Entertainment Bakery Basket $199.00
1 Cheryls Cookies – Holiday Grand Gift Tower $149.0
1 Cheryls Cookies – Cheryls Mason Cookie Jar $39.00
1 Hallmark – Hallmark Christmas Tree + $200 Hallmark Gift Card $519.00
1 Harry London 12.25OZ BUCKEYE TIN $12.00
1 Harry London 1LB ASSORTED CHOCOLATE VINTAGE TRUCK TIN $24.99
1 Harry London 16PC ASSORTED SPRING TRUFFLES BOX $30.00
1 Harry London 8OZ ASSORTED SPRING BOX $20.00
1 Harry London 8OZ SPRING HOSTESS TIN $13.00
1 Harry London 8OZ SPRING PRETZELS $10.00
1 Harry London 4PC SPRING TRUFFLES $8.00
1 Harry London SPRING CHOCOLATE CARD – BALANCED DIET $5.00
1 Harry London SPRING CHOCOLATE CARD – SILLY QUESTIONS $5.00
1 Harry London SPRING CHOCOLATE CARD – CHOCOLATE ANSWER $5.00
1 Harry London VAL CHOCOLATE CARD – LIVE LAUGH LOVE $5.00
1 Harry London VAL CHOCOLATE CARD – ALL YOU NEED $5.00
1 Harry London 1LB DARK LAVA – SELF MEDICATE $24.99
1 Harry London 1LB MISS MUD PIE – LOVE $24.99
1 Harry London 1LB MILK SS CARMELS – U R MY FAVORITE $24.99
1 Harry London 2.5LB PREMIUM GOLD GIFT BOX $39.99
1 Harry Slatkin S/2 Scented Deluxe 3 Wick Candles in Autumn Pumpkin/Harvest Leaves $36.20
1 Harry Slatkin S/2 Scented Deluxe 3 Wick Candle in Holiday Wishes / Candy Cane Kisses $36.20
1 Harry Slatkin Set of 2 Limited Edition 3 Wick Candles – Holiday $42.00
1 Harry Slatkin Scentworx 2 Diffusers and 4 Refills – Harvest $27.60
1 Harry Slatkin Set of 4 Diffuser Refillables – Holiday $18.60
1 Harry Slatkin Ceramic Metallic Pumpkin – Orange $33.50
1 Harry Slatkin Set of 2 Pinecone Candles $39.50
1 Harry Slatkin Ceramic Figural Character – Snowman $29.92
1 Harry Slatkin Gingerbread Plug-In Warmer – Man $27.30
1 Harry Slatkin 24 Piece Gelables Refills $21.50
1 Harry Slatkin Figural Mouse w/ 12oz Candle Insert $39.92
1 Luminara 12″ Heritage Lantern – Garnet Red $54.00
1 Luminara 17″ Windsor Lantern – Garnet Red $49.00
1 Luminara 19″ Windsor Lantern – Garnet Red $63.00
1 Luminara 21″ Windsor Lantern – Garnet Red $76.00
Weekly Prizes:
WEEK 1 PRIZES
Prize Package 1 – Berkshire Blankets ARV: $79.00; 1 Malden Mills Polar Fleece Sheet Set w/ Extra Contrast PCs/Cream/Taupe; 1 Berkshire Oversized Reversible Velvet Soft Printed Blanket/Black/Taupe Leopard
Prize Package 2 – Cheryl's Cookies ARV: $387.00; 1 Holiday Entertainment Bakery Basket; 1 Holiday Grand Gift Tower; 1 Cheryls Mason Cookie Jar
Prize Package 3 – Hallmark ARV: $204.75; 1 12 Days of Christmas miniature Ornaments + Display Tree + $100 Hallmark Gift Card
Prize Package 4 – Harry London ARV: $217.96; 1 Harry London 12.25OZ BUCKEYE TIN; 1 Harry London 1LB ASSORTED CHOCOLATE VINTAGE TRUCK TIN; 1 Harry London 16PC ASSORTED SPRING TRUFFLES BOX; 1 Harry London 8OZ ASSORTED SPRING BOX; 1 Harry London 8OZ SPRING HOSTESS TIN; 1 Harry London 8OZ SPRING PRETZELS; 1 Harry London 4PC SPRING TRUFFLES; 1 Harry London SPRING CHOCOLATE CARD – BALANCED DIET; 1 Harry London SPRING CHOCOLATE CARD – SILLY QUESTIONS; 1 Harry London SPRING CHOCOLATE CARD – CHOCOLATE ANSWER; 1 Harry London VAL CHOCOLATE CARD – LIVE LAUGH LOVE; 1 Harry London VAL CHOCOLATE CARD – ALL YOU NEED; 1 Harry London 1LB DARK LAVA – SELF MEDICATE; 1 Harry London 1LB MISS MUD PIE – LOVE; 1 Harry London 1LB MILK SS CARMELS – U R MY FAVORITE
Prize Package 5 – Harry Slatkin ARV: $352; 1 Harry Slatkin S/2 Scented Deluxe 3 Wick Candles in Autumn Pumpkin/Harvest Leaves; 1 Harry Slatkin S/2 Scented Deluxe 3 Wick Candle in Holiday Wishes / Candy Cane Kisses; 1 Harry Slatkin Set of 2 Limited Edition 3 Wick Candles – Holiday; 1 Harry Slatkin Scentworx 2 Diffusers and 4 Refills – Harvest; 1 Harry Slatkin Set of 4 Diffuser Refillables – Holiday; 1 Harry Slatkin Ceramic Metallic Pumpkin – Orange; 1 Harry Slatkin Set of 2 Pinecone Candles; 1 Harry Slatkin Ceramic Figural Character – Snowman; 1 Harry Slatkin Gingerbread Plug-In Warmer – Man; 1 Harry Slatkin 24 Piece Gelables Refills; 1 Harry Slatkin Figural Mouse w/ 12oz Candle Insert; Prize Package 6 – Luminara ARV: $310.00; 2 Luminara 10″ Lexington Lantern – Pewter; 2 Luminara 14″ Lexington Lantern – Pewter; 2 Luminara 18″ Lexington Lantern – Pewter
WEEK 2 PRIZES
Prize Package 1 – Berkshire Blankets ARV: $79.00; 1 Malden Mills Polar Fleece Sheet Set w/ Extra Contrast PCs/Cream/Taupe; 1 Berkshire Oversized Reversible Velvet Soft Printed Blanket/Black/Taupe Leopard;
Prize Package 2 – Cheryl's Cookies ARV: $387.00; 1 Holiday Entertainment Bakery Basket; 1 Holiday Grand Gift Tower; 1 Cheryls Mason Cookie Jar
Prize Package 3 – Hallmark ARV: $224.75; 1 5 Lighthouse Series Ornaments + $100 Hallmark Gift Card
Package 4 – Harry London ARV: $217.96; 1 Harry London 12.25OZ BUCKEYE TIN; 1 Harry London 1LB ASSORTED CHOCOLATE VINTAGE TRUCK TIN; 1 Harry London 16PC ASSORTED SPRING TRUFFLES BOX; 1 Harry London 8OZ ASSORTED SPRING BOX; 1 Harry London 8OZ SPRING HOSTESS TIN; 1 Harry London 8OZ SPRING PRETZELS; 1 Harry London 4PC SPRING TRUFFLES; 1 Harry London SPRING CHOCOLATE CARD – BALANCED DIET; 1 Harry London SPRING CHOCOLATE CARD – SILLY QUESTIONS; 1 Harry London SPRING CHOCOLATE CARD – CHOCOLATE ANSWER; 1 Harry London VAL CHOCOLATE CARD – LIVE LAUGH LOVE; 1 Harry London VAL CHOCOLATE CARD – ALL YOU NEED; 1 Harry London 1LB DARK LAVA – SELF MEDICATE; 1 Harry London 1LB MISS MUD PIE – LOVE; 1 Harry London 1LB MILK SS CARMELS – U R MY FAVORITE
Prize Package 5 – Harry Slatkin ARV: $352.24; 1 Harry Slatkin S/2 Scented Deluxe 3 Wick Candles in Autumn Pumpkin/Harvest Leaves; 1 Harry Slatkin S/2 Scented Deluxe 3 Wick Candle in Holiday Wishes / Candy Cane Kisses; 1 Harry Slatkin Set of 2 Limited Edition 3 Wick Candles – Holiday; 1 Harry Slatkin Scentworx 2 Diffusers and 4 Refills – Harvest; 1 Harry Slatkin Set of 4 Diffuser Refillables – Holiday; 1 Harry Slatkin Ceramic Metallic Pumpkin – Orange; 1 Harry Slatkin Set of 2 Pinecone Candles; 1 Harry Slatkin Ceramic Figural Character – Snowman; 1 Harry Slatkin Gingerbread Plug-In Warmer – Man; 1 Harry Slatkin 24 Piece Gelables Refills; 1 Harry Slatkin Figural Mouse w/ 12oz Candle Insert
Prize Package 6 – Luminara ARV: $260.00; 1 Luminara 12″ Heritage Lantern – Black; 1 Luminara 16″ Heritage Lantern – Black; 1 Luminara 25″ Heritage Lantern – Black; 1 Luminara 18″ Lexington Lantern – Black
WEEK 3 PRIZES
Prize Package 1 – Berkshire Blankets ARV: $79.00; 1 Malden Mills Polar Fleece Sheet Set w/ Extra Contrast PCs/Cream/Taupe; 1 Berkshire Oversized Reversible Velvet Soft Printed Blanket/Black/Taupe Leopard
Prize Package 2 – Cheryl's Cookies ARV: $387.00; 1 Holiday Entertainment Bakery Basket; 1 Holiday Grand Gift Tower; 1 Cheryls Mason Cookie Jar
Prize Package 3 – Hallmark ARV: $204.75; 1 12 Days of Christmas miniature Ornaments + Display Tree + $100 Hallmark Gift Card
Prize Package 4 – Harry London ARV: $217.96; 1 Harry London 12.25OZ BUCKEYE TIN; 1 Harry London 1LB ASSORTED CHOCOLATE VINTAGE TRUCK TIN; 1 Harry London 16PC ASSORTED SPRING TRUFFLES BOX; 1 Harry London 8OZ ASSORTED SPRING BOX; 1 Harry London 8OZ SPRING HOSTESS TIN; 1 Harry London 8OZ SPRING PRETZELS; 1 Harry London 4PC SPRING TRUFFLES; 1 Harry London SPRING CHOCOLATE CARD – BALANCED DIET; 1 Harry London SPRING CHOCOLATE CARD – SILLY QUESTIONS; 1 Harry London SPRING CHOCOLATE CARD – CHOCOLATE ANSWER; 1 Harry London VAL CHOCOLATE CARD – LIVE LAUGH LOVE; 1 Harry London VAL CHOCOLATE CARD – ALL YOU NEED; 1 Harry London 1LB DARK LAVA – SELF MEDICATE; 1 Harry London 1LB MISS MUD PIE – LOVE; 1 Harry London 1LB MILK SS CARMELS – U R MY FAVORITE
Prize Package 5 – Harry Slatkin ARV: $352.24; 1 Harry Slatkin S/2 Scented Deluxe 3 Wick Candles in Autumn Pumpkin/Harvest Leaves; 1 Harry Slatkin S/2 Scented Deluxe 3 Wick Candle in Holiday Wishes / Candy Cane Kisses; 1 Harry Slatkin Set of 2 Limited Edition 3 Wick Candles – Holiday; 1 Harry Slatkin Scentworx 2 Diffusers and 4 Refills – Harvest; 1 Harry Slatkin Set of 4 Diffuser Refillables – Holiday; 1 Harry Slatkin Ceramic Metallic Pumpkin – Orange; 1 Harry Slatkin Set of 2 Pinecone Candles; 1 Harry Slatkin Ceramic Figural Character – Snowman; 1 Harry Slatkin Gingerbread Plug-In Warmer – Man; 1 Harry Slatkin 24 Piece Gelables Refills; 1 Harry Slatkin Figural Mouse w/ 12oz Candle Insert; Prize Package 6 – Luminara ARV: $284.00; 1 Luminara 12″ Heritage Lantern – Ivory; 1 Luminara 16″ Heritage Lantern – Ivory; 1 Luminara 19″ Heritage Lantern – Ivory; 1 Luminara 17″ Windsor Lantern – Ivory; 1 Luminara 19″ Windsor Lantern – Ivory
WEEK 4 PRIZES
Prize Package 1 – Berkshire Blankets ARV: $79.00; 1 Malden Mills Polar Fleece Sheet Set w/ Extra Contrast PCs/Cream/Taupe; 1 Berkshire Oversized Reversible Velvet Soft Printed Blanket/Black/Taupe Leopard
Prize package 2 – Cheryl's Cookies ARV: $387.00; 1 Holiday Entertainment Bakery Basket; 1 Holiday Grand Gift Tower; 1 Cheryls Mason Cookie Jar
Prize Package 3 – Hallmark ARV: $224.75; 1 4 original paints, Magic Cord + $100 Hallmark Gift Cards
Prize Package 4 – Harry London ARV: $217.96; 1 Harry London 12.25OZ BUCKEYE TIN; 1 Harry London 1LB ASSORTED CHOCOLATE VINTAGE TRUCK TIN; 1 Harry London 16PC ASSORTED SPRING TRUFFLES BOX; 1 Harry London 8OZ ASSORTED SPRING BOX; 1 Harry London 8OZ SPRING HOSTESS TIN; 1 Harry London 8OZ SPRING PRETZELS; 1 Harry London 4PC SPRING TRUFFLES; 1 Harry London SPRING CHOCOLATE CARD – BALANCED DIET; 1 Harry London SPRING CHOCOLATE CARD – SILLY QUESTIONS; 1 Harry London SPRING CHOCOLATE CARD – CHOCOLATE ANSWER; 1 Harry London VAL CHOCOLATE CARD – LIVE LAUGH LOVE; 1 Harry London VAL CHOCOLATE CARD – ALL YOU NEED; 1 Harry London 1LB DARK LAVA – SELF MEDICATE; 1 Harry London 1LB MISS MUD PIE – LOVE; 1 Harry London 1LB MILK SS CARMELS – U R MY FAVORITE
Prize Package 5 – Harry Slatkin ARV: $352.24; 1 Harry Slatkin S/2 Scented Deluxe 3 Wick Candles in Autumn Pumpkin/Harvest Leaves; 1 Harry Slatkin S/2 Scented Deluxe 3 Wick Candle in Holiday Wishes / Candy Cane Kisses; 1 Harry Slatkin Set of 2 Limited Edition 3 Wick Candles – Holiday; 1 Harry Slatkin Scentworx 2 Diffusers and 4 Refills – Harvest; 1 Harry Slatkin Set of 4 Diffuser Refillables – Holiday; 1 Harry Slatkin Ceramic Metallic Pumpkin – Orange; 1 Harry Slatkin Set of 2 Pinecone Candles; 1 Harry Slatkin Ceramic Figural Character – Snowman; 1 Harry Slatkin Gingerbread Plug-In Warmer – Man; 1 Harry Slatkin 24 Piece Gelables Refills; 1 Harry Slatkin Figural Mouse w/ 12oz Candle Insert
Prize Package 6 – Luminara ARV: $235.00; 1 Luminara 12″ Heritage Lantern – Slate; 1 Luminara 17″ Windsor Lantern – Slate; 1 Luminara 19″ Windsor Lantern – Slate; 1 Luminara 21″ Windsor Lantern – Slate