Enter the VIP sweepstakes for a chance to win one of four once-in-a-lifetime experiences at the 2017 Breeders Cup on November 3 and 4. Each experience includes a customized, VIP trip for two to the Breeders' Cup at Del Mar and a $1,000 wager on the Breeders' Cup Classic.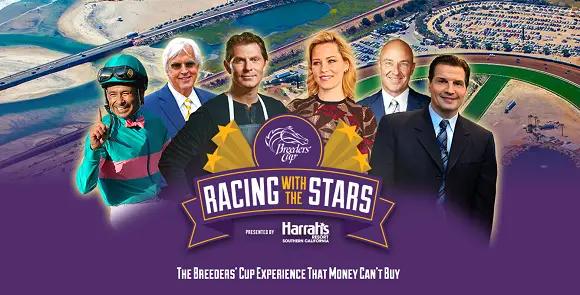 Click Here to Enter | Official Rules
Official Rules: Open to US, DC, Canada (excluding Quebec), 18 and older. Begins on June 5, 2017 and ends on October 9, 2017 at 11:59:59 a.m. ET. Random Drawing: After the end of the Sweepstakes. Entry Limit: One entry per person + bonus entries (see below)
Bonus Entries: You will receive one or more emails inviting you to share and/or consume Sponsor or its partners' content  in order to earn additional points provided you disclose your participation in the Promotion. For every additional 100 points earned, you will receive one entry into the Promotion. On the Website, which may be updated from time to time, you will find a list of tasks and corresponding point values for each task along with instructions on specific tasks that you may complete via the Social Toaster application or via the Approved Platforms in order to earn additional points.
Choose the experience you would like to win: You can only pick one, so choose wisely.
World-Class Racing Experience with trainer and jockey, Bob Baffert and Mike Smith
Culinary Experience with Bobby Flay
Purple-Carpet Experience
TV & Torrey Pines Golf Experience
One (1) Breeders' Cup World-Class Racing Experience Prize: The Prize consists of a VIP Trip for the Prize winner and one guest to the 2017 Breeders' Cup taking place on November 3 & 4, 2017 at Del Mar racetrack in California. Prize includes: round-trip economy class airfare for the winner and one  guest from a major airport near winner's residence to the San Diego, CA area; three nights hotel accommodations (one room, double occupancy); two  VIP seats for the Breeders' Cup for Friday, November 3 and Saturday, November 4, 2017, including transportation to/from Del Mar racetrack and hotel; a private meet and greet with trainer Bob Baffert and jockey Mike Smith; a tour of the barn area, hosted by Breeders' Cup CEO Craig Fravel, visiting the top Breeders' Cup contenders; the opportunity to watch the Breeders' Cup Classic from the Winner's Circle and be there as the Champion is led into the circle for photos and celebration; and $1,000 USD wager on Breeders' Cup Classic. ARV: $3,977 USD ($5332.56 CAD)
One (1) Breeders' Cup Culinary Experience Prize: The Prize consists of a VIP Trip for the Prize winner and one guest to the 2017 Breeders' Cup taking place on November 3 & 4, 2017 at Del Mar racetrack in California. Prize includes: round-trip economy class airfare for the winner and one guest from a major airport near winner's residence to the San Diego, CA area; three nights hotel accommodations (one room, double occupancy); two tickets to the exclusive Taste of the World culinary event on Thursday, November 2, 2017; two  VIP Hospitality passes to the Breeders' Cup for Friday, November 3 and Saturday, November 4, 2017, including transportation to/from Del Mar racetrack and hotel; the opportunity to tour the paddock and watch a race with Bobby Flay; dinner on Friday night at one of Mr. Flay's favorite restaurants; and $1,000 wager on Breeders' Cup Classic. ARV: $4,427 USD ($5962.50 CAD)
One (1) Breeders' Cup Purple Carpet Experience Prize: The Prize consists of a VIP Trip for the Prize winner and one guest to the 2017 Breeders' Cup taking place on November 3 & 4, 2017 at Del Mar racetrack in California. Prize includes: round-trip economy class airfare for the winner and one guest from a major airport near winner's residence to the San Diego, CA area; three  nights hotel accommodations (one room, double occupancy); two tickets to the exclusive Taste of the World culinary event on Thursday, November 2, 2017; two  VIP Hospitality passes to the Trophy Lounge for Breeders' Cup for Friday, November 3 and Saturday, November 4, 2017, including transportation to/from Del Mar and hotel; the opportunity to tour the paddock and watch a race with a Breeders' Cup ambassador; the opportunity to walk the VIP purple carpet and have your photo taken with a Breeders' Cup ambassador on the purple carpet; and $1,000 wager on Breeders' Cup Classic. ARV: $4,927 USD ($6635.93 CAD)
One (1) Breeders' Cup TV & Torrey Pines Golf Experience Prize: The Prize consists of a VIP Trip for the Prize winner and one guest to the 2017 Breeders' Cup taking place on November 3 & 4, 2017 at Del Mar racetrack in California. Prize includes: round-trip economy class airfare for the winner and one guest from a major airport near winner's residence to the San Diego, CA area; three nights hotel accommodations (one room, double occupancy); a round of golf for two at Torrey Pines Golf Course on Thursday, November 2, 2017; the opportunity to meet the NBC Sports talent, including Mike Tirico, Randy Moss, Jerry Bailey, Eddie Olczyk and Larry Collmus and visit the NBC set at Del Mar racetrack; two VIP Hospitality passes to the Breeders' Cup for Friday, November 3 and Saturday, November 4, 2017, including transportation to/from Del Mar racetrack and hotel; the opportunity to tour the paddock and watch a race in the Winner's Circle;  the opportunity to watch a race inside the NBC production truck with the show producer and director (selected race will be based on availability and schedule); the opportunity to watch a race inside the track announcer booth as Larry Collmus calls the race; and $1,000 wager on Breeders' Cup Classic. ARV: $3,977 USD ($5356.42 CAD)