Read It Forward is giving away 13 book-inspired one-of-a-kind artwork from some of your favorite authors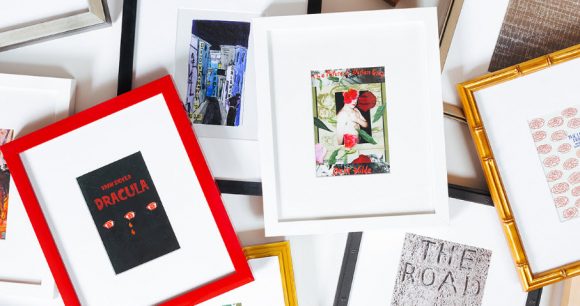 Official Rules: Open to US, DC, 18 and older. Begins on April 5, 2017 and ends at 11:59 PM ET on April 19, 2017. Random Drawing on or about April 27, 2017.  Entry Limit: One entry per person per giveaway.
To enter click on the link under each Picture. Enter one, or as many as you like, one time each.
Thirteen (13) Prizes:
Original artwork of The Very Hungry Caterpillar by Eric Carle created by Kim Li, printed and custom framed as a 4×6 or 5×7 print by Framebridge.com ARV: $159
Original artwork of The Road by Cormac McCarthy created by Pierce Streiff, printed and custom framed as a 4×6 or 5×7 print by Framebridge.com ARV: $159
Original artwork of His Dark Materials by Philip Pullman created by Mei Levenson, printed and custom framed as a 4×6 or 5×7 print by Framebridge.com ARV: $159
Original artwork of Dune by Frank Herbert created by Luke Patton, printed and custom framed as a 4×6 or 5×7 print by Framebridge.com ARV: $159
Original artwork of One Hundred Years of Solitude by Gabriel García Márquez created by Sunny Facer, printed and custom framed as a 4×6 or 5×7 print by Framebridge.com ARV: $159
Original artwork of Anne of Green Gables by L.M. Montgomery created by Lacee Swan, printed and custom framed as a 4×6 or 5×7 print by Framebridge.com ARV: $159
Original artwork of We Should All Be Feminists by Chimamanda Ngozi Adichie created by Nina Dine, printed and custom framed as a 4×6 or 5×7 print by Framebridge.com ARV: $159
Original artwork of The Picture of Dorian Gray created by Oscar Wilde, printed and custom framed as a 4×6 or 5×7 print by Framebridge.com ARV: $159
Original artwork of The Lion, The Witch, and the Wardrobe by C.S. Lewis created by Matt Cone, printed and custom framed as a 4×6 or 5×7 print by Framebridge.com ARV: $159
Original artwork of The Little Prince by Antoine de Saint-Exupéry created by Bernardo Margulis, printed and custom framed as a 4×6 or 5×7 print by Framebridge.com ARV: $159
Original artwork of Giovanni's Room by James Baldwin created by Rex Leonowicz, printed and custom framed as a 4×6 or 5×7 print by Framebridge.com ARV: $159
Original artwork of Dracula by Bram Stoker created by Milo Matthieu, printed and custom framed as a 4×6 or 5×7 print by Framebridge.com ARV: $159
Original artwork of Lolita by Vladimir Nabokov created by Elyssa Goodman, printed and custom framed as a 4×6 or 5×7 print by Framebridge.com ARV: $159