Lucky Charms is giving away 10,000 Original Lucky Charms marshmallows only packs in their Marshmallow Only Instant Win Game. Grab your Lucky Charms codes and play for your chance to win.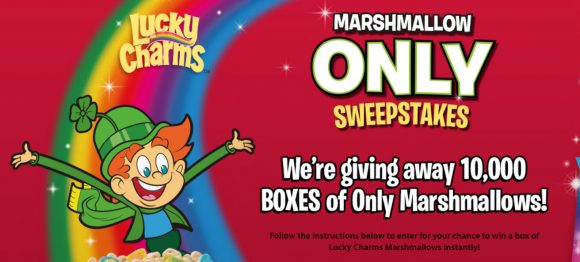 Click Here to Play | Official Rules
Official Rules: Open to US, DC, 18 and older. Begins on April 19, 2017 ends on December 31, 2017 at 11:59 p.m. ET. Random Drawing on or about. Entry Limit: forty entries per person, regardless of method of entry, or combination of methods of entry..
Lucky Charms Entry Phases:
April 19 to May 31
June 1 to September 30
October 1 to December 31
Code Required: three ways to obtain a code for the Instant Win Game:
With Purchase: purchase a specially-marked package of Original Lucky Charms from a participating retailer, while supplies last. Locate the code which is printed on the inside of the back panel of the specially marked package
Mail-in Code Request: From April 5, 2017 to December 17, 2017: To obtain a Product Code without making a purchase, hand print your name, address, day and evening phone numbers (if different), email address, and date of birth on a 3″ x 5″ piece of paper and mail it in an envelope with proper postage and the name of prize pool ("National" for a National Prize Pool Product Code or "Retailer" for a Retailer Prize Pool Product Code) which you wish to enter, written on the outside of the envelope, to:
"Lucky Charms Marshmallow Only Program"
c/o HelloWorld, Inc.
P.O. Box 5503, Department 830075
Kalamazoo, MI 49003
Limit: One Code request per envelope. All mail-in requests must be handwritten and must be postmarked by December 17, 2017 and received by December 25, 2017. NOTE: If you do not include a name of a prize pool on the outside of the envelope, by default, you will receive a National Prize Pool Code. You will receive a Code via email.  Administrator will email you a Code within 8-9 business days from your postmark date.
Online Free Code Request — From December 18, 2017 to December 31, 2017: To request a Code online, visit MarshmallowOnly.com and follow the links and instructions to complete and submit the Code request form, including a valid email address as well as specify if you would like to receive a National Prize Pool Product Code or a Retailer Prize Pool Product Code, and you will receive a Code within one business day via automated email.
(10,000) Prizes [(5,493) awarded for the National Prize Pool and  (4,507) awarded for the Retailer Prize Pool which includes one  prize per participating store location]: A box of Original Lucky Charms marshmallows only pack. ARV: $50
Prize Limit: One  Instant Win Game prize per person.