Quikly is celebrating the launch of our newest Zumba Wear kicks with 2 FREE tickets aboard the Zumba Cruise (including round trip airfare). Thousands of other Zumba fans will shuffle away with one of 20,000 exclusive Zumba Wear rewards. Dance your way to the top spot by being the fastest to respond once the rewards go live. The best of the rest will secure other awesome goodies! Can you think fast on your feet? Prepare to test those moves. Only we know when the rewards will go live… so get on board now before it's too late!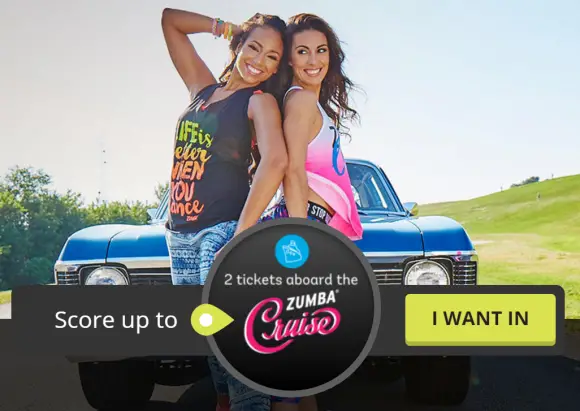 Eligibility: US, DC, 18 and older
Entry Dates: January 16, 2017 and ends on or before January 23, 2017
Click Here to Enter | Official Rules
This is a Quikly, which means the more quickly you act, the more value you get. Just click the "I Want In" button, and if you haven't opted-in for the campaign previously, follow the instructions to opt-in. Once you've opted-in, you're in! At some point between now and January 23rd, 2017, the Quikly will go live. When it does, they'll send you an email or text (depending on your preference selected at opt-in) letting you know the Quikly is live. You can receive 3 minutes advanced notice that the Quikly is about to go live for every person who opts-in from your referral through the referral page. Be one of the first to claim the Quikly once it goes live. The more quickly you claim, the greater the value you'll get.
Entry Limit: one opt-in per person
Zumba Quikly Prizes:
Fastest person: Two Tickets Aboard the Zumba Cruise: One Winner will receive one Superior Ocean View with Balcony for Winner and one guest on the Zumba® Cruise. Cruise dates are April 23 to April 28 2017. Winner will also receive round trip airline tickets for Winner and one guest to travel from an airport near a major U.S. city near Winner's home to the departure point of the Cruise. If Winner has already paid for the Cruise ticket, he/she will be refunded the amount paid for the room and will be upgraded to the Superior Ocean View with Balcony. The amount of the airfare will also be refunded if applicable. All flight details, including the time of the flight and the airline, will be determined by Zumba in its sole discretion. ARV: $2,698.00
2nd to 1,001st fastest people: $25 coupon for Zumba.com
1,002nd to 3,003rd fastest person: $15 coupon for Zumba.com
3,002nd to 16,001st fastest person: $10 coupon for Zumba.com
16,002nd to 20,001st fastest person: $5 coupon for Zumba.com
NOTE: For All Coupons: One time use only. Redeemable only in the U.S. on zumba.com in the ZIN™ and consumer shops. Valid from January 23, 2017 at 12:01 am ET to January 27, 2017 at 11:59 pm ET. Does not apply to taxes and shipping and handling charges. Cannot be used for purchases of gift cards, video games, CD's, DVD's, Toning Sticks, Zumba Rizers™ and Zumbini® bundles. Cannot be combined with certain offers or discounts. Cannot be sold or redeemed for cash or credit. Cannot be replaced if lost, stolen or deleted.