Watch Black Sails on Starz and then visit SweetiesSweeps.com to get your weekly trivia answers to enter for a chance to win prizes a prate would kill for! Aaaarrrgggghhhh Black Sails has returned for its final season. And with it, a contest that blows all others out of the water. After you watch each bloodthirsty episode, you have the chance to grab your share of the gold. Now that's an offer no true pirate could refuse.
Want to win more?
Did you win Wheel of Fortune? Check the daily winning ID here
 Play the Winston Bold Ride Instant Win Game every day for more chances to win a Classic car, a vacation getaway and cash prizes.  Sweeties Sweeps has your daily Winston Bold Ride answers here
Spring is almost here and Easter giveaways, sweepstakes, freebies, coupons and hot deals are already here for you to enter, win, and enjoy here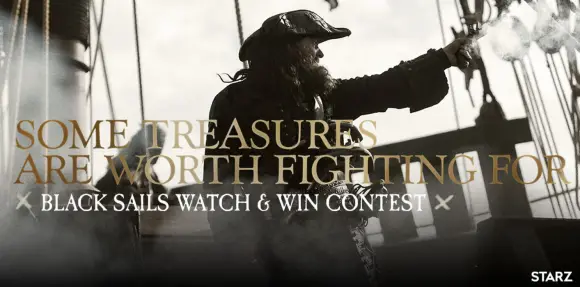 To get your share of the loot, you don't need to run anyone through with a blade. Just come back to IGN after each Sunday's episode of Black Sails and answer the trivia questions. If you get them right, you'll be entered to win some serious swag, including a solid gold bar. And while you're there, share a postcard with your crew.
Eligibility: US, DC, 21 and older
Entry Dates:  January 29, 2017 and ends on Saturday, April 8, 2017 at 11:59:59 pm PT
Random Drawing: approximately five business days of the end of each Entry Period.
Website Entry Form | Official Rules
Black Sails Trivia Sweepstakes Entry Periods:
January 29 to February 4
February 5 to February 11
February 12 to February 18
February 19 to February 25
February 26 to March 4
March 5 to march 11
March 12 to march 18
march 19 to March 25
March 26 to April 1
April 2 to April 8
Watch the  TV show Black Sails each week on Starz (check you local listing), and correctly answer the weekly Trivia Questions. Only Entries which have correctly answered the trivia questions will be eligible for the Sweepstakes. 
Black Sails Trivia Questions and Answers:
Please do not copy answers to other sites without giving credit to Sweeties Sweepstakes.
Entry Period #10:
The series finale ends on a shot of what? The Jolly Roger
Silver manipulates Flint by…  Convincing him his lover is still alive
Entry Limit: one entry per person per weekly entry period. Entries submitted during any Entry Period will not valid for subsequent Entry
Prizes:
One (1) Entry Period #1:  Xbox One S video game console  ARV: $350
One (1) Entry Period #2: PlayStation 4 Slim video game console  ARV: $300
One (1) Entry Period #3: Jack of the Dust artistic skull sculpture ARV: $448
One (1) Entry Period #4:  PlayStation 4 Pro video game console ARV: $400
One (1) Entry Period #5: A 3-day /2-night trip for the winner and one guest to Los Angeles, California to attend a Black Sails viewing party. Travel is anticipated to occur April 1 – 3, 2017. The Trip will consist of: Round-trip coach class airfare for Winner and guest from a major airport with regularly scheduled commercial flights close to Winner's permanent residence to a Los Angeles-area airport (or, in Sponsor's sole discretion, $500 in lieu of air travel if winner lives within a 200-mile radius of the destination); two  nights hotel accommodation for Winner and guest at a hotel selected by the Sponsor (one room, double occupancy, room & tax only);  access for the Winner and his/her guest to attend a Black Sails viewing party;  airport transfer to/from the hotel in Los Angeles;  ground transportation to/from the Event; and $300 spending money. ARV: $2,900
One (1) Entry Period #6: Jack of the Dust artistic skull sculpture  ARV: $448
One (1) Entry Period #7:  gold doubloon  ARV: $3,000
One (1) Entry Period #8:  PlayStation 4 VR ARV: $400
One (1) Entry Period #9:  PlayStation 4 Pro video game console; one PlayStation 4 VR  ARV: $700
One Entry Period #10: 100-gram gold bar ARV: $4,000