Click Here for your chance to win your choice of a Kindle Fire HD 6 @Austin_Dragon, Kindle Fire HD 7, or Kindle Paperwhite OR a book bundle of 10 favorite books of your choice – either ebook or paperback! There will be two winners chosen: (ARV: $200) (Each winner can pick their prize! Either Choice One or Two)
About Austin Dragon
Author of the sci-fi After Eden Series, classic Sleepy Hollow Horrors, and new cyberpunk detective series, Liquid Cool. He is a native New Yorker, but has called Los Angeles, California home for the last twenty years. Words to describe him, in no particular order: U.S. Army, English teacher, one-time resident of Paris, political junkie, movie buff, campaign manager and staffer of presidential and gubernatorial campaigns, Fortune 500 corporate recruiter, renaissance man, dreamer.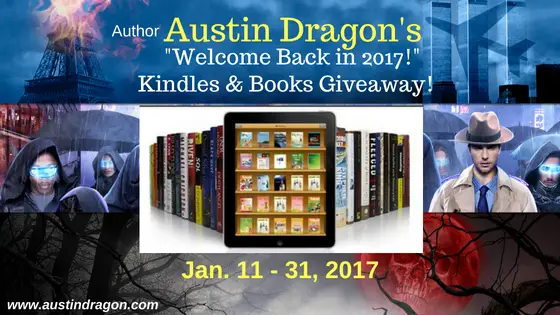 Eligibility: United States, Canada; 18 years of age and older
Entry Dates: January 11, 2017 and ends on January 31, 2017
Drawing Date: drawing held on or about February 1, 2017
Website Entry Form | Facebook Entry Form | Official Rules
Entry Limit: one entry per person + bonus entries for completing various activities and sharing
Two (2) Grand Prizes:
Each winner can pick their prize! Either Choice One or Two
CHOICE ONE (KINDLE) – A Kindle Fire HD 6, Kindle Fire HD 7, or Kindle Paperwhite!
CHOICE TWO (BOOKS) – A book bundle of 10 favorite books of your choice–either ebook or paperback!