SONIC Drive-In just released a new product line of irresistible SONIC Blast® Flavor Funnels that include a delectable, flavorful center surrounded by the hand-mixed Real Ice Cream of the iconic SONIC Blast. For a limited time only you can add a peanut butter, caramel, Oreo® stuffing or chocolate Flavor Funnel to your favorite SONIC Blast for a one-of-a-kind frozen treat.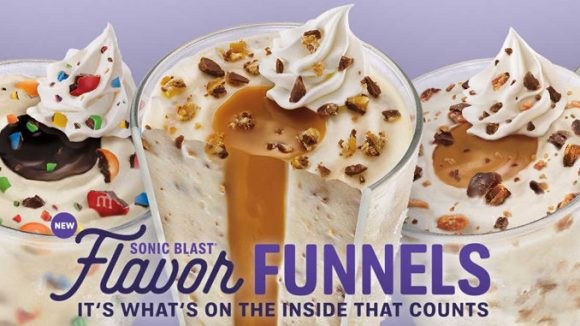 With Blast Flavor Funnels, a delectable funnel of flavor at the center is surrounded by hand-mixed Real Ice cream making each Blast a treat within a treat.
Flavor Funnels are available in five SONIC Blast offerings:
SONIC Blast made with Snickers® Bars and Caramel Funnel
SONIC Blast made with Butterfinger® pieces and Caramel Funnel
SONIC Blast made with Oreo® cookie pieces and Oreo® Stuffing Funnel
SONIC Blast made with M&Ms® Chocolate candies and Chocolate Funnel
ONIC Blast made with Reese's® Peanut Butter Cups and Peanut Butter Funnel
Or, add a Flavor Funnel to any of SONIC's Blasts to create a custom dessert with your favorite flavors in each bite.
SONIC Blast Flavor Funnels are only here for a limited time, so stop by your local drive-in soon to experience the revolutionary taste sensation for yourself.
SONIC Boneless Wings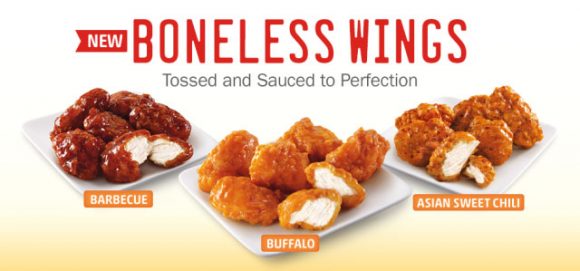 SONIC is bringing back the celebrated Wing Night in America, and it's better than ever! Buying one order of juicy Boneless Wings and getting another free is the perfect way to appease your hunger Monday through Thursday after 5 p.m. with any six-, 12- or 24-piece orders.
SONIC's Boneless Wings boldly go where no wings have gone before, with daring new flavors like Hot Honey, Garlic Parmesan and Pineapple Habanero joining Honey BBQ, Asian Sweet Chili and Buffalo, SONIC's offers a heat scale of flavors for any wing lover. Some sauces are delightfully sweet while others are exotically tangy, but all SONIC Boneless Wings are loaded with mouthwatering flavor and juicy white chicken breast.
Wing Night in America is available for a limited time only so grab a wing mate and head to your nearest drive-in Monday through Thursday after 5 p.m. 
Find a SONIC Drive-In location and learn more about the new menu at sonicdrivein.com
Free Medium Slush: Get a free medium slush when you download the Free SONIC® App and create an account.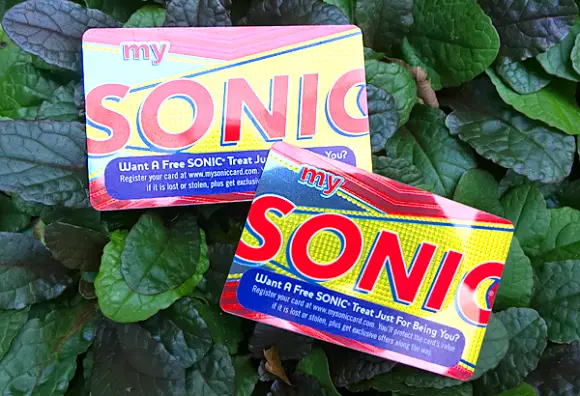 Enter to Win a SONIC Gift Card!
Wait for the page to load completely and then use the Rafflecopter widget to enter this giveaway. If the Rafflecopter widget never loads you may get one entry by leaving a comment below.
Giveaway Rules: NO PURCHASE NECESSARY. This giveaway is not associated with nor affiliated with Facebook or any other social network. Open to all United States residents, 18 and older. This Giveaway begins on September 22, 2016 and ends on September 26, 2016 at 12:00 am ET. The Winners will be randomly chosen on or about September 26, 2016 and will be listed on the winner's page. Two winners will each receive a $20 SONIC gift card mailed to the address provided. Winners will not be contacted individually.