Click Here to enter for your chance to win one of the weekly $250 gift card prizes from Smirnoff Ice Show Your Game Contest.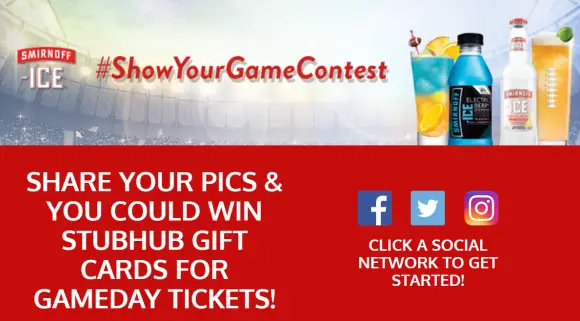 Eligibility: US, DC, 21 and older
Entry Dates: September 1, 2016 and ends at 11:59:59 p.m. ET on February 8, 2017.
Judging Criteria: on or about five business days after conclusion of a week entries will be judged using the following criteria: originality and creativity, 40%; degree of passion for football, 20%; degree to which entry complements/fits with the SMIRNOFF ICE brand, 40%
Click Here to Enter | Official Rules
Sing in using your Facebook, Twitter or Instagram account to get started.
How To Enter: upload to the Contest Website a photo showing how you prepare for "Game Day" along with the hashtag #SHOWYOURGAMECONTEST. After registration at the Contest Website, you may instead post your "Game Day" photo on your public (non-private) Instagram or Twitter account using the hashtag #SHOWYOURGAMECONTEST. NOTE: Posting your photo on an Instagram/Twitter account platform without also registering for the Contest will NOT result in entry. You may post your photo(s) before or after registering for the Contest.
Examples of "Game Day" preparation include but are not limited to your "Game Face" and food/drinks prepared for tailgate parties. IF YOU CHOOSE TO SUBMIT A PHOTO OF A DRINK, THE DRINK NEED NOT BE AN ALCOHOL BEVERAGE; AN ALCOHOL PURCHASE IS NOT REQUIRED FOR ENTRY IN THE CONTEST. You may include a comment along with your photo, but this is not required; but, doing so may strengthen your entry for purposes of the Contest judging.
ENTRIES WILL BE JUDGED
Entry Limit: one entry per person per week (Thursday at 12:01 a.m. ET and ends on the immediately following Wednesday at 11:59:59 p.m. ET)
Twenty-three (23) Prizes (one per week): $250 gift card which the winner may use for tickets to a football game or other event. Sponsor will select issuer of gift card in its sole discretion;