We hear of winners all of the time but don't often get the chance to share their stories with you. Take a lot at what Sweeties Sweepers are winning lately. Share your story to get featured in our next winner's story roundup by sending an email to [email protected], Subject Winner's Stories.
Car Winner! Chelsea: My biggest win yet….probably will be biggest ever! At what point is it "safe" to post about winning something so big?! Handed in all the paperwork and my car choice, color, and the dealership I want it delivered to! So exciting! (From the Secret site. Another car winners posted her win on page 2 of this message thread)
Christie: I just won the XBox One, so excited! From the Doritos Instant Win Game
Megan Annes: she won the grand prize trip to the 2017 NBA Finals from a Secret site sweeps
Kathleen from Facebook: I just received the email that I am the confirmed Grand Prize Winner of the Bahama Breeze Viva La Cinco (Viva La Rita) Sweepstakes. Grand prize is a cruise package valued at almost $8,000. Biggest prize I have won yet. I am so excited!
Tara from Twitter: Winner Winner! Aprils giveaway from Carlister Sweepstakes!!! Picked it up today!!
Roxy B: Thanks Sweetie! I saw this particular contest on your Facebook page. Set the reminder and tweeted along with BET on the 22nd. Found out that I am officially one of the winners of a Smartwatch (BET Lift Every Voice Smart Watch Sweepstakes)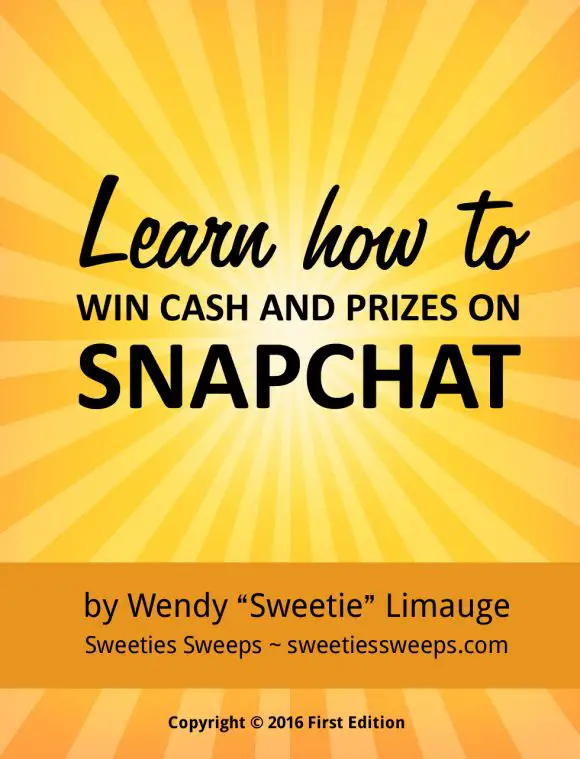 We had our first Snapchat winner and she's a Senior Citizen. If she can do it, so can you!
From Vanessa: My 1st Snapchat win. I was just notified by Kenneth Cole. Thanks to you for opening up the world of Snapchat to me. (she won a pair of Kenneth Cole's best-selling Kam sneakers)
Don't know how to use Snapchat? You're not alone. Follow me and learn how to use Snapchat or get my book on Amazon.com
Katherine: So I am a long time sweeper and I had a lot of luck when I first started (back in early 2000), but for the last few years it's been pretty uneventful. I knew something had to change so I joined Sweeties Secret Sweeps and I must say, the first month I won two local sweeps! One was the Dos Equis $200 gift card and the other was the JetBlue Sweepstakes and I won a Roundtrip ticket worth $299! I am kicking myself for putting off joining for so long, but very happy to finally be winning again. Thank you, Sweeties Team!
Lisa: My husband won a gas grill thanks to the sweepstakes on the Secret site which got us into the 1st round!
Michelle: Congratulations! We're excited to let you know you're a potential winner in the American Express Gift Card Sweepstakes! You've won a $1000 Amex gift card, which has an approximate retail value of $1,000
Kashonda: Well I was the Grand Prize winner of the Rhianna Anti tour sweepstakes from Puma. Won a trip to New Orleans spending money and concert tickets.
Kimmy: Thank you so much for posting this Sweetie! I won the grand prize…a trip to Vegas!! (from the Steve Harvey Morning Show and Creme of Nature's State Farm Neighborhood Awards Sweepstakes)
Jocelyn: I was chosen as one of the Grand Prize Winners! The Prize is a check for $5,000 from the Autozone Sweepstakes
Kristina: I won the $50 gift card from the Hellmann's Strangewich sweeps!!!
Sheba: Wow I won! Thanks Dr Oz! Been needing a win n loving this one. Sensé Basic Pack that includes: one 4 Fl. Oz bottle of the Gentle Daily Cleanser, one 4 Fl. Oz. bottle of the Hydrating Toner, one 1.3 Fl. Oz. tube of the Daytime Protective Emulsion, and one 1.3 Fl. Oz. tube of the Night Renewal Crème. ARV: $91.30
Marcy: I won a $50 Lands End gift card and received a Nerf Super Soaker in the mail from a Cartoon Network Sweeps. Was a good day!
What have you won lately? Share your wins below