It's Eggsactly what you've been waiting for! This year's @WomenFreebies #EggHunting is bigger and better than ever with thousands of chances to win huge prizes! They're hidden over $60,000 inside the Eggs this year and there are more chances to win than ever. That's because every day from April 1 – April 20 they will be giving away a KitchenAid Stand-mixer, Keurig Coffee Brewer and even an iPad Mini!
Sweepstakes Rating: Good
Eligibility: US, DC, Canada, 13 and older. UK, 16 and older
Entry Date: April 1, 2014 and ends at 11:59 p.m. GMT on April 20, 2014
US Entry | Canada Entry | UK Entry | Official Rules
Hint: A Woman Freebies Easter Egg will bee overlayed on a page and look like this. It may be different colors. Sometimes it takes a minute or two for the egg to appear after the page has loaded but there is an egg on every page for every person who visit. Just wait until you see it.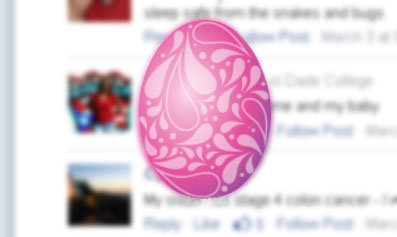 Entry Limit: unlimited entries (but you can only win once per household per day)
To win prizes, search through the blog posts on WomanFreebies.com, WomenFreebies.ca or WomenFreebies.co.uk. Participants must open Eggs on the blog in the Country which they reside. Americans must search on WomanFreebies.com. Canadians must search on WomenFreebies.ca. UK Residents must search on WomenFreebies.co.uk. Eggs will time out after 10 minutes and will be re-added. To claim an Egg, click on it and a form will pop up. If it is a winner, user must enter their mailing address and click "Submit" to claim prize. All winning Eggs will display a bunny inside. Open Eggs found on the "newer" blog posts for the best odds to win (the first 40 pages have the best odds).
Seven Thousand (7,000) Gift Cards hidden on WomanFreebies.com (US Dollars) & WomenFreebies.ca (CA Dollars) and a minimum of One Thousand (1,000) Gift Card Prizes hidden on WomenFreebies.co.uk (GBP). Products also to be given away on WomanFreebies.com, WomenFreebies.ca & WomenFreebies.co.uk include, but are not limited to, 20 KitchenAid Artisan Mixers, 20 Keurig Coffee Makers (not available in the UK) & 20 iPad Minis.
One (1) KitchenAid Mixer, One (1) Keurig Coffee Maker (not available in the UK) and One (1) iPad mini will be given away on each day of the contest. There will also be an hourly entry giveaway sweepstakes running in conjunction with "The 2014 Easter Egg Hunt". Different amounts of prizes will be added each day, and prizes that are not found may be re-hidden. Products can be won by either Canadian, United Kingdom or American residents but will not be shipped to any other countries, with the exception of Canadian, United Kingdom or American military bases overseas.
Prize Limit: Only one gift card may be claimed per household per day. Only one major prize may be claimed per household per day.