2012 has been filled with loads of sweepstakes and lots of winners too. Whether you one a $10 prizes or a brand new car, we want to hear your story. We've heard from a lot of you on Facebook and your wins have been an inspiration. Here are just a few of the winning stories from sweepers from this past year.
Scott won an Entertainment package won thru Pepsi contest.
Heather won these from the Secret site: Hubby got a text last week that he won the 2 night ResortQuest stay. Then yesterday he got an email saying he won a customizable neon sign & $200 gift card. And today I got an email saying I won a $500 Dick's Sporting Goods card. Beer and bananas made us winners. LOL! I'll be keeping my fingers crossed that my winning streak isn't over!
LeAnn said: Thanks for all the great sweeps!  Just wanted to let you know I won a $25 gift card in the daily drawing for Master Holiday Chef.  Might not seem like much, but I didn't know I won, it just showed up in the mail!  I keep telling my husband not to throw anything away!  LOL
Lydia said: Just last week I picked up the keys to my brand new FORD FOCUS!! I won a two year lease and got to pick out any Ford Focus I wanted!!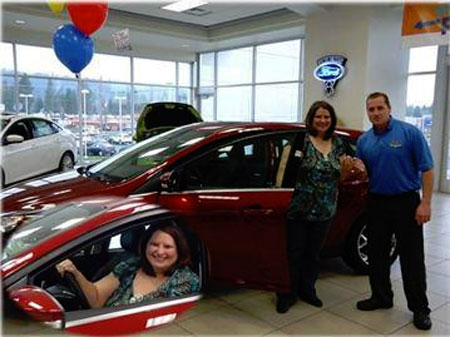 Donna said: I am so thrilled,  words just can't say enough.  Just received notification from the Visa Prepaid Know My Numbers game that I was an instant winner.  Congratulations, you've just won a Tablet PC. It will arrive in about 6 to 8 weeks. You've also been entered for a chance to win the $2,000 Grand Prize.
From Julie: I definitely would not have heard of this sweeps but for your site! I won the grand prize in the "Kohl's The Rolling Stones Concert Sweepstakes", a 3-day/2-night trip for two to New York, NY to attend the Rolling Stones Concert.
Jessica's win from the Secret site: We won Timbers tickets (Portland soccer team) Hotel voucher, $50 gift card to On deck sports bar in Portland, 2 timbers t-shirts, lanyards and foam axes.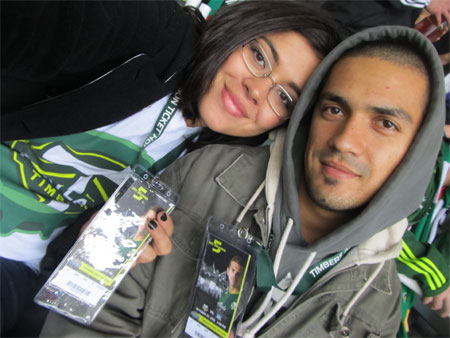 Jeannine's Win: This is the sectional couch I won from Bassett sweepstakes that was on the Secret Site. Thank you for all you do! Bassett was great to work with. I loved designing my own couch!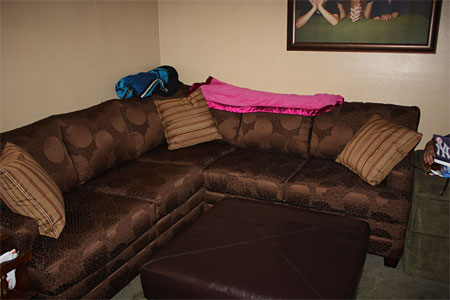 Katie said: I just got my first big win. I won a $200 Whole Foods gift card! Thank you for all the hard work you do for others! Hope you have a great week!
Jennifer just started winning from Secret site sweeps: I had been dabbling in sweeping but I finally started taking it seriously about mid-September and I started getting my first few big wins. So excited! Won the Miami Dolphins Viva Paper Towels Grand Prize and the Budweiser Championship Racing Weekend First Prize. So happy and thankful to this site!! Woo Hoo!
Matt's wins: I was the Grand Prize winner of the Microsoft "Cool Is In Session" sweepstakes! It was a one-prize sweepstakes on the Microsoft Facebook page (currently almost 2 million likes). One time entry. The prize was over $2,700 worth of electronics!
The prize included a Dell XPS Ultrabook, Tumi Laptop bag, Microsoft office 2010, Xbox 360 w/ Kinect, a couple Xbox games and 12-mo. Xbox Live, Nokia by Monster Headphones, Nokia Lumia 900 cell phone, and a wireless router.
I couldn't believe I won it since they had SOOO many likes on their page. It was one I probably threw my name in the hat because it was easy, never thinking I had any chance. I think it will forever serve as a reminder to myself that every entry is worth it, because you just never know!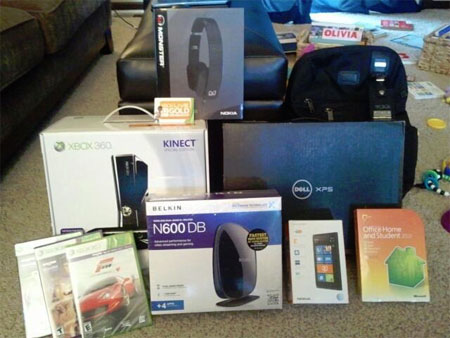 Jennifer's Truck Win: Just wanted to let you know on Thursday I received a call saying my paper work was verified and a GMC dealer would be calling in 1 or 2 days or maybe in a week or two. Plus I would have $30,000 to spend on a car. In addition I will be receiving tracking numbers for the $3400 in NFL merchandise I won. So Friday afternoon a GMC dealer called and said I could come pick up my Terrain. We arrived Saturday morning and decided on a 2013 Terrain SLT1 with leather heated seats, touch nav. system and rear lift gate. It gets 24/32 mpg! I can't believe how fast this all happened, just 10 days form winning email to having a new car in my driveway.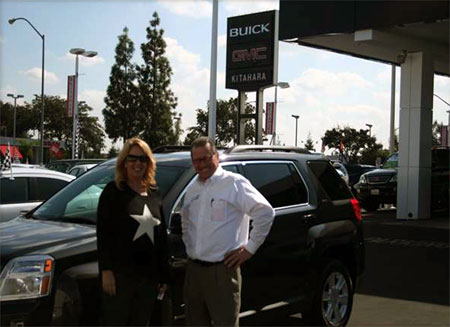 Aimee said: I have been following your post for probably about 2 years now. I have won a few little things (pop, soap, cereal for a year) even won a $200 gift card once, but I have finally hit a big one. I'm a grand prize winner of the Kindle Fire VIP iheartradio Music Festival. I'm so excited to go. I don't think you listed this one (I can't find it on your pages) but thanks to you I started following Kindle Fire a while back on Facebook, and have entered all their sweepstakes in hope of a Kindle Fire and now I have gotten so much more. Thanks Sweetie, you're the best!

Disclosure: this sweepstakes listing
may contain
an affiliate or tracking link but we
do not use referral links
. Read about our
policies
for more details.