A couple of weeks ago Greg and I visited the @KrispyKreme headquarters in Winston-Salem, North Carolina and joined a group of other donut lovers to tour the plant, meet the CEO and learn all about how Krispy Kreme donuts are made. Maybe you read our post, the Day in the Life of a Krispy Kreme donut, or learned how to pair coffee with doughnuts.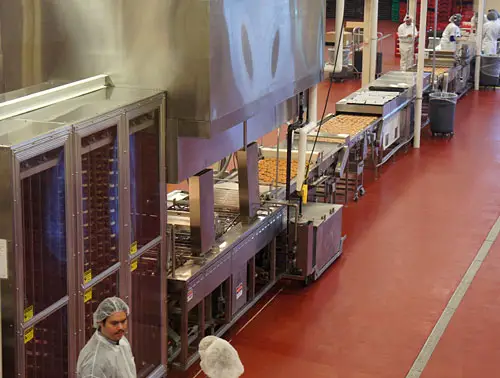 We sure learned a lot about Krispy Kreme donuts and I'm glad. I grew up with them, going on Sunday night after  church to watch as they made the donuts fresh and then eating them while they were fresh off the line. They say that when the light comes on you know that the Krispy Kreme donuts are hot off the line. They even have an app for that now.

Krispy Kreme sent us home with lots of Valentine's cards to give away. You can actually get a Free sheet of these cute cards (12 to a sheet) when you buy a dozen donuts but 10 lucky Sweeties readers will each get 24 cards of their own to give to friends. They really are designed for kids because they are the small ones kids usually giveaway but I am sure a co-worker or friend would love to have one.
Why? On the back of each card is a coupon to get a FREE Krispy Kreme donut of your choice with no purchase necessary.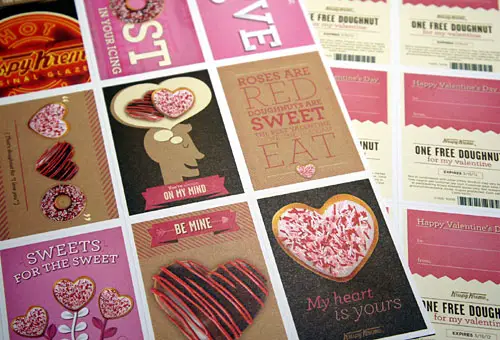 So, the lucky winners will each get enough cards to get 24 Free Krispy Kreme donuts! Of course, you could keep them for yourself if you don't want to share but you can't use them all at once!
One of the biggest years for Krispy Kreme is Valentine's Day. People love the special heart-shaped donuts and buy them up like crazy for their parties.
WINNERS:
KK: turtle710…
Joan: jetkeys50…
Michael: mmd1az…
Sami: womanofthe21stcentury…
Patsy: prplwabbit…
Jana: janagramaglia…
Sheryl: straykitty_600…
Teresa: taam216…
Jannet: aguidon_jann…
Ashley: Couponmomfl…
GIVEAWAY DETAILS:
Entry is simple! Just leave a comment below and tell me what you favorite kind of donut is – it doesn't have to be Krispy Kreme. Don't like donuts? Tell me what your favorite treat is? Make sure to include your name and email address in the box and your answer in the comment section. Your email address will be hidden but I will see it.
PRIZES:
Ten Winners will each receive 24 Krispy Kreme Valentine's cards (2 sheets)
BONUS ENTRIES:
Follow Sweetie on a Facebook, Twitter or by email. (one entry for each option)
Click here to send this tweet on Twitter (one per person per day)
Click the Facebook button at the bottom of this post to share this giveaway. (one per person per day)
You get an extra entry for each task you do but you must leave a separate comment for each one.
General Giveaway Rules: This giveaway is only open to residents of the United States who are 18 years of age or older. Ends on February 3, 2012, at midnight EST. The email addresses that are collected for this giveaway will only be used for the purpose of contacting the winner and will never be given out to anyone nor sold. The winners will be randomly chosen and contacted via email. The winner will have 72 hours to respond. Only one winner per household. Please make sure you check your junk mail folder.
Disclosure: Krispy Kreme gave us these Valentine's cards to giveaway and we are sending them out.