Cheer is awarding 19,061 prizes ranging in price from $0.40 to $550. Each day you can click the video from their Facebook page to see if you are a winner. be fast because the prizes are gone quickly. The rules don't state when the time will be. As an example, on August 16th, the gave away the prizes at 2 pm ET. Watch the Cheers Facebook wall for notifications.
Eligibility: US, Canada (excluding Quebec) who, as of the last day of the month prior to the date of entry, are of the legal age of majority in the state, province or territory in which they reside
Entry Dates: begins on August 15, 2011 and ends 5:00 p.m. ET on August 31, 2011
How to Enter:
visit www.facebook.com/Cheer
Like the page
Click Enter and then click Allow
Watch the "Dig It and Get It" video on YouTube at www.Youtube.com/StrangeTalkMusic
While watching the video, you will see a series of images in the video, each representing a prize that can be won in the Sweepstakes. New sets of prizes will be available and "in play" each day, while supplies last
Each image that is "in play" has a "hotspot" or clickable area. Click on the hotspot of the image of the item you would like to receive.
Prizes will be awarded to the first participants who click on them. If the item you clicked on is still available, when you have accessed the Application, you will be prompted to complete the registration form.
If a prize is no longer available, once you click on a hotspot and are directed to the Sweepstakes Application you will receive notification of such prize unavailability.
Sweeties Note: The hotspot is a white border that appears over the video. It is not something you click IN the video. This is what it looks like. You have time to stop the video and go back to click on it if yo miss it. You have to watch carefully.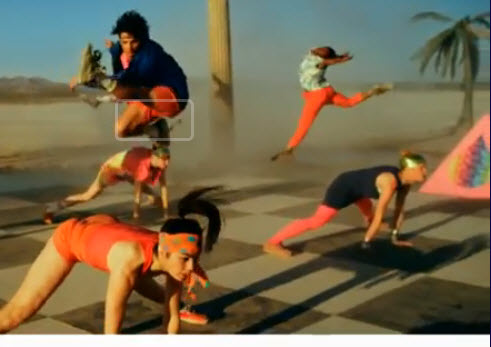 Limit one entry/prize claim per person per day.
Prize List:
(21) A "Stephen" Tank Top (6 Size Small; 8 Size Medium; 7 Size Large) $24
(13) A "Gerard" Shirt 13 (7 Size Medium; 6 Size Large) $49
(18) A "Travis" Shirt 18 (6 Size Small; 7 Size Medium; 5 Size Large) $34
(15) A "Gill" Shirt 15 (7 Size Small; 4 Size Medium; 4 Size Large) $60
(500 A Red Knit Beanie 500 (awarded to US residents only) $5
(500) A Blue Knit Beanie 500 (awarded to US residents only) $5
(50) A Red Knit Beanie 50 (awarded to Canadian residents only) $5
(50) A Royal Blue Knit Beanie 50 (awarded to Canadian residents only) $5
(689) A pair of Blue and Red socks 689 $5
(400) A pair of Yellow and Green socks 400 $5
(350) A pair of Pink and Green socks 350 $5
(350) A pair of Yellow and Blue socks 350 $5
(250) A Gold Men's American Apparel Basic Tee 250 (83 Size Medium; 84 Size Large; 83 Size Extra Large) $9
(250) A Fuschia Men's American Apparel Basic Tee 250 (83 Size Medium; 84 Size Large; 83 Size Extra Large) $9
(250) A Red Men's American Apparel Basic Tee 250 (83 Size Medium; 84 Size Large; 83 Size Extra Large) $9
(250) A Turquoise Men's American Apparel Basic Tee 250 (83 Size Medium; 84 Size Large; 83 Size Extra Large) $9
(233) A pair of Yellow Boxers 233 (77 Size Medium; 79 Size Large; 77 Size Extra Large; awarded to US residents only) $10
(234) A pair of Red Boxers 234 (78 Size Medium; 78 Size Large; 78 Size Extra Large; awarded to US residents only) $10
(233) A pair of Blue Boxers 233 (79 Size Medium; 80 Size Large; 74 Size Extra Large; awarded to US residents only) $10
(70) A pair of Blue Boxers 70 (24 Size Medium; 24 Size Large; 24 Size Extra Large; awarded to Canadian residents only) $15
(100) A Red Full Zip sweatshirt 100 (33 Size Medium; 34 Size Large; 33 Size Extra Large) $15
(100) A Royal Blue Full Zip sweatshirt 100 (33 Size Medium; 34 Size Large; 33 Size Extra Large) $15
(100) A Purple Full Zip sweatshirt 100 (33 Size Medium; 34 Size Large; 33 Size Extra Large) $15
(100) A Green Full Zip sweatshirt 100 (33 Size Medium; 34 Size Large; 33 Size Extra Large) $15
(100) An Old Navy Button Up-Plaid Green 100 (32 Size Medium; 34 Size Large; 34 Size Extra Large) $30
(100) An Old Navy Button Up – Plaid Red 100 (32 Size Medium; 34 Size Large; 34 Size Extra Large) $30
(100) An Old Navy Button Up – Plaid Yellow 100 (32 Size Medium; 34 Size Large; 34 Size Extra Large) $30
(500) Basic Knit Capri Leggings – Grey 500 (one size) $5
(500) Basic Knit Capri Leggings – Pink 500 (one size) $5
(40) A Basic Rib Knit Tank Top – Coral 40 (size Large) $5
(50) A Basic Rib Knit Tank Top – Yellow 50 (size Large) $5
(70) A Basic Rib Knit Tank Top – Pink 70 (size Large) $5
(45) A Basic Rib Knit Tank Top – Aqua 45 (size Large) $5
(10) A Basic Rib Knit Tank Top – Royal 10 (size Large) $5
(120) An American Apparel Tank – Orange 120 (40 Size Small; 40 Size Medium; 10 Size Large; 30 Size Extra Large) $5
(120) An American Apparel Tank – Yellow 120 (40 Size Small; 40 Size Medium; 10 Size Large; 30 Size Extra Large) $5
(120) An American Apparel Tank – Pink 120 (35 Size Small; 35 Size Medium; 50 Size Extra Large) $5
(120) An American Apparel Tank – Blue 120 (40 Size Small; 40 Size Medium; 40 Size Extra Large) $5
(200) A Women's American Apparel Basic Tee – Red 200 (66 Size Small; 68 Size Medium; 66 Size Large) $9
(200) A Women's American Apparel Basic Tee – Gold 200 (66 Size Small; 68 Size Medium; 66 Size Large) $9
(200) A Women's American Apparel Basic Tee – Fuchsia 200 (66 Size Small; 68 Size Medium; 66 Size Large) $9
(200) A Women's American Apparel Basic Tee – Aqua 200 (66 Size Small; 68 Size Medium; 66 Size Large) $9
(200) A Women's American Apparel Basic Tee – Purple 200 (66 Size Small; 68 Size Medium; 66 Size Large) $9
(200) An American Apparel Crop Tee – Blue 200 (one size) $10
(200) An American Apparel Crop Tee – Fuchsia 200 (one size) $10
(170) A Pattern Scarf Santa Fe Purple 170 $10
(90) A Pattern Scarf- Santa Fe Teal 90 $10
(200) A Tank Dress – Tomato 200 (66 Size Small; 68 Size Medium; 66 Size Large) $20
(200) A Tank Dress – Navy 200 (66 Size Small; 68 Size Medium; 66 Size Large) $20
(150) A pair of Men's Old Navy Flip Flops – Red 150 (Size 10/11) $5
(230) A pair of Men's Old Navy Flip Flops – Blue 230 (80 Size 8/9; 150 Size 10/11) $5
(99) A pair of Women's Old Navy Flip Flops -Red 99 (33 Size 7; 33 Size 8; 33 Size 9) $5
(99) A pair of Women's Old Navy Flip Flops – Purple 99 (33 Size 7; 33 Size 8; 33 Size 9) $5
(99) A pair of Women's Old Navy Flip Flops – Green 99 (33 Size 7; 33 Size 8; 33 Size 9) $5
(99) A pair of Women's Old Navy Flip Flops – Yellow 99 (33 Size 7; 33 Size 8; 33 Size 9) $5
(99) A pair of Women's Old Navy Flip Flops – Blue 99 (33 Size 7; 33 Size 8; 33 Size 9) $5
(134) A 6-Panel Baseball Cap -Red 134 $5
(134) A 6-Panel Baseball Cap -Black 134 $5
(132) A 6-Panel Baseball Cap -Navy 132 $5
(300) A Destroyed Fidel Cap in Railroad Design 300 $10
(50) A District Threads Canvas Bag – Olive 50 $15
(50) A District Threads Canvas Bag -Charcoal 50 $15
(15) An Ikea 'snille' chair -Light Blue 15 $23
(18) An Ikea 'snille' chair – Red 18 $23
(17) An Ikea 'snille' chair – White 17 $23
(50) An iPod Nano 8GB Orange 50 $166
(16) A pair of Ray Ban Wayfarer Sunglasses – Black 16 $188
(15) A pair of Ray Ban Wayfarer Sunglasses – Brown 15 $188
(16) A pair of Ray Ban Wayfarer Sunglasses – Red 16 $188
(3) A Schwinn Winwood Bike – Blue 3 $328
(5) A Fender Stratocaster Electric Guitar White 5 $550
(50) A plastic Flamingo 50 $4
(8,000) A Cheer Sample 8,000 $.40
Rules: Embdded
Sweeps Rating: Good