The winners are. Check your email for the winning notification. Congrats and thanks for entering.
Melissa K
Renee
Nicole M
Tiana A
Betty V
Jeremy M
Kimberly Tate
Lisa D
Rosa
Rachel M
Tiana A
Lauren L
Denise B
Rhonda M
Madeline
Jo G
Melissa B
Melanie B
Tina M
Geri
Lisa C
Stephanie
Daniel L.
Michelle
Marcie
@PFChangs and @SweetiesSweeps want to challenge you to put a little spark in your weeknite and enter to win. Click here to post your ideas on what you would do to "ignite the nite".
Believe it or not, I have never been to a P.F. Chang's restaurant so when I got to try the P.F. Chang's Home Menu frozen entrees at BlogHer 2010, I fell in love with them. I didn't have the original restaurant cuisine to compare it to but if the frozen meal is any indication I know I would love the eating at the P.F. Chang's restaurant.
We have become a loyal fan of P.F. Chang's frozen dinners and have one in our freezer at all times. My favorites are General Chang's and Orange Chicken. They are spicy and flavorful and just enough for Greg and myself.
They are super easy to fix and within 10 minutes you are done and ready to eat. Can you tell I love P.F. Chang's home meals.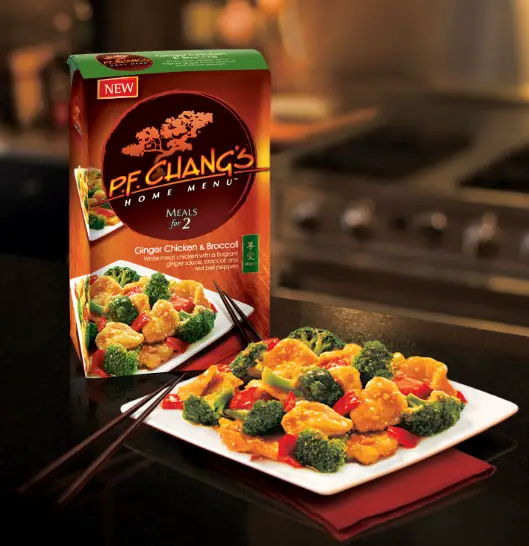 As I am sitting here writing this my mouth is watering because they are so good. You can actually pick out individual tastes like orange and ginger. The meals are so good you will want to have them on a regular basis. We use our rice cooker and have white rice with our meals.
We haven't had a chance to try any other flavors because we shop at the local Military Commissary here in Connecticut and that is all they carry. I will have to go to a local grocery store like Stop and Shop or BigY to find another variety. I hear they have 8 varieties now.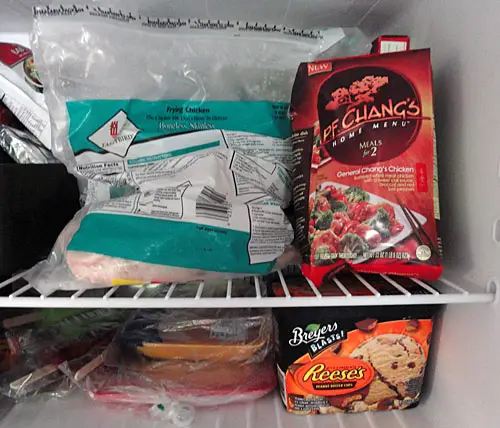 My freezer. Yes, messy but my favorite P.F. Chang's meal is right there, well alongside the ice cream. Dinner and dessert is served!
I found their full list and P.F. Chang's Home Dinners for two come in:
General Chang's
Orange Chicken
Sweet and Sour Chicken
Shanghai Style Beef
Ginger Chicken & Broccoli
Shrimp in a Garlic Sauce
Shrimp Lo Mein
Beef with Broccoli
P.F. Chang's Home Menu is all about igniting the nights for people like you – providing an exciting, east-to-prepare meal that can add some spark to the routine weekday dinner.
But, as we all know it takes more than a meal to make an evening special. Take a look at their new TV commercial to see how P.F. Chang's is inspiring America to dial up their dinnertime routine.
The Challenge from P.F. Chang and Sweetie
We want your best suggestions on what you would do if money were no option (well, within reason) and you had time to prepare and enjoy your special night.
Would you go out to eat?
Eat at home but create a romantic mood or festive party by amplifying the mood using special music, beverages and spicy dinner conversation, and fancy place settings, candles, and décor?
Would you go to the theater, a move, the casino?
Put on a red dress and go out dancing?
Would you live dangerously and get on a jetski – of course it would help if were in a warm climate like Florida or Hawaii – or maybe be a kid again and eat hotdogs and ride go carts?
I know that top of my list would be to finally eat at a P.F. Chang's restaurant. They have my curiousity up now and I want to try it out.
HOW TO ENTER:
REQUIRED ENTRY:
Leave a comment below with your ideas on how you would "ignite the night" and you might be chosen.
Note: Answers will not be judged and you can just write one sentence if you like so make sure you enter.
BONUS ENTRIES:
1. Follow Sweetie on a Facebook, Twitter. (one per person)
2. Click here to send this tweet on Twitter (one per person per day)
3. Click the Facebook button at the bottom of this post to share this giveaway. (one per person per day)
4. Follow P.F. Chang's on Facebook
Please leave a comment below after each thing you do so you get credit for it.
PRIZES:
Twenty-five (25) readers will win a free coupon to try the P.F. Chang's Home Menu frozen dinners for two of your choice. A $10.99 value. The coupon is good until March of 2012.
General Giveaway Rules: This giveaway is only open to residents of the United States who are 18 years of age or older. Ends on May 15, 2011, at midnight EST. The email addresses that are collected for this giveaway will only be used for the purpose of contacting the winner and will never be given out to anyone nor sold. The winners will be randomly chosen and contacted via email. The winner will have 48 hours to respond. Only one winner per household. Please make sure you check your junk mail folder.
Disclosure:P.F. Chang's is sponsoring this giveaway and providing the prizes and is providing me with a dinner experience. All comments and opinions are my own!