@ChicaLogic Enter to win the ChicaPF-fix software that will help speed up your computer and make it healthy again. #spons
If you are entering my Valentine's Giveaway you may have seen the ChicaPC-fix software being offered as one of the prizes. This is a separate giveaway and will have 25 winners in all.
Let me tell you a little more about ChicaPC-fix and why you will want to win this or buy it for your computer.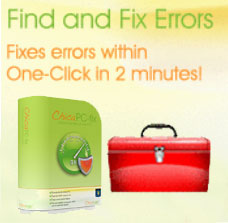 When you first get your computer it runs oh so smooth and over time you fill it with things like Microsoft Office, a photo editing program, virus software, games, multi browsers, Roboform, iTunes, movies, and more. What happens is that it gets so bogged down that it doesn't run smooth or fast like it used to – because it is full of junk!
When you uninstall programs they leave files behind and when you are online everything you see gets downloaded to your computer from webpages to cookies to movies, music, and ads.
Did you know that when you open a document it creates a second document called a TMP or Temp (temporary) document? All of those documents are also stored on your computer.
Just like you do when you clean out your closets and caibnets for Spring Cleaning, you must do this for your computer from time to time to keep it running smooth and fast.
The vital things you should have installed on your computer are:
How do I know all of this you ask? Well, before I was Sweetie they called me The Computer Lady. I ran a computer business for 10 years and I spent most of my time solving computer problems and teaching my clients how to keep their computers running clean with just this list above. I am happy to add ChicaPC-fix to my "must have" list.
Why? Because I have seen how it works and it's easy and solves so many problems without even having to figure out anything techie. I ran it on my computer and said I had 1,708 errors and the condition of my computer was BAD. I don't doubt it because I put my computer through the ringer. I usually have 5 to 10 programs open all of the time and 30 tabbed windows open on Firefox – yes, I'm a computer freak.
Check it out. This is the results of MY computer scan.
Click on the picture to view it larger if you like.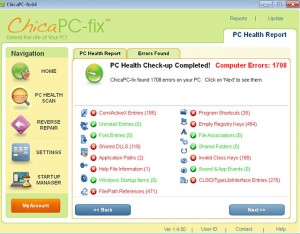 After ChicaPC-fix cleaned up my computer – sweet!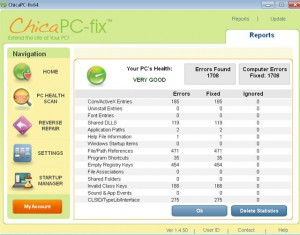 ChicaPC-fix cleans the "clutter" and removes and repairs the errors it finds immediately. ChicaPC-fix maximizes speed and performance, prevents system failures, and will have your computer system running like new in just minutes.
Step One: Download the FREE ChicaPC-fix software.
Compatible with: Microsoft Windows XP, Windows Vista, Windows 7, Windows 2000
Step Two: Install and run it on your computer.
Step Three: You will get a complete report of your computer's health and then you can decide if the software is right for you. The free version will fix up to 25 errors.
Step Four: To get the full version you can purchase ChicaPC-fix on sale for $19.95, regular $29.95, to fix the problems your computer is having. It is a great value for what it does.
How To Enter:
Simple! Fill out the entry form below. One entry per person per day.
There will be 25 winners. Each winner will receive an activation key to turn the free software you downloaded and installed into a full working version.
The giveaway is over. Check your email to find out it you are a winner.

ChicaPC-fix Giveaway Rules: This giveaway is only open to residents of the United States and Canada who are 18 years of age or older. Ends on February 13, 2011, at midnight EST. One entry per person per day. The email addresses that are collected for this giveaway will only be used for the purpose of contacting the winner and will never be given out to anyone nor sold. The winners will be randomly chosen and contacted via email. The winner will have 72 hours to respond to my email. Only one winner per household. Please make sure you check your junk mail folder. Winners will also be posted on Sweeties Sweeps.
FTC Disclaimer: All opinions are 100% mine and I was not influenced by Chica Logic to write this post and I was not paid for the review. I did receive the software to review.