I am taking a much needed break for the holidays and will not be posting until December 27th as we will be in NYC to see the Rockettes on the 26th and today I am chillin' – yes, I won the tickets 🙂
In place of my regular posts here is a reminder of the winnable sweeps you should be entering. I will also be putting together a long post, look for it after this one, of sweepstakes ending on December 31st. These should keep you buys while I'm on hiatus.
Enjoy your holidays, enter those sweeps while everyone is munching, eating, snoozing, and celebrating, and good luck to all!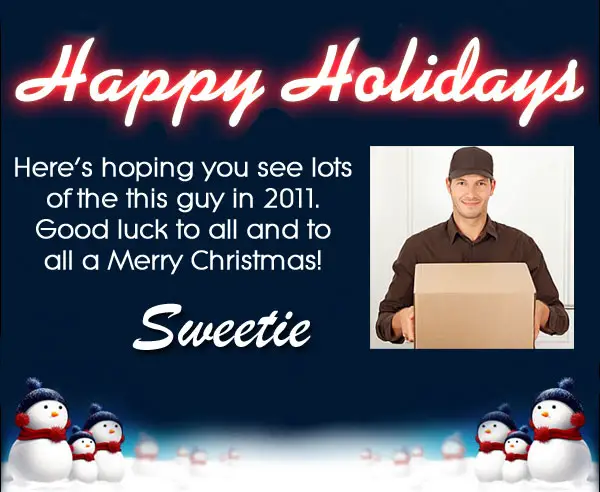 Organized by end date
Ends in December 2010
Bath and Body Works Perfect Gift Instant Win Game

25 Daily Winners and a grand prize. Ends December 24


30 winners per day. Ends December 24

ShopKick Walk In For Your Chance to Win

13,000 prizes. Play with your Smartphone, iPad, or through the mail. Ends December 24.

382 daily winners of Xeko plush animals and 1 year of credit monitoring by Quizzle. Ends December 31

My Points Daily Spin N Win Instant Win Game

Up to 2,234,772 Instant Win Game Winners. Ends December 31

Starburst and Skittles Hunt for Gold Instant Win Game

$50 prepaid Discover Awards Card to be won and 1,000,000 Starburst and Skittles candies too. Ends December 31.


United Airline Mileage Plus Instant Win Game

Over 70 prizes given out weekly including United Airline miles, toys, gift certificates and appliances. Ends December 30.


You have to play this one by mail but it's pretty winnable. 1,500 prizes, many of them XBOX 360 w/Kinect. Ends December 31.

148 daily winners of free box of Cheerios. Ends December 31

70+ daily winners of free Barilla noodles and sauce. Ends December 31

Reeses Loves You Back Promotion

110,000 Visa Cards given away. Ends December 31.


My Coke Rewards Give the Gift of Gaming

50 daily winners of mostly Playstation Controller, Eye & Game ($240 value), play 5 times daily with free codes found in Rule 5C. Ends December 31

29 daily winners of $5 Wendy's gift card. Ends December 31.

Crisco en Espanol What's For Dinner Sweepstakes

1,170 $20 Visa Gift Card Winners. Ends December 31.

Prize: (25,000 winners – 6,250 per month): Copy of "Heading Home With Your Newborn" by Dr Jana Hook (ARV $12.98) Ends December 31.

Ends in January 2011
Select 55 "55 Days of Holidays" Instant-Win Game

5,500 prizes, many daily. 2,000 prizes are $55 cash debit cards. Ends January 1

Choice Hotels Holiday Great Escape Instant Win Game

1,500 prizes, approximately 31 daily. Ends January 5

10 winners daily. Ends January 10

Over 2,500 prizes including iPads + Free Fries. Ends January 11

Cesar Cutest Dog of the Season Instant Win Game

Over 1,ooo prizes including Nikon Coolpix digital cameras, Flip Cameras, and Cesar dog treats. Ends January 11.

Snuggle. Snap. Share You Could Win a Bear Giveaway

1,000 plush 10″ Snuggles stuffed Bear given away. Ends January 15.

StriVectin VIP Insider Sweepstakes

2,500 winners in December and January will each receive a two week supply of StriVectin-SD Eye Concentrate for Wrinkles. Enter once and your entry carries over to each drawing. Ends January 15.

Tyson Yogi Movie Ticket Sweepstakes

There will be 2,000 movie ticket winners. You can use the ticket for the Yogi movie or any other movie.Ends January 28.


Similac Go Scoopless Sweepstakes

100 Winners daily: your choice of either a 1-quart bottle of Similac Advance Concentrated Liquid or Similac Sensitive Concentrated Liquid. Ends January 31

Walgreens Toss and Turn Heads Sweepstakes

1,000 winners of $25 Walgreens Gift Card and grand prize trips given away. Ends January 31.

Ends in February 2011
Pillsbury A Million Morning Smiles Instant Win Game


293 daily winners of 4 Pillsbury Toaster Strudel packages. Ends February 7

Snickers Be On The Field Instant Win Game and Sweepstakes

Over 2,000 prizes including Visa gift cards and Mars candy coupons. One grand prize winner get a trip to the Super Bowl in 2012. Ends February 7

Ends in March 2011
Extra 3PM Snackdown Instant Win Game

Over 5,000 Snackdown Cash cards given away and 2 lucky winners will win a trip to the Biggest Loser Finale. Ends March 15

Halls Pop a Drop Instant Win Game


500 daily winners of free bag of Halls Drops. Ends March 31
Ends November 2011
Orville Redenbacher's Pop and Win Instant Win Game

Over 2 MILLION prizes in all including Snapfish photos, Wiis, laptop computers, digital cameras, Blu-Ray players, 42″ HDTVs and even a $10,000 grand prize. Ends November 20
Have you won anything lately? Let us know.