Congratulations to the winners. You're gift cards are on the way.
Winners: @Thrifty_Wifey @zealandsmom @smlcfhover @thelittlekitchn @raggamuffin @bmom76 @mybellamia @preciouskitty2
I am working with @Rocket_XL, @TJMaxx & @Marshalls to host a Twitter Party on July 1, 2010 and you are invited.
Twitter Parties are tons of fun once you know how to participate and you can win great prizes too.
During my party we will be talking summer fashion and how you can get great deals at TJMaxx and Marshalls stores. You will have the chance to win 1 of 8 $50 gift cards that are good at either store.
How to Participate in my Twitter party:
1. Sign up for a Twitter account at www.twitter.com
2. During a party visit www.tweetchat.com or www.tweetgrid.com (you can use either one. The one you use depends on your personal preference. I use Tweet Chat)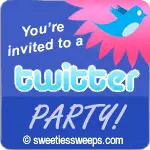 For Tweet Chat: Go to www.tweetchat.com and click Sign In at the top right. Sign into your Twitter account. Then type the hashtag (MarshallsTJMaxx) at the top of the page and click Go.
For Tweet Grid: Go to www.tweetgrid.com and click the Party tab and then fill in the party hashtag (MarshallsTJMaxx), the Twitter user name of the party host (sweetiessweeps), and your Twitter user name.
Need more help?
Watch a video on how to use Twitter
Watch a video on how to use Tweet Chat
Watch a video on how to use Tweet Grid
About the Marshalls and T.J. Maxx Twitter Party
Marshalls and T.J. Maxx (the "off price" retailers) and Sweeties Sweeps will partner for a Twitter Party and discussion about summer fashion.
Party Details:
Date: Thursday July 1, 2010
Time: 8pm EST – 10pm EST
Hashtag (Party name): #MarshallsTJMaxx
Party Host: @sweetiessweeps. You may also want to follow @Rocket_XL
How to win: Follow @sweetiessweeps and answer the questions to have a chance to win TJMaxx and Marshall's store gift cards!
Prizes:
8 Prizes: $50 store gift cards that are good at both Marshalls & T.J.Maxx!
There is no need to RSVP. Just join in on July 1st. I will remind you when it gets closer.
I'll see you at the party!
FTC Disclaimer: These giveaways are part of T.J.Maxx and Marshall's partnership with Rocket XL and their Summer Fashion campaign. T.J.Maxx and Marshalls is the sponsor and is providing prizing. Sweeties Sweeps is not being paid to participate in this campaign, but is receiving forms of compensation such as gift cards.

Disclosure: this sweepstakes listing
may contain
an affiliate or tracking link but we
do not use referral links
. Read about our
policies
for more details.