This winner's list has been a month coming. I have been so busy from dealing with my bulging disc issue (still waiting for the neurosurgeon to even call me), having family visiting for the last two weeks, upgrading the Secret site forum and recording instructional videos, launching a new blog, and getting a new bed (to deal with my neck issue and it's been 30 years since we had a new bed), the winner's list has been at the bottom of my list.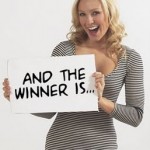 I have received a lot of stories over the last month since I wrote the last winner's list so I am only going to put some of them here to give you a good indication of the prizes being won and that yes, "real people do win" from sweepstakes and some are winning daily or even weekly. If you have a winning story and don't see it featured here just leave it in the comments below or email me and I will include it in the next winner's list update.
The last time I posted a winner's list it was the beginning of May. I may only be updating the winners monthly now but if I have time I will post a few featured winner's stories as they come in throughout the month.
This is a very long post and that is not all of the stories that were sent to me. I had to cut it off at some point. You will want to read through the whole list though because there are some amazing stories.
Congratulations everyone – good job! Aww, my children are growing up!

Need more sweepstakes to enter?
If you are looking for even more sweepstakes to enter visit my Sweepstakes Daily Digest. These are sweepstakes that I do not post on this site because they are not considered as winnable. I just post a summary of the rules and prizes and give you the link to enter, nothing pretty. I also posted sweepstakes on my Facebook Fan page daily that aren't always posted on either site and readers are posting sweepstakes there for you to enter as well.
On Twitter I post Twitter contests I get from other readers and sometimes I participate in Twitter parties so when you see me join in. I will be posting videos soon on how to enter Twitter contests and participate in Twitter parties to help yo understand it better.
If you don't know how to enter sweepstakes and win consistently then join my free Sweeping 101 e-Course to learn how. Sweeping 101 members also receive exclusive sweepstakes from time to time that will help to win even more prizes.
Here are some new winners from the Secret site:
Many readers are finding the $25 yearly fee for the secret site is definitely worth the cost and while I can't promise there will be a plethora (don't you just love that word) of sweepstakes for your state you should definitely win your subscription fee back and then some. Click here for more details.
I won a 7 night stay in St Maarten at Sonesta Maho Resort. I came from Laura Murphy- I almost deleted it. So be very careful when you go through your email. I could have easily deleted this win it is a $3 K valuie I would never have afforded this, but I DO have to pay airfare and meals. We figured it out and we think is is okay with paying taxes on win.. I think it has been turned down several times, because of this. I am very happy. I love all Sweetie's sites and appreciate her so much. She looked at it and told me it was a true win, it looked bogus to me. Thanks again!

Cameo
Both were from the same sweeps.

We received our first certified Letter! We won a Dell mini netbook from A SSS! Thanks Sweetie and Thanks Tesoro!

Honeykid

Congratulations! (I'm mailing my affy today too!)

OregonKim
All of these winners were from the same sweeps.

Well, it took a couple of months, but I finally broke the slump with a flatscreen TV win from Bernie. Thanks for the site, Wendy!

snorton1

Just received an email that I won one of the TVs. I'm so excited. I am off work on Monday, so I am going to Ocala to pick it up.

rorogirl71

I just won the TV, Thanks!!!

minaob

Me Too!! Was very surprised!

Gloria

My husband won one too!!!

lovebeingamommy

Thanks for the post Sweetie, I just won the tv!!

mmerchant

I received an email also that I won the tv! Very excited! Thanks sooo much for posting and Congratulations to all the winners!

hlinda1010

I won a TV too!! Picking up tomorrow, does anyone know the brand?

juneo27

04/13/10 Just picked up my TV from the Marion County Chamber of Commerce. Thanks for submitting and posting this contest. Great TV!

waz34
I won two tickets to the screening in Pleasant Hill IA. At the screening we were given a large popcorn and 2 large Dr. Pepper sodas. At the screening they gave out gift bag with a coozie, ink pen, magnet, and two QT free sandwich coupons. I had two tickets for prizes. I won 4 movie tickets, and 4 more QT sandwiches.

I ALSO WON A 700 DOLLAR VALUE BLUE RAY DISC HOME THEATRE SYSTEM! Woo Hoo! Thanks so much! The movie was great also!

sjpayne
I have just won 2 tickets for a prescreening of Shrek Forever After, a local newspaper. I joined SSS on the 5th May and this is my second win. As both wins have been for the prescreening of movies I had been able to receive my prizes quickly. Wishing everyone the best of luck.

lazysusan
All of these were from the same sweepstakes.

I just received my check in the mail. I won $50.00 in their weekly drawing. First win for me over $10.00. Thanks Sweetie, love this site!!!!

marte

I just got a check in the mail April the 6th for $50.00 also. Thanks for including this topic. For those still entering I used the pre-stamped postcards from the post office. Kinda hard to get all that address on the front, but well worth it :). Thank you again for all the work you folks put in to this.

Gloria

I got my $50 check today!

oshiekosh
These winners were from this site
Hi Sweetie,

I just received notification that I've won $10,000 and tickets to see Gloriana in concert through the Milk Rocks contest (www.milkrocks.com/contests/gloriana-papermate-giveaway). Needless to say, I'm very excited!

Thanks for all you do!

Rose
Hi Wendy!

I want to share my story with you about how I truly am winning what I can't afford. I came across your website last month and since then I have made entering sweepstakes my nightly hobby. It's fun to play the instant win games – kind of like gambling, but with nothing to lose! Since March I have won a Kikoman silicone basting brush, dentene gum and a $25 Discover card from M&M's.

I was also impressed by many of your readers who have entered and won local sweepstakes so I found a few in my area and entered them as well. I won a pair of tickets to opening night of a local musical and was thrilled that I can take my Mom for mother's day. Two days after I received the tickets, the radio station that I won them from called me back to let me know I had won the Grand Prize drawing – A TRIP FOR TWO TO HAWAII!!!! I was speechless. My fun little hobby has started reaping some major rewards all in just two months! Thanks you again for sharing all of your helpful information and success stories! Because of Sweeties Sweeps we're off to the islands!!

Aloha!

Jeanette
On 4/22/10 I was notified that I am the Grand Prize winner of the San Francisco Ballet Little Mermaid Sweepstakes. It's a 5-day/4-night trip for 2 to The Banyan Tree Mayakoba Hotel & Resort which includes round trip coach airfare for 2 to Cancun, Mexico, and round trip ground transfer to/from resort and airport. The prize is valued at $5,000.

Kathy
Wow Wendy, I won TGIF again…can you believe it? What a blessing..I was the weekly winner from the American Idol sweep. I was just trying to win a GC…holy smokes…when the screen popped up that I won! I had to read it a few times to make sure I was reading it right. I just want to thank you for the umpteenth time..what a great day!

Jodi actually won $5,000 in cash and not a trip.

Jodi
I'm in complete shock, but after a frustrating morning, I opened my email & found a notice from a Sears Chefs Challenge Sweepstakes (in my spam folder) than I was the Grand Prize winner.

I get my choice of one Kenmore Appliance (Refrigerator, Range, Dishwasher, Microwave or Hood) valued at up to $3,800!!!

It was a 2 week long sweep that I didn't even enter daily. But as several have said if/when you're meant to win, you will!

Thanks for letting me share!

Cryptic Mama
I had been sweeping for several months and hadn't won anything so I stopped. Then within two days I had two wins! I was one of the grand prize winners of the 7th Generation Million Baby Crawl sweeps. I won a trip to Washington DC including airfare, hotel, car service. and $500 spending money. The next day a letter came in the mail with a $100 Skymall gift cert from their sweeps. Thanks Sweetie!

Megan
Hi Wendy,

I'm so excited – my first Twitter win & my largest cash prize! It couldn't come at a better time!

I am happy to inform you that you were one of our seven runner-ups! You have won $300 cash.

Cathy (hillgirly)
I won the Olay U Win, We Win Facebook Sweepstakes. I started sweeping around the Holidays, and I was able to get several friends to join your site and start sweeping. I am your friend on Facebook and have a picture of the prizes.

Everything came in the box. No email or anything telling me I won, just a nice box when I got home from work on Friday. It was a Facebook sweeps during the Olympics. All stuff I would use.

Ilona
Hi Wendy,

I have some wins to let you know about:

Kikkoman- spoon rest and basting brush
Snapfish- 16 x 20 collage poster, 5×7 custom cover photo book, custom notebook
my daughter won a t shirt from Subway
Biore-5 oz steam activated cleanser
The Nibble Gourmet giveaway- White Chocolate (I got to choose which I wanted)
and I can't remember where I entered for this, the letter said from Atari – Project Runway Wii game

Karen
I wanted to share with you what I have won, small or large, over the past month 🙂

I have won a jar of Pace, 2 Subway shirts, The Game of Life, a $50 pre-paid Mastercard, 3D photo cards, music downloads, and a soccer ball!!

Thank you for all your help in making the sweeps process so much easier! My next step is to download RoboForm because my hubby is sick of hearing my fast typing in the middle if the night 😀

Lisa
Wendy:

I just wanted to send you a note to tell you thank you for all you do. The following are my wins for April and May. I couldn't have done it without your great site. Thank you.

April

Dentyne-$50.00 Mastercard
Agacus24-7-$25.00 Restaurant.Com Gift Card
HSN-$30.00 Gift Card
Sears-$5.00 Gift Card
1Click on Facebook-$100.00 check
Krazy Kash-$100.00 Discover
ShopatHome-$100.00 Walmart Gift Card
Ghiradelli-$3.95-Bag of Candy
TGIF-$25.00 Gift Card
Reeses-Peanut Butter Cups on Facebook

May

2 T-Shirts Extra and Pop Rocks
2 Mother's Day pins fro Juanta
$100.00 check from 1 Click (yes I won twice!!!)
$300.00 worth of Claritin
1 free Fresehetta Pizza from Facebook
Nature Valley Granola
$25.00 GC from HSN facebook
2 Margaretti glasses and pitcher
$5.00 GC from Sears
2 grocery totes

Melanie
On behalf of Edwards Frozen Desserts, congratulations on being selected as a potential finalist in the "Edwards Goes To" contest! The entry submitted was so inspiring and touching, we feel that you are deserving of red-carpet treatment. You have won a $500 SpaFinder.com gift card for a relaxing spa experience at a participating spa. You also are eligible for the chance to win the grand-prize – a first-class trip for two to Hollywood, California including round-trip airfare, five-star hotel accommodations, red carpet treatment and a supply of Edwards® Singles Á La Modes to enjoy all year long.

Denise
Hi Wendy. This is Hideki in Minneapolis. I have just posted on your website about this, but thank YOU so much for my win in the Outdoor Channel's Spring Fever Sweepstakes. We've just won an Grand Prize for an Alaskan adventure worth $6,500.

Ever since I discovered your sweeps site, my wife and I have won more than my and her lives combined previously. I know that without your positive encouragement on your website, I would not have bothered with this or any other sweeps. Well, I did bother and am winning, and winning big.

So THANK YOU WENDY!

Hideki
Wendy,

I won a Dell Inspiron Mini 10 Netbook from Do You Know Your Data? Test Yourself with the SQL Server Sequence. Suppose to received the netbook in middle of May.

Michael (SuperGhost)
This is a screen shot of my husbands winnings!

Linda
I just started entering sweeps about the middle of March but I have already had several small wins. Everytime I hear UPS or FedEx I kinda hold my breath that they will stop with a letter for me about a big win. Anyway my small wins include…$25 towards my cable bill, free pull ups, and free wipes all from Huggies, A mini soccer ball from Budweiser, 2 free bags of jelly bellys from BIC, a free t shirt from Subway, a free t shirt from slim jim, free gum from Dentyne, a $15 itunes card from AT&T maybe I can't remember, free shampoo from Dove, free Reeses from Reeses and there may be more but that is all that I can think of right now. Not bad for about 6 weeks worth of trying. Thanks for all the work that you do, I am so excited to see what will be next.

Missy Love
I haven't sent a message telling you any of my winnings so here goes! I just started playing sweeps 3 months ago and I do them on an almost daily basis. Here is what I have won so far:

2 Subway Shirts from the Footlong Appreciation Sweep
Golf Club from the TaylorMade Sweep
$50 Mastercard from the Dentyne Pocket Amo Sweep
Gain Fabric Enhancer from the Gain Sweep
Kikkoman Basting Brush from the Kikkoman Sweep
Game of Life from the Milk the Moments Sweep
$10 Calling card from the Colgate-Palmolive Sweep
1 Free music download from the Road Trips and Guitar Picks
$5 for a livenation.com ticket purchase from the Dorito Live Nation Sweep
TMNT Playstation movie download but I forget what sweep that was from

Thank you for all the work you put in for us to find these sweeps. Now I just need to sign up for the Secret Sweeps page!!

Lisa
I wanted to let you know what a great month of April I had. I won a Weber Grill from Marlboro, A Flip Camcorder from AT&T, $100 Krazy Combo Cash from Kid Cuisine, and on the last day of April my husband was notified that he was the Grand Prize Winner of Animal Planet's Heel. Sit. Stay. L.A. Sweepstakes. It is for a trip to L.A. for 2 to the 2010 AKC National Championship Dog Show in December. Thanks for all you do!

Maggie
I have been dipping into different sweeping categories lately and they have paid off! I entered a video contest with my Shih Tzu, Chloe of her doing a celebration dance for Science Diet Simple Essential Treats. She was a 2nd Prize winner of a $900 Tailgaiting grill. When I received the Affy I was informed that that grill was discontinued so they had to change my prize.

My prize is now: A $400 Tailgaiting Grill and a Coleman Touchdown Package valued at $530 that consists of a RoadTrip Grill, Red 54 quart Steel Belted Cooler, 2 Broadband Quad Chairs, RoadTrip Frywell Portable Deep Fryer, Rechargable Portable Blender, Fold N Go Stove.

I am SOO excited about this new prize change, we go camping a lot so this is great.

Today my Golden Retriever, Lou got this email:

Congratulations Lou!

You have won 2nd Place in the PETCO & Wellness "Well Pet of the Year" Contest! This includes $200 PETCO Gift Card and a Wellness® Prize Pack that includes: One Wellness® Beach Towel, tumbler, duffel bag, Scoop-It Bowl, small Food Storage container, frisbee, tennis balls, a pick-up dispenser with carabineer and a bag or a case of Wellness® dog or cat food.

This contest was a voting contest, and thanks to all my peeps in the amazing Sweeties Sweeps chat room, I placed in 2nd.

I have won various other things lately, Reisenthel Carrybag, 4 $15 Best Buy cards, $5 Starbucks, Ipod Nano etc…

Thank you Wendy for all you do 🙂

-Ajomonkey
Hi Sweetie,

After seeing you on Tyra last summer, I started to sweep again after a 5 year absence. Yesterday, I won my biggest prize ever. I really don't even remember entering it.

Here is the e-mail I received: Congratulations! You are the GRAND PRIZE WINNER in UGO.com's Power Up Your Game Sweepstakes sponsored by Gillette !

You have won one (1) Xbox 360 Elite with an Approximate Retail Value of $350.00, one (1) 42 inch High Definition Television with an ARV of $620.00, one (1) Sony Home Theater sound system with an ARV of $285.00 and two (2) Xbox 360 controllers each with an ARV of $48.00. The total ARV for this prize is $1,351.00.

Thanks so much Sweetie for inspiring me to Sweep again, I am considering paying for your sweeties secret sweeps site. I enter only about 5 contests a day though because of my full-time job and my busy schedule.

But, thanks again! Keep up the good work and inspirational stories!

Amy
You were selected as a Monday winner and will receive a Nikon Coolpix Digital camera from the Nestle Raisinets Road Trip Sweepstakes.

Barbara in Florida
Hi Sweetie!

I just wanted to let you know I won a $250 Ticketmaster gift card through the Huggies sweepstakes!

This is my biggest win so far. I was so excited when it came in the mail!

Thank you!!!!

Rene
Congratulations! You have been selected to receive a prize in the OpenSkies Birthday Promotion, administered by ePrize. You have been selected as the winner of one round trip business class flight, for you, in Biz Seat cabin from New York's JFK or Newark Airport to Paris (Orly), France. ARV $1,500

Yvonne
Hi Wendy,

Just wanted to let you know about my recent win. The $100 check arrived in the mail yesterday from the Super Sleuth Decoder Game. Thank you again for all that you do for me (especially for keeping me motivated).

Sheeba

Disclosure: this sweepstakes listing
may contain
an affiliate or tracking link but we
do not use referral links
. Read about our
policies
for more details.