If the present economy has you worrying about your financial situation, there is something you can do about it whether you are requesting a free sample, using coupons to save money at the grocery store, or entering sweepstakes to "win what you can't afford." Every little bit helps!
When money is tight many people get creative about how to supplement their income and ease their household budget. I have been doing just that since at least 1993 when I first learned about sweepstakes. I first learned about sweepstakes when I attended to my first coupon swap at the local library. There were a group of people who would meet once a week to exchange coupons and someone told me about sweepstakes. Within a few months I was entering sweepstakes and within weeks I won my first TV from Captain Crunch cereal.
Today there is something in almost every room of our house that we have won from a sweepstakes – things we could never have afforded on our incomes alone. We own these free and clear (after taxes) and some still have warranties. The list below is just a small example of prizes we have won over the year. Some prizes have been given away, are no longer around or were trips and all that is left are the wonderful memories. But, this gives you an idea how entering sweepstakes to win prizes can really make a difference in your lifestyle and in your family's budget.
Sometimes we have won money that was used to buy a lot of little things or we sold items on eBay for cash but those wins actually helped us more because they helped us pay bills, buy groceries or gas, and were, at times, lifesavers that came in the nick of time.
Prizes in my office:
Digital cameras (Sony and Canon)
Cordless keyboard and mouse
Computer
TV
Laptop bag
Smartphone
Herman Miller office chair
Furniture I bought with money I won
A framed poster of the castle we stayed in that reminds us of the France trip we won.
Prizes in the living room:
55″ flat-screen HDTV
Home theater system
Area rug
Curtains
Furniture
Prizes in the kitchen:
Dishwasher (the 3rd one we have won)
Food (we have won a year's supply of groceries at least twice)
Complete set of Pfaltzgraff dinnerware
Pier 1 dining room table and chairs (bought with money we won)
Prizes in the den:
Couch
Coffee table
Entertainment center
TV
DVD player
Netflix subscription
Prizes in the bedrooms:
Lamps
new bed linen and comforters
new curtains
new area rugs
40″ flat-screen HDTV
Prizes in our driveway:
Dodge truck
New tires for the car
$500 in gas
With persistence, patience, and perseverance there is no reason why you can't fill your house with prizes like these. We haven't won these all in one year but our dedication to this hobby has paid off for us over the long haul. And, while, we haven't won everything in one year, we consistently win 200 to 300 prizes a year, many of them large items we cannot afford with our incomes alone.
It took another ten years but we won a second car, a Fiat 500.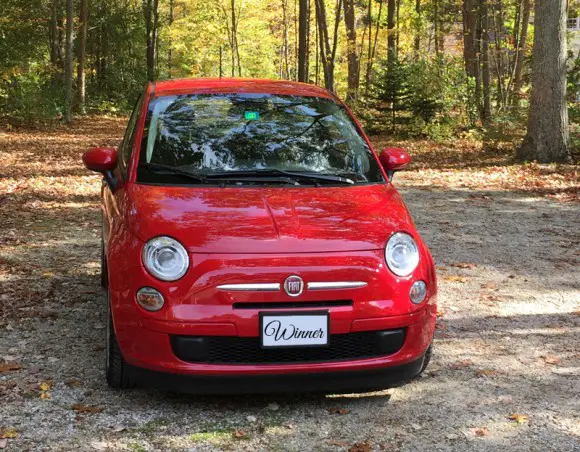 I have always been a resourceful person, learning to make "something out of nothing" so it is just natural that freebies, couponing, rebates, discount shopping, and winning prizes team up together to help you stretch your budget. With a combination of all of these things you can add to your income and stretch that ever shrinking dollar.
Do you want to learn how to win Big too?
I have taken my years of experience as a sweepstakes hobbiest and turned it into a completely FREE Sweeping 101 eBook to help you get started and become a winner too! This Free eBook will teach you how to win, protect yourself from scams, and be on your way to becoming a Super Sweeper!

I hope you will consider Sweeties Sweeps to be one of your favorite resources for entering sweepstakes and learning how you too an "win what you can't afford".

It is so much fun to win prizes and feel that rush when a prize comes through the door. It is also a bonus when those prizes help you balance your budget and ease some financial burdens. So, you see, you can definitely supplement your income with sweepstakes winnings.
Fill out this form to get your Free eBook Now!
Want to contact Sweetie or have questions?
I enjoy interacting with my readers and finding out what you are winning, so feel free to let me know how you're doing on Facebook Fan page, my personal Facebook page, and Twitter