Play the Frito Lay Pass the Ball Virtual Challenge Instant Win Game daily games for a chance to win delicious chips and unique Frito-Lay swag. When you register you earn one entry for a chance to WIN two tickets to the FIFA World Cup 2022 Final. Be part of the Golden World Soccer Ball uniting people together.
Sign up by email to find out when new sweepstakes are posted for more chances to win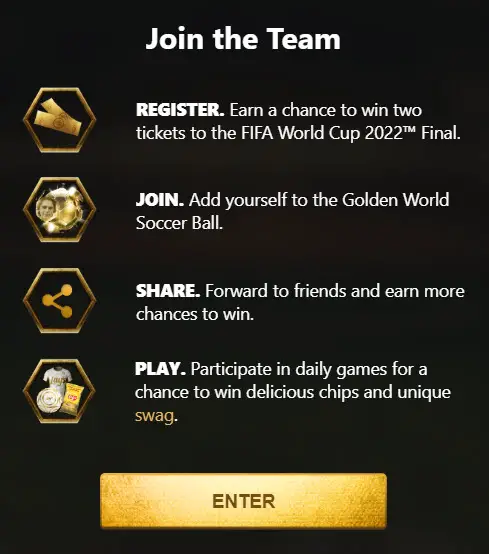 Official Rules: US, 18+, and have a valid US drivers license or government issued photo ID. October 17, 2022 at 10:00 am CT – December 17, 2022 at 11:59 pm CT
Entry Limit: one entry per person/email address per day. Upon submitting an initial entry, you may follow the online instructions to gain bonus entries by "Sharing" the Sweepstakes. Each entrant is allowed up to four bonus entries per day. A bonus entry is not eligible for the Instant-Win Game and shall only count towards the applicable/subsequent random drawings based on the time the bonus entry was received and recorded.
Entry Periods: Entries WILL carry forward to subsequent Entry Period Drawings, to the Grand Prize Drawing and to the Final Drawing.
October 17 – 23. Drawing on October 24
October 24 – 30. Drawing on October 31
October 31 – November 6. Drawing on November 7
November 7 – 13. Drawing on November 14
November 14 – 20. Drawing on November 21
November 21 – 27. Drawing on November 28
November 28 – December 4. Drawing on December 5
December 5 – 11. Drawing on December 12
December 12 – 17. Drawing on December 19
Prize Limit: one Instant-Win Prize per person/household for the entire Sweepstakes Period. Limit one Secondary Prize per person/household per Entry Period. Limit one Grand Prize or one Final Drawing Prize per person/household. The Grand Prize winner is not eligible to win a Final Drawing Prize. A winner of an Entry Period Prize is eligible to win the Grand Prize or a Final Drawing Prize.
Instant Win Prizes (5,000): One coupon good for one free Frito-Lay product (any variety/size). ARV: $5.09
Grand Prize (1): A trip for winner and winner's one guest to Qatar to attend the FIFA World Cup Qatar 2022 Finals. Travel dates: December 14, 2022 – December 19, 2022. The trip consists of round-trip coach air transportation for winner and one guest (originating from a major airport nearest winner's home); double-occupancy hotel accommodations for four nights; two tickets to the December 17, 2022 and December 18, 2022 matches; two gift bags and $1,000 (awarded in the form of a check, payable to winner prior to travel).  Winner and winner's guest will also receive a Hayya Card (Fan ID), subject to completion (by winner and guest) and approval (by the governing authority), which will provide entry to stadium (with a valid match ticket), entry to Qatar, access to public transport on match days and smart journey planning (via the Hayya app). Winners will be required to apply for the Hayya Card which can be done via the Hayya app.  ARV: $14,380
Secondary Prizes:
(581 –  20 for Entry Periods 1, 2, 3, 5, 6, and 7; 145 for Entry Periods 4 and 8; and 171 for Entry Period 9): One jersey. Prize will contain either a FritoLay or Quaker brand logo and/or FIFA logo. ARV: $80
(499 – 55  for Entry Periods 1, 2, 4, 5 and 9; and 56  for Entry Periods 3, 6, 7 and 8): One adidas branded jacket. ARV: $65
(146 – 20 for Entry Periods 1, 2, 4, 5, 6 and 8; and 26 for Entry Period 9):  One  duffle bag. Prize will contain either a Frito-Lay or Quaker brand logo and/or FIFA logo.  ARV: $50
(99 – 55 for Entry Periods 1, 2, 4, 5 and 9; and 56 for Entry Periods 3, 6, 7 and 8): One adidas branded duffle bag.  ARV: $50
(499 – 55 for Entry Periods 1, 2, 4, 5 and 9; and 56 for Entry Periods 3, 6, 7 and 8): One adidas branded water bottle.  ARV: $30
(499 – 55  for Entry Periods 1, 2, 4, 5 and 9; and 56  for Entry Periods 3, 6, 7 and 8): One adidas branded t-shirt.  ARV: $25
(499 – 55 for Entry Periods 1, 2, 4, 5 and 9; and 56 for Entry Periods 3, 6, 7 and 8): One adidas branded hat.  ARV: $20
(224 – 25 for Entry Periods 1 through 8; and 24 for Entry Period 9): One adidas soccer ball. ARV: $20
(596 – 60 for Entry Periods 1 through 8; and 116 for Entry Period 9): One soccer ball. Prize will contain either a Frito-Lay or Quaker brand logo and/or FIFA logo. ARV: $20
(196 – 20 for Entry Periods 1 through 8; and 36 for Entry Period 9): One scarf. Prize will contain either a Frito-Lay or Quaker brand logo and/or FIFA logo. ARV: $15
Final Drawing Prize #1  (1): one of each of the following items branded with adidas® logo: t-shirt, jacket, hat, water bottle, duffle bag, and soccer ball. Winner does not receive his or her choice of size. ARV: $210
Final Drawing Prize #2 (4): one of each of the following items with either a Frito-Lay or Quaker brand logo and/or FIFA logo on each item: soccer ball, jersey, scarf, and duffle bag. Winner does not receive his or her choice logo/brand or size. No substitutions allowed. ARV: $165