Get the summer season a head start with a chance to WIN awesome summer prizes from Pepsi. Grab your code and play the Pepsi Let's Summer Instant Win Game daily for your chance to win some great summer prizes
Click Here to Enter (Code Required, see below)
Official Rules: US, 18+. May 1, 2022 – July 31, 2022 at 11:59 pm ET
Entry Limit: one entry per person per day
How to Obtain a Code:
With Purchase: purchase qualifying Frito-Lay or Pepsi-Cola products at participating retailer stores, while supplies last and locate the UPC code on a Pepsi-Cola Qualifying Purchase or a combined code on a Frito-Lay Qualifying Purchase. A combined code consists of the bell-maker code located below the "guaranteed fresh" statement on the front of the bag and the UPC code on the back of the same bag. See Appendix at the bottom of the Rules for specific eligible participating products. Not all products available in all areas.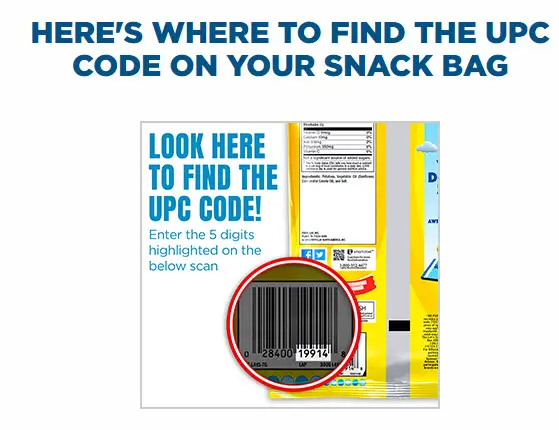 Mail-in Code Request: hand your their full name (no initials), complete street address (no P.O. Box), age, and valid e-mail address on a 3½" x 5" properly stamped postcard and mail it (in an outer mailing envelope) with sufficient postage to:
The Pepsi Let's Summer Promotion Code Request
P.O. Box 490
Southfield, MI 48037
Mail-in requests must be postmarked by July 16, 2022 and received by July 26, 2022. Administrator will send one Code per Mail-In Request by e-mail to the e-mail address provided on the request. There is a limit of one (1) Mail-in Requests per outer-mailing envelope per day during the Promotion Period. Multiple mail-in requests with the same postmark date will be deemed one request. Mail-in requests will not be returned and no further correspondence will be entered into. Mail-in requests must be original and hand-written. No mechanical reproductions are allowed.
Online Code Request: To obtain a Code without making a purchase from July 17 to 11:59:59 PM ET on July 31 use the Code KKLXZNM3ZXLM
There will be six different Pools as follows: Grilling, Beach, Camping, Road Trip, Music, and Games. Entrant must then follow the on-screen prompts to submit their Code. After completing the registration form, an entrant will receive one game play. After a valid Game Play, the entrant will receive an on-screen notification indicating whether he/she is a potential Instant Win Game prize winner.
Prizes (2,071):
Grilling Pool:
(50) A Portable Charcoal Grill. ARV: $65.11
(200) A Weber 3-piece BBQ Set. ARV: $34.47
(72) A Grilling Apron. ARV: $22.94
(206) A $30 Spotify gift card
Beach Pool:
(75) A  Beach Towel
(75) A Bahama Beach Chair. ARV: $84/71
(100) A 24-Can Rolling Cooler. ARV: $25.78
(75) A Beach Tent. ARV: $36.76
(206) A $30 Spotify gift card
Camping Pool:
(25) An RTIC Cooler. ARV: $200.76
(25) A Giant Folding Tailgate Portable Grill. ARV: $170.59
(15) A Smokeless Portable Firepit. ARV: $264.67
(25) Three (3) Person Tent. ARV: $142.85
(75) A Hammock. ARV: $99.24
(206) A $30 Spotify gift card
Road Trip Pool:
(75) An Auto Cooler Organize. ARV: $42.94
(75) A Sublimated Cooler Bag. ARV: $80.09
(75) A Pair of Noise Cancelling Wireless Headphones. ARV: $47.44
(1) A Trip to Mall of America* ARV: $941.84
(206) A $30 Spotify gift card
Music Pool:
(100) A Cooler Bag with Speaker. ARV: $32.93
(50) A Rumble Bottle with Speaker. ARV: $17.35
(150) A $100 StubHub Gift Card
(206) A $30 Spotify gift card
Games Pool:
(25) A Portable Table Tennis Game. ARV: $234.12
(50) A Duel Disc Game. ARV: $71.18
(15) A Cornhole Game. ARV: $265.66
(25) A Travel Game Table. ARV: $94.12
(206) A $30 Spotify gift card
*Trip To Mall Of America: Trip includes round-trip coach class air transportation from a major commercial airport near winner's residence to Bloomington, MN for winner and four adult guests, two nights hotel standard accommodations (single room/quad occupancy), four passes to Nickelodeon Universe, four passes to Moose Mountain Golf, four passes to Sea Life attractions, four Crayola Experience tickets, and a $500 MOA Gift Card (for winner only) and a coupon book to Mall of America for winner only (good through December 31, 2022; offers vary by location).
There is a limit of five prizes per person during the Promotion Period.