PayPal is giving away $20 Million in cash. Want some?​ Enter for your chance to win CASH Prizes when you enter the @PayPal Holiday #Giveaway. There will be over 596,000 winners! Every time you checkout with PayPal for $10 or more, you're automatically entered for a weekly chance to win $25, $50, $250, or $10,000 to shop with PayPal. That means every gift you give, every ugly sweater you order, and every charity you support is another chance to win. Let the holidays begin!​
Click Here to Enter (scroll down in this post for instructions)
Official Rules: US, 18+, who are holders of a valid U.S. Personal or premier account with PayPal in good standing by 12:00 a.m. on November 1, 2021 and through the time of prize award. November 1, 2021 – December 19, 2021 at 11:59 pm ET.
Limit: 50 entries per week per valid account regardless of method of entry.
You need to have or open a PayPal Balance account to use and maintain a PayPal balance. If you do not have or open a PayPal Balance account, you can only transfer your cash prize to your bank account or debit card linked to PayPal.
Weekly Entry Periods. Weekly Entry Periods are independent and non-winning entries will NOT roll over into subsequent Weekly Entry Periods.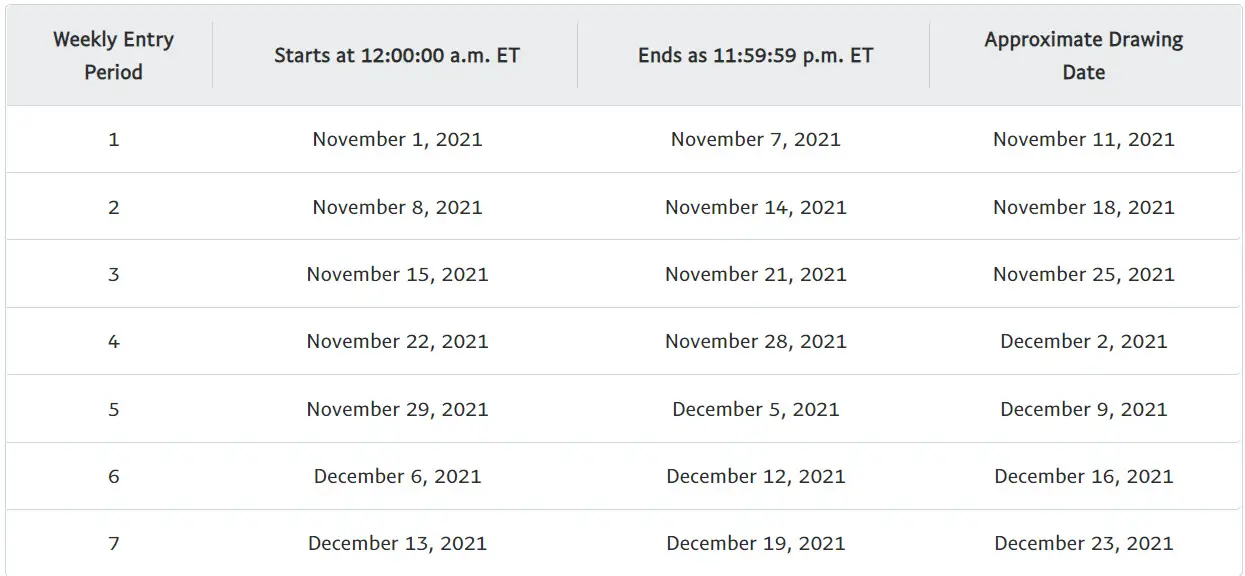 With Purchase: For each "Qualified Payment"  that you make during a Weekly Entry Period, you will automatically receive one entry into the applicable Weekly Entry Period drawing associated with the time and date that the transaction is marked as "completed" in PayPal's systems.   As used in these Official Rules, the term "Qualified Payment" means a transaction of $10USD or more with your Valid Account: (a) via the PayPal checkout button, (b) via a donation with PayPal donation button or PayPal Giving Fund; or (c) using the QR code scan/pay functionality in the PayPal mobile app.
No Purchase Entry: Click Here and follow instructions to log in with your PayPal account, agree to these Official Rules, and click submit to  receive 50 entry into the applicable Weekly Entry Period associated with the time and date the entry is received.

All $25, $50, and $250 prizes expire at 11:59:59 p.m. ET on December 31, 2021. If such prizes are not used by 11:59:59 p.m. ET on December 31, 2021,
All winners must have a U.S. Valid Account at time of prize award in order to receive, access, and use the prize. A prize will not be awarded to a winner with a locked, closed or restricted account.
Limit: Each entrant may receive one prize for each Weekly Entry Period. $25/$50/$250 Prizes will be fulfilled within approximately 5 days of winner confirmation. $10,000 prizes will be fulfilled within 4 weeks of winner confirmation.