How would you like a guaranteed way to win cash every week? Yotta (@YottaSavings) is a great way to do just that and also earn interest in your money and it's FDIC insured. I learned about this about a month ago (May 2021). I deposited $25 in and the first week I won $10. The second week I won $.70. You are almost guaranteed to win something every week.
You can earn tickets by depositing money into your Yotta account OR you can also send entries in the mail without adding anything to your account, see below.
Yotta is backed by the FDIC and they also will issue you a debit card so you can use this like a savings account and earn interest and cash weekly.
Yotta allows individuals to deposit and save money. For each $25 on deposit with Yotta, an individual will earn one Ticket. A Ticket allows an individual to select one set of numbers. A set of numbers consists of six regular numbers and one Yotta Ball.  If an individual has a Ticket but does not select numbers, the individual will be assigned random numbers (six numbers and one Yotta Ball).
Sign up at yotta.com and start winning
How to Earn Tickets:
Have Funds on Deposit with Yotta App. For every $25 you have on deposit up to $10,000, you will receive one (1) Ticket. For every $150 above $10,000, you will receive one (1) ticket.
Earn Interest. Yotta is also saving account. The money you put in, which is backed by the FDIC, earns interest. You can win extra interest in the drawings too. Here is what I have so far in a month.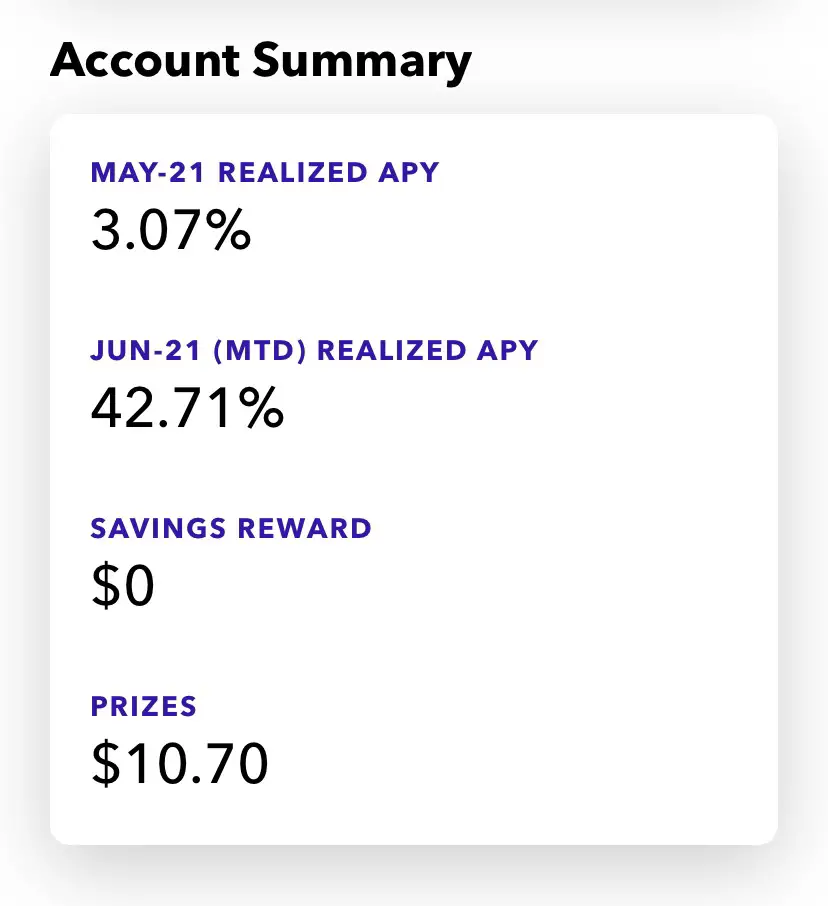 Mailing In. You can receive one (1) Ticket by sending a handwritten sheet of paper with your name, address, e-mail, and phone number to:
Yotta Technologies Inc.
2261 Market Street #4313
San Francisco, CA 94114
For each completed sheet of paper, you will receive one (1) Ticket. If you want to select your own numbers you should include those numbers on the sheet of paper. If you do not provide numbers, they will be randomly provided. Limit of one request per envelope. The entry will award a Ticket for the drawing that starts on the next Monday, after the mail in was received (not postmarked).
Limit of 100,000 Tickets per person per week, regardless of method of obtaining a Ticket.
Daily Number Drawings: Seven numbers (six regular numbers and one Yotta Ball) will randomly be selected daily at 9 pm ET. The numbers will be drawn within the Yotta App.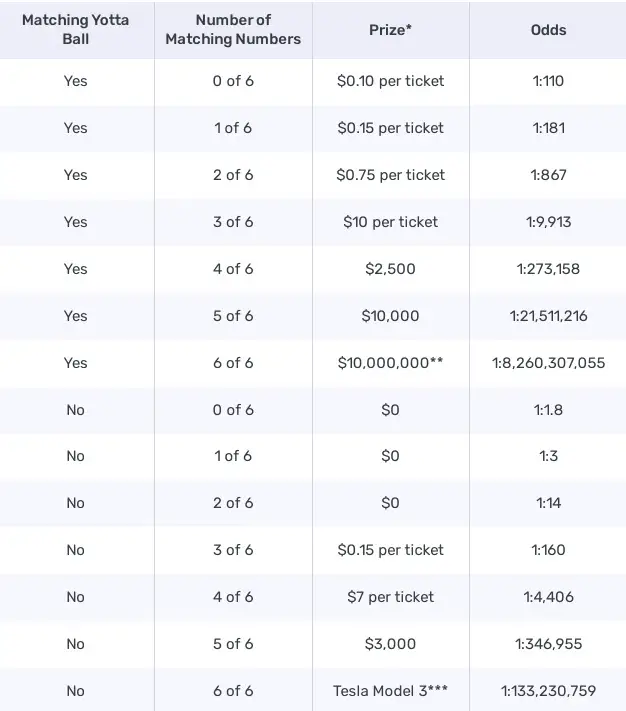 *If the prize does not say "per ticket" then the prize listed will be split equally amongst all individuals at that level. For example, if there are 3 matches with the same number of numbers (including the Yotta Ball) the prize will be equally split amongst those three individuals.
**The grand prize will be paid either as a one-time, lump sum payment of $5,800,000 or as 40 graduated payments over 40 years that amount to $10,000,000 in total. The annual payments increase by 5% until the 40th and final payment.
***If there are multiple winners, the winners will split $37,990. If there is one winner, you win One (1) Tesla Model 3 Standard Plus Rear-Wheel Drive vehicle with Pearl White Paint, 18" Aero Wheels, All Black Partial Premium Interior, and autopilot included, You have the option of choosing the Tesla or $37,990 in cash.
Prizes will be awarded to your Yotta Account. If you do not have a Yotta Account you will be mailed a check. Prize is non-transferable and no substitution will be made except as provided herein at the Sponsor's sole discretion.
Potential winner will be notified via the App or using the email address / phone number provided with the entry or on file with the Sponsor. Failure by potential Sweepstakes winner to respond to the initial verification within ten (10) days of notification will result in disqualification.