Do you love to read? Goodreads has new book giveaways everyday in December on their website. #bookgiveaways #authors #goodreads We have compiled a list of Goodreads book giveaways that have 50 to 100 winners each for a better chance to win.
Happy Reading!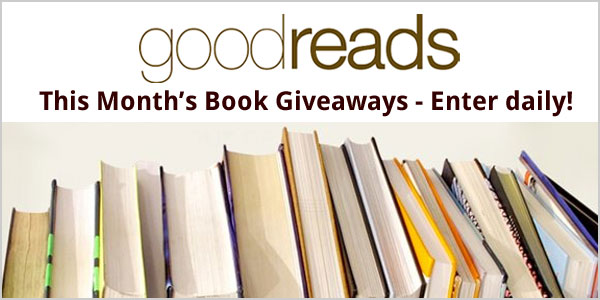 Where is the giveaway? For some of the giveaways you will need to scroll to the bottom of the book page to see the entry form.
Eligibility for all Goodreads Giveaways: Open to US residents, 18+/age of majority. You must have a Goodreads and an Amazon.com account in order to enter or receive a prize. Both are free to join. Limit one entry per person and household using only one Goodreads/Amazon.com account per Sweepstakes. You can enter each giveaway only once.
Note: When you complete the entry form, the book identified as the prize in the Sweepstakes will be automatically added to your Want-to-Read shelf on Goodreads. The book should remain as Want-to-Read until the Sweepstakes end date, or your entry will be ineligible.
Winner Notification: If you are a winner, an e-mail notification will be sent to you Goodreads on behalf of the Sponsor.
Print Books:
Ends December 1:
(50) Milk Fed by Melissa Broder (Goodreads Author)
(50) The Revelations by Erik Hoel
(100) Fairy Godmothers, Inc. by Saranna DeWylde
(100) Who is Maud Dixon? by Alexandra Andrews (Goodreads Author)
(50) Never Far Away by Michael Koryta (Goodreads Author)
(100) Crosshairs by Catherine Hernandez (Goodreads Author)
Ends December 2:
(100) Love Lettering by Kate Clayborn (Goodreads Author)
(100)  The Orphan Collector by Ellen Marie Wiseman (Goodreads Author)
(100) The Babysitter: My Summers with a Serial Killer by Liza Rodman, Jennifer Jordan
Ends December 3:
(50) Cosmic Health: Unlock Your Healing Magic with Astrology, Positive Psychology, and Integrative Wellness by Jennifer Racioppi
(100) The Coldest Winter Ever by Sister Souljah
Ends December 4:
(50) We Run the Tides by Vendela Vida
(50) North by Shakespeare: A Rogue Scholar's Quest for the Truth Behind the Bard's Work by Michael Blanding (Goodreads Author)
(50) Nothing Personal: My Secret Life in the Dating App Inferno by Nancy Jo Sales
Ends December 5:
(50) The Art of Falling by Danielle McLaughlin
(100) Grand Portage by Scott Seeger (Goodreads Author)
Ends December 6:
(100) The Women's History of the Modern World: How Radicals, Rebels, and Everywomen Revolutionized the Last 200 Years by Rosalind Miles
(50) The Photographer by Mary Dixie Carter (Goodreads Author)
(50) Can't Slow Down: How 1984 Became Pop's Blockbuster Year by Michaelangelo Matos
(100) Better Luck Next Time by Julia Claiborne Johnson (Goodreads Author)
Ends December 7:
(100) The Windsor Knot by S.J. Bennett (Goodreads Author)
(100) The Rope: A True Story of Murder, Heroism, and the Dawn of the NAACP by Alex Tresniowski
(100) Laziness Does Not Exist by Devon Price (Goodreads Author)
(100) Cool for the Summer by Dahlia Adler (Goodreads Author)
(50) Victories Greater Than Death by Charlie Jane Anders (Goodreads Author)
(50) The Arrangement by Robyn Harding (Goodreads Author)
(50) In a Holidaze by Christina Lauren (Goodreads Author)
(50) The Price You Pay for College: An Entirely New Road Map for the Biggest Financial Decision Your Family Will Ever Make by Ron Lieber
(100) Trouble Girls by Julia Lynn Rubin (Goodreads Author)
(100) The Genome Odyssey: The Promise of Precision Medicine to Define, Detect, and Defeat Disease by Dr. Euan Angus Ashley (Goodreads Author)
Ends December 8:
(60) The Doctors Blackwell: How Two Pioneering Sisters Brought Medicine to Women and Women to Medicine by Janice P. Nimura (Goodreads Author)
(50) The Times I Knew I Was Gay by Eleanor Crewes (Goodreads Author)
(50) Tender Is the Flesh by Agustina Bazterrica, Агустина Бастеррика, Sarah Moses (Translator)
(50) The End of Everything (Astrophysically Speaking) by Katie Mack (Goodreads Author)
(100) Mind Your Garden: The seeds you plant today become the realities of tomorrow by Coach Tony (Goodreads Author)
Ends December 9:
(75) The Push by Ashley Audrain (Goodreads Author)
(100) Voting: The Ultimate Act of Resistance by Richard C. Bell (Goodreads Author)
(100) Six Weeks to Live: A Novel by Catherine McKenzie (Goodreads Author)
(100) Ink & Sigil (Ink & Sigil, #1) by Kevin Hearne (Goodreads Author)
(100) West End Girls by Jenny Colgan
Ends December 10:
(50) Susan, Linda, Nina, and Cokie: The Extraordinary Story of the Founding Mothers of NPR by Lisa Napoli (Goodreads Author)
(100) The Happiest Girl in the World: A Novel by Alena Dillon (Goodreads Author)
(100) Do Better by Rachel Ricketts
(100) A Bitter Feast: A Novel by Deborah Crombie (Goodreads Author)
(50) Nick by Michael Farris Smith (Goodreads Author)
(100) Irena's War by James D. Shipman (Goodreads Author)
(100) The Saint Makers: Inside the Catholic Church and How a War Hero Inspired a Journey of Faith by Joe Drape (Goodreads Author)
(100) Forgive Me by Susan Lewis
End December 11:
(100) Aftershocks by Nadia Owusu (Goodreads Author)
(50) Our Darkest Night: A Novel of Italy and the Second World War by Jennifer Robson (Goodreads Author)
(100) The Titanic Sisters by Patricia Falvey (Goodreads Author)
(50) Mistletoe and Mr. Right (Moose Springs, Alaska #2) by Sarah Morgenthaler (Goodreads Author)
(100) We Begin at the End by Chris Whitaker (Goodreads Author)
(100)  Broken (In the Best Possible Way) by Jenny Lawson (Goodreads Author)
(100) One Two Three by Laurie Frankel (Goodreads Author)
Ends December 12:
(100) Pairs With Life by John Taylor (Goodreads Author)
(50) Little Bandaged Days by Kyra Wilder
(50) The Meateater Guide to Wilderness Skills and Survival by Steven Rinella
(100) The Kindest Lie by Nancy Johnson (Goodreads Author)
Ends December 13:
(50) The Perfect Daughter by D.J. Palmer (Goodreads Author)
(100) Mother May I by Joshilyn Jackson (Goodreads Author)
(100) Gathering Dark by Candice Fox (Goodreads Author)
(50) Raceless: In Search of Family, Identity, and the Truth About Where I Belong by Georgina Lawton
(50) Confident Women: Swindlers, Grifters, and Shapeshifters of the Feminine Persuasion by Tori Telfer (Goodreads Author)
(100) Before the Ruins by Victoria Gosling
(50) Bevelations: Lessons from a Mutha, Auntie, Bestie by Bevy Smith (Goodreads Author)
Ends December 14:
(50) Vera by Carol Edgarian (Goodreads Author)
(75) The Unwilling by John Hart (Goodreads Author)
(100) Siri, Who Am I? by Sam Tschida (Goodreads Author)
(50) Goodbye, Again: Essays, Reflections, and Illustrations by Jonny Sun (Goodreads Author)
(50) Half Life: A Novel by Jillian Cantor (Goodreads Author)
(100) What Could Be Saved by Liese O'Halloran Schwarz (Goodreads Author)
(100)  The Last Thing to Burn by Will Dean
(100) The Only Good Indians by Stephen Graham Jones (Goodreads Author)
(100)  One Poison Pie (Kitchen Witch Mysteries #1) by Lynn Cahoon (Goodreads Author)
Ends December 15:
(50) Where Madness Lies by Sylvia True (Goodreads Author)
(50) Spells Trouble (Sisters of Salem, #1) by P.C. Cast (Goodreads Author), Kristin Cast (Goodreads Author)
(50) The Arsonists' City by Hala Alyan
(50) The Curveball: A Story of Grit, Adversity, and Winning the Game of Life by Colby Sharma, Dan Clements (Collaborator )
(50) The Pegan Diet: 21 Practical Principles for Reclaiming Your Health in a Nutritionally Confusing World by Mark Hyman (Goodreads Author)
(50) Faith after Doubt: Why Your Beliefs Stopped Working and What to Do about It by Brian D. McLaren
(50) Mirrorland by Carole Johnstone (Goodreads Author)
(50) You Love Me (You, #3) by Caroline Kepnes (Goodreads Author)
(100) Every Vow You Break by Peter Swanson (Goodreads Author)
(75) We Came, We Saw, We Left: A Family Gap Year by Charles Wheelan
(100) First Comes Like (Modern Love, #3) by Alisha Rai (Goodreads Author)
Ends December 16:
(50) The Next Everest: Surviving the Mountain's Deadliest Day and Finding the Resilience to Climb Again by Jim Davidson (Goodreads Author)
(50) Betting on You: How to Put Yourself First and (Finally) Take Control of Your Career by Laurie Ruettimann (Goodreads Author)
(70) A Little Devil in America: Notes in Praise of Black Performance by Hanif Abdurraqib
Ends December 17:
(50) The Frozen Crown (The Frozen Crown, #1) by Greta Kelly (Goodreads Author)
(100) Master of the Revels (D.O.D.O. #2) by Nicole Galland (Goodreads Author)
Ends December 18:
(100) The 50/50 Friendship Flow: Life Lessons From and For My Girlfriends by Shari Leid (Goodreads Author)
Ends December 21:
(50) Crossing the River: Seven Stories That Saved My Life, A Memoir by Carol Smith
(100) Meet Me in Another Life: A Novel by Catriona Silvey (Goodreads Author)
Ends December 22:
(100) Tomorrow's End (The Path of a Savior, #1) by G.R. Morris (Goodreads Author)
(60)  Smalltime: A Story of My Family and the Mob by Russell Shorto (Goodreads Author)
(100) I'm Waiting for You and Other Stories by Bo-Young Kim
Ends December 24:
(50) Please Don't Tell Cooper He's a Dog by Michelle Lander Feinberg (Goodreads Author)
(50) When Time Stopped: A Memoir of My Father's War and What Remains by Ariana Neumann (Goodreads Author)
(100) Ink and Shadows (Secret, Book, & Scone Society, #4) by Ellery Adams (Goodreads Author)
(100) When the Apricots Bloom by Gina Wilkinson (Goodreads Author)
(100) Hopeless Romantic (When in Rome #2) by Marina Adair (Goodreads Author)
(100) Driven (Deep Ops, #4) by Rebecca Zanetti (Goodreads Author)
(100) Nathan Stark, Army Scout by William W. Johnstone
Ends December 25:
(100) Raft of Stars: A Novel by Andrew J. Graff
(50) The Great Gatsby by F. Scott Fitzgerald
Ends December 26:
(100) Paradise Peak by Janet Dailey
Ends December 28:
(100) Dead to Her: A Novel by Sarah Pinborough (Goodreads Author)
Ends December 30:
(50)  True Comfort: More Than 100 Cozy Recipes Free of Gluten and Refined Sugar by Kristin Cavallari
Kindle Books:
Ends December 1:
(100) Jack at the Gate (Jack of All Trades Book 9) by D.H. Smith (Goodreads Author)
(50) Lana Fray and the Grand Plan by Maren Higbee (Goodreads Author)
(50) Stress Reduction for Lawyers, Law Students, and Legal Professionals: Learning to Relax by Stephen Snyder (Goodreads Author)
(50) Paper Stars Rewritten: (Fallen Brook #2) by Jennilynn Wyer (Goodreads Author), J.L. Wyer (Goodreads Author)
(100) Perilous Last-Minute Christmas Shopping by Annie De Muynck (Goodreads Author)
(100) Ascension: A Six Novel of Machine Intelligence (Six AI Series Book 3) by Calvin J. Brown (Goodreads Author)
(100) Evolving Elizah: Initiatum by C.J. Hall (Goodreads Author)
(100) Shbeep the Unique a Sheep
(100) Deadvent Calendar by Ken Kirkberry (Goodreads Author)
(100) Onansburg, Iowa by Peggy Lammers
(100) Alignment Strong: A Strategic and Human-Centric Handbook for Competitive Leadership by John E. Quinlan (Goodreads Author)
(50) This Time Next Year by Sophie Cousens
(100) Well, Girl: An Inside-Out Journey to Wellness by Jami Amerine
(100) The Gold Digger (True Colors) by Liz Tolsma (Goodreads Author)
(100) The Almighty Father by Diane Wagner (Goodreads Author)Dark's Dominion (Book of the Huntress 2) by Joshua David Bellin (Goodreads Author)
(100)  I am a Rockstar: An Expert Guide to Success by Uma Vanka (Goodreads Author)
(100) High Tension: FDR's Battle to Power America by John A Riggs
(100) There was histrionic laughter at the clowns cadaver by N. Alexsander Sidirov (Goodreads Author)
(100) Language That We All Can Speak: A Children's Book About Kindness and Diversity (Olivka Books 1) by K. Read (Goodreads Author)
(100) A Married Hot Mess: The Billionaire Bachelor by Jen Buer
Ends December 2:
(100) Things to Do When You'd Rather be Dead by Michael Guillebeau (Goodreads Author)
(100) Problems of the Muhammadans: A Wake-Up Call by Mohammed A. Halim
(100) Horsemen's War (The Rebellion Chronicles, #3) by Steve McHugh (Goodreads Author)
(100) The Fatal Flying Affair (A Lady Hardcastle Mystery #7) by T.E. Kinsey (Goodreads Author)
(100) A Killer's Game by Luca Tahtieazym, Alexandra Maldwyn-Davies (Translator)
(100) Lily Fairchild by Don Gutteridge (Goodreads Author)
(100) The Orange Tree by Carol Riggs (Goodreads Author)
(50) Apex by Tyler Michael (Goodreads Author)
Ends December 3:
(100) Anxious for Answers by Ilene S. Cohen (Goodreads Author)
(100) The Kingdom of Socks by Karlo Repar (Goodreads Author)
(50) The Rise of the Altereds (The Unadjusteds #2) by Marisa Noelle (Goodreads Author)
(100) All Man's Land by D. László Conhaim (Goodreads Author)
(100) Wildcat (A Texas Romance #2) by Phyllis Kerr (Goodreads Author)
(100) Lonely Hearts Complex by S.K. Wee (Goodreads Author)
(100) Wonder Leads: Remarkable lead generation for positive small businesses by Dave Holloway (Goodreads Author)
(100) The Teen's Guide to Face-to-Face Connections in a Screen-to-Screen World: 40 Tips to Meaningful Communication by Jonathan McKee, Alyssa McKee
(100) The Pearl that Broke Its Shell by Nadia Hashimi (Goodreads Author)
(100) The Girl Who Sees Angels by Jeffrey McClain Jones (Goodreads Author)
Ends December 4:
(100)  El ojo de la luna by Ivan Obolensky (Goodreads Author), Germán González Correa (Translator)
(100) Operation Origami – The Ire of Claudia (Max & Olivia, #5) by Mark A. Biggs (Goodreads Author)
(100) The Murder Lawyer by Piper Punches (Goodreads Author)
(50) Redemption: Joker and Daisy (Serpents MC Las Vegas #4) by Barbara Nolan (Goodreads Author)
(100) The Only Woman in the Room by Marie Benedict (Goodreads Author)
(100) Mission Metamorphosis: Leadership for a Humane World by Robin R. Ganzert
(100) The Stillness Before the Start by Jennifer Ann Shore (Goodreads Author)
(100) Thread by J. Franklin Payne (Goodreads Author)
(100) Shoes on the Stairs by Jan Steele (Goodreads Author)
(50) Jett Landry: The Fuse (Jett Landry Saga Book 1) by Stephan Oak (Goodreads Author)
(100) Make Enterprise Great Again: The Gods Must Be Crazy!: Cradle of Communism to Catacomb of Capitalism: A Proposal to bring back the House of Roosevelt's by E.P.M. Mavericks (Goodreads Author)
Ends December 5:
(100) Snowed In at the Castle (Snowed In for Christmas #1) by Lucy McConnell (Goodreads Author)
(100) Just the Two of Us (Just the Two of Us #1) by Ryu Hyang, Stephanie Cha (Translator)
(100) Death of a Messenger (Koa Kane Hawaiian Mystery Book 3) by Robert B. McCaw (Goodreads Author)
(50) Beyond Redemption: Joker (Serpents MC Las Vegas Book 1) by Barbara Nolan (Goodreads Author)
(100) No Way Out by Betty R Wall
(100) Friendly Fire: AFV Defender, Book 1 by Michelle Levigne
(100) The Book About Nothing by John Meagher (Goodreads Author)
(100) Upside Down (Breaking the Rules #3) by A.M. Madden (Goodreads Author)
(100) Bots by Anthony DiMaria (Goodreads Author)
(50)  Tokyo Traffic by Michael Pronko (Goodreads Author)
(50)  Empire of Mud by James Suriano
Ends December 6:
(100)  Acts of Faith: Part 1 of The Inquisition Trilogy by Martin Elsant (Goodreads Author)
(100)  Chasing the Duke (12 Days of Christmas, #7) by Tracy Sumner
(100) The Blue Rose
(100) Until One Day by Charlotte Symonds (Goodreads Author)
(100) The Great Forest (Ecosystem Cycle Book 5) by Joshua David Bellin (Goodreads Author)
(50)  The Protector by Abigail Owen (Goodreads Author)
(100) The Tale of Was and Das by Marin . (Goodreads Author)
(100) Jelly Jars by S.J. Varengo (Goodreads Author)
(100) 24 + 1 Christmas Tales – Butterfly Adventures in Santa's Secret City by Alexander Ruth (Goodreads Author), Maxine White (Translator)
Ends December 7:
(100) Rise of One: Blood Brute – Book 1 by Dixon Reuel (Goodreads Author)
(100) Where's My Mask? by Cody Wittekind (Goodreads Author), Eryono (Illustrator)
(100) Karleigh: A Story of Faith (My Sister's Keeper Book 1) by Lisa Washington
(100) The Word Trove by Elias Vorpahl (Goodreads Author)
(50) Frank Cullotta's Greatest (Kitchen) Hits by Frank Cullotta, Dennis N. Griffin
(100) Orders of Battle (Frontlines #7) by Marko Kloos (Goodreads Author)
(100) Prophecy's End (The Endarian Prophecy, #6) by Richard Phillips
(100) A Sapphire Child (The Raj Hotel #2) by Janet MacLeod Trotter (Goodreads Author)
(100) Layla by Colleen Hoover (Goodreads Author)
(100) The Daydream Cabin by Carolyn Brown
(100) Going Green by Nick Spalding (Goodreads Author)
(100) Under Almond Blossoms by Anja Saskia Beyer (Goodreads Author)
(100) A Mother for Christmas by Jackie Weger (Goodreads Author)
(100) My Fake Soulmate (Five Fun Billionaire Rom-Coms – The Fake to Forever Series) by Emily Bow (Goodreads Author)
Ends December 8: 
(100) The Perceptionist: A Novel by Mo'Reese Madu (Goodreads Author)
(50) Immature Men Women Love To Marry by J.T. Hackshaw (Goodreads Author)
(100) Well Aware: Master the Nine Cybersecurity Habits to Protect Your Future by George Finney
(100) Exploration: The Stanfield Chronicles by David Tory
(100) Switching Gears: The Petroleum-Powered Electric Car by Dan K. Eberhart
(100) Bullet Catcher: The Complete Season 1 by Joaquin Lowe (Goodreads Author)
(100) Stargods (Star Carrier #9) by Ian Douglas
Ends December 9:
(100) Artemisia by Ninfa Artemis (Goodreads Author)
(100) The Collapsible Mannequin by Charlotte Matthews
(50) The Renascent World by Carryn W. Kerr (Goodreads Author)
(100) Nikolai Delov by James Dante (Goodreads Author)
(100) The Girl Behind the Wall–Edgar Allan Poe, the Girl, and the Mysterious Raven Murders by Bruce Wetterau (Goodreads Author)
(100) Runaway Heart by Phyllis Kerr (Goodreads Author)
(100) The Polar Bear Expedition: The Heroes of America's Forgotten Invasion of Russia, 1918-1919 by James Carl Nelson
Ends December 10:
(50) Another Song About Love by Janie Conway-Herron (Goodreads Author)
(50) Mitra's Last Hustle (Fastball Series) by Philip Beck
(50) The Wee-Jees: A Ghost Story Based on True Events by Bryan Hutchinson (Goodreads Author)
(100) The Archives of Her Mind by Sandy Levy Kirschenbaum (Goodreads Author)
(50) Manage My Emotions: What I Wish I'd Learned in School about Anger, Fear and Love by Kenneth Martz (Goodreads Author)
(100) Cross Her Heart by Sarah Pinborough (Goodreads Author)
(50) Almost Dead by Edward A. Dreyfus (Goodreads Author)
(50) Like Streams to the Ocean: Notes on Ego, Love, and the Things That Make Us Who We Are by Jedidiah Jenkins
(100) Fail: A Carlo Gabriel Mystery by Rick Skwiot (Goodreads Author)
(100) The Giant Hole (The Fruity Things We Do, #1) by Eliza Ida Thomas (Goodreads Author), Fiona Lim Bei Xuan (Illustrator)
(100) Metahumans: The Homo Sapiens Successors by Juan Manuel Garcia (Goodreads Author)
Ends December 11:
(100) Horde by Bryan Cassiday (Goodreads Author)
(100) Beautiful Hero: How We Survived the Khmer Rouge by Jennifer H. Lau (Goodreads Author)
(100) LIMITED DAMAGES (Boston Law Book 1) by John W. Dennehy (Goodreads Author)
(100) After the Outbreak (N87 Virus, #1) by Karri Kadin (Goodreads Author)
(100) Forever Your Duke (12 Dukes of Christmas,#12) by Erica Ridley (Goodreads Author)
(100) The Amazing True Stories of Pepito The Squirrel by F. Jordan Erebia (Goodreads Author)
(100) More Amazing True Stories of Pepito The Squirrel by F. Jordan Erebia (Goodreads Author)
(100) Bad Habits by Amy Gentry (Goodreads Author)
(100) The Mask of Mirrors (Rook & Rose, #1) by M.A. Carrick (Goodreads Author)
(100) The Unbroken (Magic of the Lost, #1) by C.L. Clark (Goodreads Author)
(100) The Ladies of the Secret Circus by Constance Sayers (Goodreads Author)
(100) Genre Purge 3 by Michael Andre-Driussi (Goodreads Author)
(100)  Engaged to the Earl (Penhallow Dynasty, #4) by Lisa Berne (Goodreads Author)
Ends December 12:
(100) The Cephas Code of Christ by Joseph Hannington (Goodreads Author)
(100) Cross My Heart by Avery Maxwell (Goodreads Author)
(100) Her Small-Town Fake Fiance (The Harvest Ranch Romance #6) by Lucy McConnell (Goodreads Author)
(100) Loophole of the Gods (Man Zero, #1) by Lyle Milton (Goodreads Author)
(100) The Book of True Believer by M. Funk (Goodreads Author)
(100) A Glimmer of Death by Valerie Wilson Wesley
(100) A Vineyard Morning (A Vineyard Novel Book 3) by Jean Stone (Goodreads Author)
(100) Miss Benson's Beetle by Rachel Joyce
(100) Night Night, Norman by Marie Dimitrova
(100) Home Sweet Home by Lilly Mirren (Goodreads Author)
Ends December 13:
(50) Mine to Save by Kennedy L. Mitchell (Goodreads Author)
(100) The Garden of Longing by Gavin Eyers (Goodreads Author)
(100) Raven's Apprentice by D Robert Hardy, Kasandra Mane (Illustrator)
(100) Wanderslut 1996: A Gay Road Trip Across America by Jim Arnold (Goodreads Author)
(100) Real-World Python: Projects to Make You Think by Lee Vaughan (Goodreads Author)
(100) Planetside (Planetside #1) by Michael Mammay (Goodreads Author)
(50) Royal Holiday (The Wedding Date, #4) by Jasmine Guillory (Goodreads Author)
(100) Christmas Gi by A. Emma Hollis (Goodreads Author)
(100) Unraveled: A Mother and Son Story of Addiction and Redemption by Laura Cook Boldt, Tom H. Boldt
(100)  News of the World by Paulette Jiles (Goodreads Author)
Ends December 14:
(100) Hear the Whistle: The Story of Jack Haley, American Entrepreneur and Railroad Pioneer by Kathy Haley Buhrman (Goodreads Author)
(100) Stranger in a Strange Land (Mystical Force #1) by Craig Weidhuner (Goodreads Author)
(100) Mysteries by Graham Wilson (Goodreads Author)
(100) Tinker, Tailor, Soldier, Sailor by Charles N. Palmer (Goodreads Author)
(100) When Crisis Strikes: 5 Steps to Heal Your Brain, Body, and Life from Chronic Stress by Jennifer Love Farrell
(100)  Business As Unusual: A Futurist's Unorthodox, Unconventional, and Uncomfortable Guide to Doing Business by Jack Uldrich
(100) Death by Intermission (An Abby McCree Mystery Book 4) by Alexis Morgan (Goodreads Author)
(100) Death Bee Comes Her (An Oregon Honeycomb Mystery Book 1) by Nancy CoCo (Goodreads Author)
Ends December 15:
(100) The Asylum by Shane McMinn (Goodreads Author)
(100)  "A Christmas Secret" by Candace Hall (Goodreads Author)
(50) Days of Hope, Miles of Misery: Love and Loss on the Oregon Trail by Fred Dickey (Goodreads Author)
(100)  Zandra: My Daughter, Diabetes, and Lessons in Love by Janet Hatch (Goodreads Author)
(100) Reservation for murder (Kyle Callahan Mystery, #6) by Mark McNease (Goodreads Author)
(100)  Cemetery Songs by Julie Gilbert (Goodreads Author)
(100)  The Curist by Julie Donofrio (Goodreads Author), Vincent Calfapietra
(100)  Gustave's Adventures Vol 1: Just a Seal by Felicia Sanders (Goodreads Author)
(100)  ¿Cómo Quisieras Ser? by Temi Díaz (Goodreads Author)
(50) Meet You in the Middle by Devon Daniels (Goodreads Author)
(100) Tough Enough (Tough Love, #3) by Trixie More (Goodreads Author)
Ends December 16:
(100) COVID ICU by Anjula Evans (Goodreads Author)
(100)  Slip-Resistant Socks: My Journey with Bipolar Disorder by Bryce R. Hostetler (Goodreads Author)
(100)  Don't Wake Me by Martin Krüger (Goodreads Author)
(50) The Eagle and the Flame (The Wild West Series Book 1) by Karen Kay (Goodreads Author)
(100)  A Touch of Malice (Nick Bracco Thriller #4) by Gary Ponzo (Goodreads Author)
Ends December 17:
(100)  Tragic Fools (Children of Ankh #5) by Kim Cormack (Goodreads Author)
Ends December 18:
(100)  Song of Creation by Jane Christian (Goodreads Author)
(100)  Eight Perfect Murders (Malcolm Kershaw, #1) by Peter Swanson (Goodreads Author)
(100)  Samantha "Sam" Rose Johnson Licensed Private Detective: The Collected Stories Volume One by Edward J. Herdrich (Goodreads Author), Wintercoco (Illustrator)
(50) Nina Kosterina: A Young Communist in Stalinist Russia by Jennifer Phillips (Goodreads Author)
(100)  Second Time Around (Kiss & Tell Book Club #3) by Susan Coventry (Goodreads Author)
Ends December 19:
(100) Belinda Fellgate: The Kiss of Flauros by David C. Holroyd (Goodreads Author), Tracy J. Holroyd (Goodreads Author)
(100)  The Suck (Hunters for Hire, #1) by Jonathan Yanez (Goodreads Author)
(50) The Injustice of Infertility: A True Story of Heartbreak, Determination and Never-Ending Hope by Jennifer Robertson (Goodreads Author)
(100)  Bridging the Gap: A Spiritual Journey to Heaven and Back by Calvin Cassady
(100)  True Power of You by Marios Skarvellis
(100)  Air's 100 fairy tales (Includes anime fairy tales) by Air Herk
(100)  In the Midst: Praying with Poetry by Renée Hilton-Taylor
(100) Where did Luna go? by Stephanie Hewitt (Goodreads Author)
(100) Endings: A Book For Almost Everyone by Betty Jane Wylie (Goodreads Author)
(100) The Grouse Conspiracy by Martyn Chapman (Goodreads Author)
 Ends December 20:
(100) The Anxiety Code: Deciphering the Purposes of Neurotic Anxiety by Roger Di Pietro (Goodreads Author)
(100) Mysteries and Mindsets (Decoding Persistent Depression #1) by Roger Di Pietro (Goodreads Author)
(100) Wasted Pain (Ken Ross Romantic/Erotic Suspense Series Book 1) by Ken Ross (Goodreads Author)
(100) The Next Step by Adrian Siska (Goodreads Author)
(100) Messages: Flowing with Synchronicity by Denny Daikeler (Goodreads Author)
(50) Searcher Reaches Land's Limits: A Commentary on Revelations of Mind by Richard Dixey
(100) On His Own Terms by Doug Shidell (Goodreads Author)
(100) Resthaven by Erik Therme (Goodreads Author)
(100) Lizzie's Tale (Old Balmain House #2) by Graham Wilson (Goodreads Author)
(100) The World Encyclopedia Of Serial Killers: Volume One A-D by Susan Hall
(100) When Force Meets Fate: A Mission to Solve an Invisible Illness by Jamison Hill (Goodreads Author)
(100) Escaping Exodus by Nicky Drayden (Goodreads Author)
(100) Wander New York: Fitz in the City (A Wander Often Wonder Always #1) by Reese Traves (Goodreads Author), Jon Traves (Illustrator)
(50) It's Raining Men by Rich Amooi (Goodreads Author)
Ends December 21:
(100) Hearts Entwined (Victorian Love #3) (Generations of Love #7) by M.A. Nichols (Goodreads Author)
(100) Surrender: A Memoir of Nature, Nurture, and Love by Marylee MacDonald (Goodreads Author)
(100) Thriller Meets Romance: A Comedy by Stanley Wright (Goodreads Author)
(100) Life Advice From The Ancient Greek Philosophers: Original words of wisdom from the major schools of Greek thought by Spyros Kyriazos (Goodreads Author), George Tsigkourakos, Andreas Mitrakos
(100) The Mended Mirror: Reflections On Life: Wholeness In Brokenness by Karen Celeste Hilfman (Goodreads Author)
(100) Murder in Hyde Park (Ginger Gold Mysteries #12) by Lee Strauss (Goodreads Author)
(50) Jayson (Fallen Brook High School YA series) by J.L. Wyer (Goodreads Author), Jennilynn Wyer (Goodreads Author)
Ends December 22:
(100) Mr. Black (Black Stone #1) by Nancy Carolyn Brown (Goodreads Author)
(100) Bolinas (Bocas Trilogy Book 3) by Thomas M. Barron (Goodreads Author)
(50) Spiritual Intercourse by Maximus Freeman (Goodreads Author)
(100) The World Encyclopedia Of Serial Killers: Volume Three M-S by Susan Hall
Ends December 23:
(100) Dead by Tomorrow by Daniel Winter (Goodreads Author), Andrew Monroe (Goodreads Author)
(100) The Essence of Life by Anikó Kun-Béres (Rain Arlender) (Goodreads Author), Réka Ács (Goodreads Author) (Translator), Ágnes Várkonyi (Illustrator)
(100) Warriors of the Blessed Realms by Chris McMahon (Goodreads Author)
(100) The Amazon Conspiracy by S. J. Philips (Goodreads Author)
Ends December 24:
(100) Travel Fuc* Love: A True American Love Story by J. Gatz (Goodreads Author)
(100) Happiness Is Free: And It's Easier Than You Think, Books 1 through 5, The Greatest Secret Edition by Lester Levenson, Hale Dwoskin (Goodreads Author), Rhonda Byrne (Foreword)
(100) Red Paint (Alex Desocarras Mystery Series, #2) by Valerie Van Clieaf (Goodreads Author)
(100) A Thousand Miles from Spokane by S.D. Goldman (Goodreads Author)
(100) Your Little Big You Adventure: Birthday Suit Life: The Secret to Discovering Your Enlightened Life by L. Owen Paxton (Goodreads Author)
(100) Futureproof Your Career and Company: Flourish in an Era of AI, Digital Natives, and The Gig Economy by Maulik Parekh (Goodreads Author)
(100) Naked Under the Lights by Judith Peck (Goodreads Author)
Ends December 25: 
(100) The Lost Signal (Slaves of Zisaida, #1) by J.S. Fernandez Morales (Goodreads Author)
(100) The Consulting Gig by C.J. Capen (Goodreads Author)
(100) Shred of Doubt: A Psychological Suspense by Darren Sugrue (Goodreads Author)
(100) Wildest (Demon Hunter Romance #2) by Carrie Thorne (Goodreads Author)
(100) Mecca In My Wake by Ahmed Joktan (Goodreads Author)
(100) Snowed In at the Archive by Ellie Thornton (Goodreads Author)
Ends December 26: 
(100) Total Marriage Refresh: 6 Steps to Marital Satisfaction by Wyatt Fisher (Goodreads Author)
(100) The Robins by Manuel Rose (Goodreads Author)
(100) Want To Feel Better – Keep Lavender Handy by Susan Brougher (Goodreads Author)
(50) Perestroika in Paris: A novel by Jane Smiley (Goodreads Author)
(100) Shades of Wicked (Night Rebel #1) by Jeaniene Frost (Goodreads Author)
Ends December 27:
(100) Adam's Wish by Rahaf Kanaan (Goodreads Author)
(100) No Laughing Matter by Talia Hunter (Goodreads Author)
(100) You Say Geotourism, I Say Tourism Geology! by Yudi Purnama (Goodreads Author)
(100) Affirmations for Purposeful Living: Manifesting Health, Wholeness and Joy by Michele Marie Gervais (Goodreads Author)
Ends December 28:
(100) The Other Mrs. Samson by Ralph Webster (Goodreads Author)
(100) From Hell's Flames to His Loving Arms by Kae Lemuel (Goodreads Author)
(100) Prayer Wasn't Enough: A Convent Memoir by Dee Ready (Goodreads Author)
Ends December 29:
(100) The King Who Would Be Man by Brian A. Plank (Goodreads Author)
(100) Out of a Christmas Sky (A Carterville Mystery) by Robert J. McCarter (Goodreads Author)
(100) In One Lifetime by Graham Forlonge (Goodreads Author)
Ends December 30:
(100)  Chant and Crown by Jordan McMakin (Goodreads Author)
(100) Castles in the Snow: Alladale by Linda Heavner Gerald (Goodreads Author)