On April 14th it's the #TheGreatAmericanTakeout giveaway where you can win $50 to $5,000 in cash! Share a photo of your takeout meal for your chance to win a $50 gift card and be entered to win the grand prize, Free takeout for year in the form of a $5,000 gift card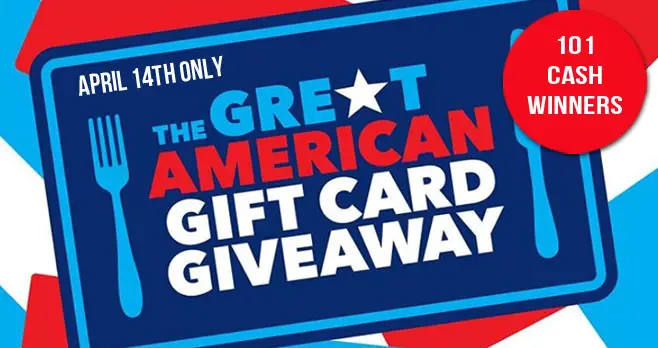 Official Rules: US, 13+. A purchase is not required to enter or win; photo can be of any meal. The content included in the Entry will not be judged or used in any way to determine a winner. Five Entries per person, per platform. If you enter more than five times per platform, only the first five entries will be included in the sweepstakes.
How to Enter: Post a picture of your takeout meal on Instagram or Twitter on Tuesday, April 14, along with the hashtags #TheGreatAmericanTakeout and #Sweepstakes.
Be sure to tag @thegreatamericantakeout if participating on Instagram, or @TheGATakeout if entering on Twitter.
Important! Entry cannot prominently feature trademarks, logos or trade dress owned by any third party, or advertise or promote any brand or product of any kind, unless such logos/images are from the restaurant where your purchase was made.
Grand Prize (1): Free takeout for year in the form of a $5,000 gift card.
First Prize (100): $50 gift card
On April 14, Rich Products will donate $5 to the Restaurant Employee Relief Fund (up to $25,000 total) for every social media post tagged with #TheGreatAmericanTakeout. The National Restaurant Association Educational Foundation created RERF.US to support U.S. restaurant workers financially impacted by the COVID-19 crisis, and to provide aid to restaurant employees nationwide.