Put your best avocado ideas to the test! Earn $200 for groceries and compete for your piece of $8,500 in prize money. Share your inspirations that showcase the versatility of guac in its many forms, and showcase year-round uses for fresh Avocados From Mexico. AFM will reward the top 100 participating chefs with $200 for groceries, and the opportunity to compete for a grand prize of $5000.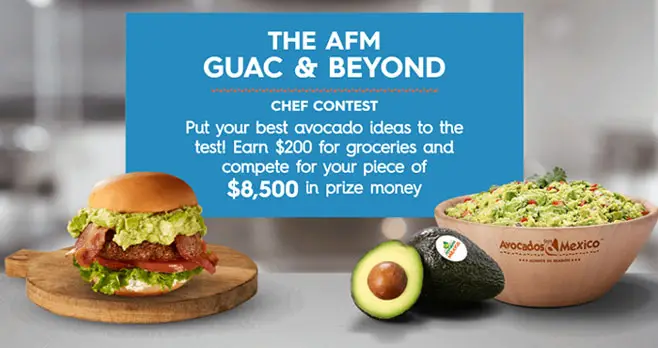 Official Rules: US, 18+. April 21 – May 6, 2020 at 11:59 pm ET. One entry per person.
The Contest Period shall consist of four phases:
Entry: April 21 – May 6 at 11:59:59 AM ET
Judging: May 7 at 12:00:01 and end on May 14 at 11:59:59 AM ET
Finalist Submission: May 15 at 12:00:01 – May 28 at 11:59:59 AM ET
Winner Determination: May 29 at 12:00:01 – June 11 at 11:59:59 AM ET
How to Enter: share how COVID-19 has negatively affected you and provide four recipes based on the following four concepts: (i) Guacamole, (ii) Avocado Sauce, (iii) Avocado Dressing, (iv) Avocado Smear. Each entrant must submit all four Recipe Concepts, one per each concept to receive a valid entry.
Finalist Judging Criteria: Overall Uniqueness of concept (33.3%); Flavor Profiles (33.3%); Different ways of using Fresh Avocados From Mexico (33.3%). The one hundred Entries that receive the highest scores will be the potential Finalists.
Winner Determination Judging: Naming/Photo (25%); Accurate Recipe – Execution (20%); Unique & Creative Recipe – (30%); Texture & Flavor – (25%).
Grand Prize (1): $5,000
First Prize (1): $2,500
Second Prize (1): $1,000
Finalist Prizes (100): $100 upon initial notification and $100 upon submitting his/her Finalist Submission.