Radio Flyer is giving away one of their toys everyday until April 24th. The Radio Flyer prize changes each day; check out the calendar on the website for all the great toys. Every entry is only for that day, so be sure to come back for more chances to win!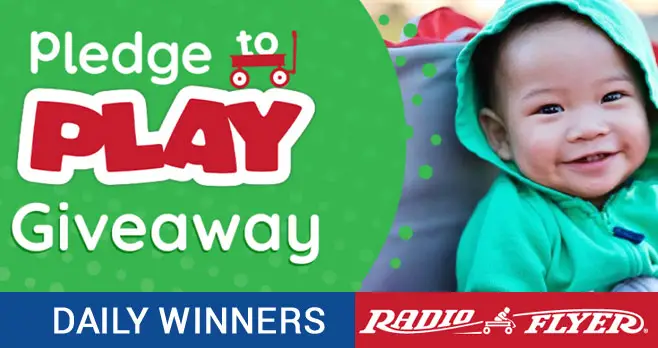 Official Rules: US, 18+. March 16 – March 24, 2020 at 11:59 pm ET. One entry per person per day.
Rhode Island will be excluded from the Sweepstakes on March 27th, April 7th and April 24th.
Daily Prizes (40 – one per day):
March 16: Scoot 2 Pedal. ARV: $49.99
March 17: Rory: Electric Ride-On Lion With Sounds. ARV: $139.99
March 18: 3-In-1 Off Road EZ Fold Camo Wagon. ARV: $119.99
March 19: Classic Walker Wagon. ARV: $79.99
March 20: Pathfinder Wagon. ARV: $99.99
March 21: My 1st Scooter Sport. ARV: $34.99
March 22: Town & Country Wagon. $124.099
March 23: Deluxe Steer & Stroll Trike. ARV: $69.99
March 24: Busy Buggy. ARV: $34.99
March 25: Convertible Stroller Wagon. ARV: $149.99
March 26: Classic Red Duel Deck Tricycle. ARV: $69.99
March 27: Tesla Model S For Kids. ARV: Starts at $499
March 28: Glide & Go Balance Bike. ARV: $49.99
March 29: $100 RadioFlyer.com Gift Card
March 30: Build-A-agon. ARV: $109.99
March 31: 3-In-1 Tailgater Wagon With Canopy. ARV: $149.99
April 1: Scoot About Sport. ARV: $34.99
April 2: Build-A-Scooter. ARV: $39.99
April 3: Little Red Roadster. ARV: $49.99
April 4: Tinker Truck. ARV: $44.99
April 5: Pedal Racer. ARV: $99.99
April 6: Build-A-Trike. ARV: $65
April 7: Tesla Model S For Kids. ARV: Starts at $499
April 8: Blaze Interactive Riding Horse. ARV: $169.99
April 9: Ultimate Go-Cart. ARV: $299.99
April 10: Creativity Car. ARV: $39.99
April 11: Glide & Go Balance Bike. AR: $49.099
April 12: Build-A-Wagon. ARV: $109.99
April 13: EZ Fold 4-In-1 Stroll 'N Trike. ARV: $129.99
April 14: 3-In-1 Off-Road EZ Fold Wagon With Canopy. ARV: $149.99
April 15: Ultimate Flex Wagon. ARV: $159.99
April 16: Grow With Me Racer. ARV: $159.99
April 17: Chestnut: Plush Interactive Riding Horse. ARV: $169.99
April 18: Ziggle. ARV: $54.99
April 19: All-Terrain Steel & Wood Wagon. ARV: $164.99
April 20: Build-A-Trike. ARV: $65
April 21: Peanut: Electric Ride-On Elephant With Sounds. ARV: $139.99
April 22: $100 RadioFlyer.com Gift Card
April 23: Build-A-Scooter. ARV: $39.99
April 24: Tesla Model S For Kids. ARV: Starts at $499