Watch #TheVoice on NBC and answer the weekly question for a chance to win rockin' prizes!
March 2nd Question: For the first time in Voice History, an artist auditions with which instrument?
Watch The Voice each Monday to get the weekly answer or login to your account to get the weekly answer. Follow @ssshotlist on Twitter or on Facebook for reminders.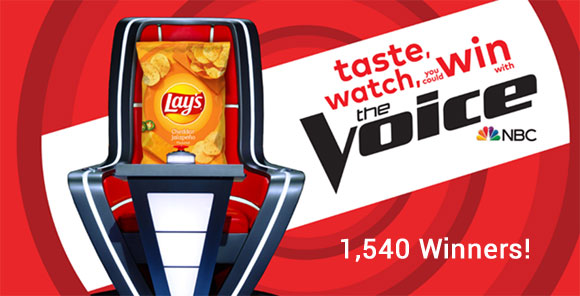 Official Rules: US, 18+/age of majority. March 2 – April 17, 2020 at 11:59 pm CT. Limit one Combined Code Play per person/email address per day. Limit one Weekly Question Play per person/email address per week.
Purchase: A Combined Code is required to participate via this method. During the Promotion Period, purchase any bag of LAY'S Potato Chips (2.5 ounce – 8.0 ounce bags) and look for the Combined Code. A Combined Code consists of the bell-marker code located below the "guaranteed fresh" statement on the front of the bag and the last five digits (between the black bar) of the UPC code on the back of the same bag.
Mail-in Code Request: To obtain a Combined Code without making a purchase, send a 3″ x 5″ card or piece of paper with your full name, address, city, state, zip code, date of birth, and email address, to be received by April 13, 2020, to:
Lay's Turn Up The Flavor Combined Code Request
PO Box 760006, Dept. 880-790
El Paso, TX 88576-0006
One Combined Code will be emailed to the email address provided. Limit one free Combined Code request per stamped-outer envelope.
Watch The Voice: Each Monday at 9:00 am CT during the Promotion Period, visit the website to view the weekly question pertaining to that evening's episode of The Voice. Submit the correct answer to the weekly question. There will be four answer options for each weekly question and you will have four opportunities to answer each week. Upon submitting the correct answer, you will have properly submitted an online play to determine if you have won a prize. You must submit your answer to the current week's question prior to the following Monday's post of the new weekly question. For the purposes of this Promotion, a "week" is defined as a Monday through the following Sunday, with the exception of the last week of the Promotion Period which shall end on Friday, April 17, 2020 at 11:59:59 p.m. CT.
Secret site members can login to your account to get the weekly answer.
Grand Prize (40): A trip for winner and one guest to Los Angeles, California to view a live taping of The Voice. Trip consists of round-trip coach air transportation, double-occupancy hotel accommodations for up to two nights, and two tickets to a Live Episode. If winner lives within 250 miles of Los Angeles, ground transportation may be provided in lieu of air transportation (no additional compensation). The number of hotel-night stays shall be solely determined by Sponsor (or its designated travel agency), based on available flights and arrival times into Los Angeles, California on the day of the winner's designated Live Episode. If no air transportation is required based on winner's residency, that winner shall receive only one night of double-occupancy hotel accommodations. Live Episodes are currently scheduled to occur on the following dates: May 4, 5, 12, 18, or 19, 2020 (subject to change). Winner must attend the Live Episode designated by NBC, in its sole discretion, or prize will be forfeited. The Live Episode date designated to each winner shall be determined by the order in which winners are drawn (e.g. first drawn shall be assigned to the first available date) or as determined by NBC in its sole discretion. ARV: Up to $3,000
First Prizes (1,000): Bluetooth Speaker with a LAY'S and The Voice branded wrap. $24
Potential winners will receive an email within 48 hours of receiving a prize-winning message during their online session at the Web Site. The email will contain instructions on how to claim the prize. Prizes must be claimed within three days of email notification.
Limit one prize per household.