Pepsi-Cola and #FritoLay are starting 2020 off with a bang and giving away over 10,000 prizes including NFL Season tickets, $10,000 cash, free groceries for a year, autographed helmets, footballs, and grocery store gift cards. Enter your code for your chance to win.
Update: If you are having issues with the Pepsi-Cola Frito-Lay 2020 Rush in to Win Instant Win Game codes being invalid, you can contact them by phone. I found this in the rules "For questions about the Promotion, the Website or methods of entry, an entrant may call toll-free 1-877-433-9765 to leave a message along with his or her contact information, and will receive a response within forty-eight (48) hours."
Click Here to Enter (Purchase, see rule for products)
Official Rules: US, 18+/age of majority. January 1 – February 9, 2020 at 11:59 pm ET.  One entry or request per day, per person, regardless of method of entry. A "day" is defined as a twenty-four (24) hour time period beginning at 12:00:00 a.m. (midnight) ET and ending at 11:59:59 p.m. ET.
Purchase Method by Text: Text RUSH to 99888 to enter the code on your receipt when prompted. (See rule for products to purchase).
Mail without Purchase: you can request a code by, hand printing your first and last name, complete mailing address (no PO boxes) onto a self-addressed stamped envelope and place into an outer-mailing envelope with proper postage affixed and mail it to:
Pepsi-Cola Frito-Lay 2020 "Rush In To Win" Instant-Win
Promotion at Albertsons/Safeway Entry
c/o PSG
PO BOX 940340
Maitland, FL 32794-0340
Mail-in entries must be postmarked by February 9, 2020 and received by February 14, 2020 to be eligible for the Promotion. Limit one entry per outer mailing envelope, per day. If entering by mail, each entry must be mailed separately in a hand-addressed, postmarked envelope. No photocopied or mechanically reproduced entries accepted.
The following Instant-Win prizes will be awarded randomly and in no particular order: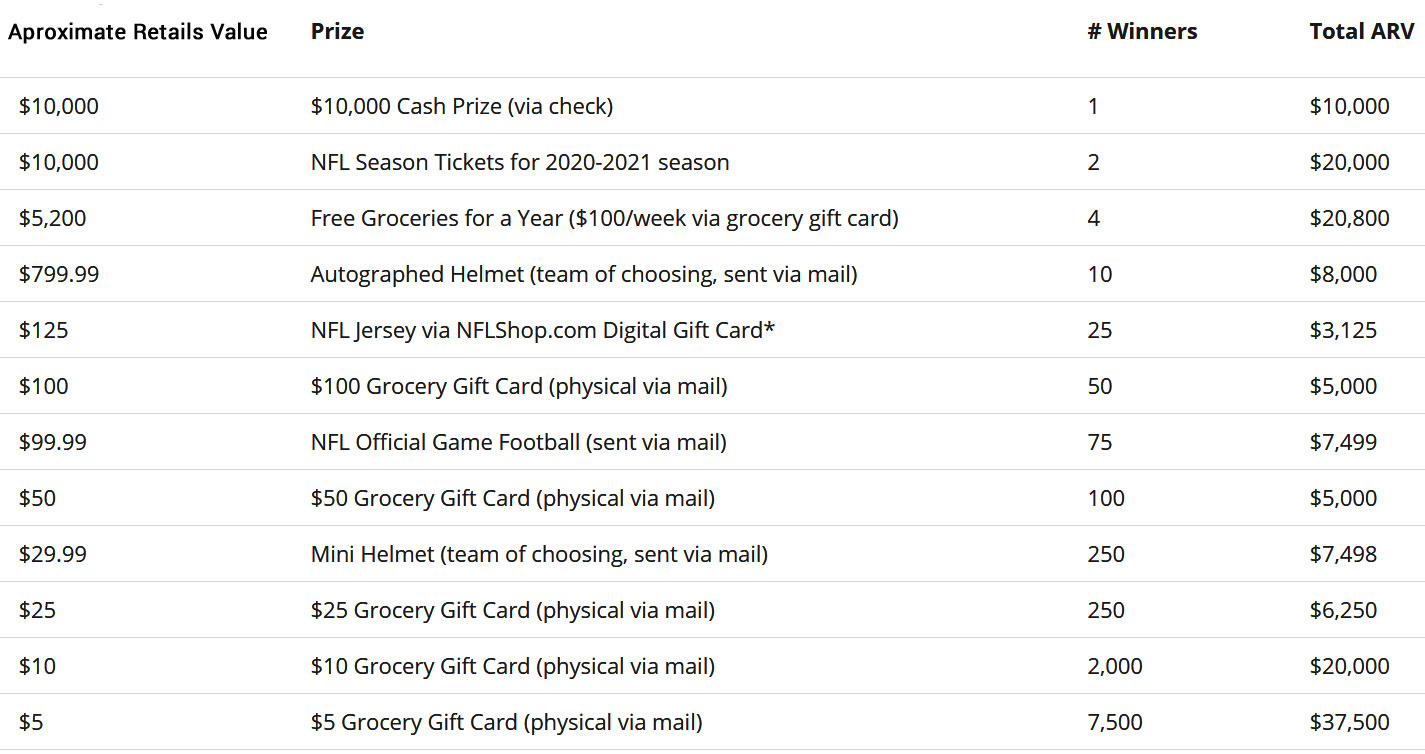 * Any applicable conditions and/or restrictions to NFLShop.com Digital Gift Cards will be disclosed at the time of prize award.
Prize Limit: one prize per person, household or address per day.