HGTV is taking on an ambitious mission – to make over an entire town #HGTVHomeTown and here's how to nominate your own home town.
HGTV Home Town Takeover Contest February 7th Update!
If you want to enter make sure you add your video link to www.dropbox.com and then email [email protected] with the link. You have until midnight, February 7, 2020 to enter! Hurry!
HGTV said this on Twitter
We are thrilled at the amount of passionate responses we've received for #hgtvhometown Takeover submissions. The small-town love coming in actually broke @RTRMedia servers! Email [email protected] to request a Dropbox link to submit. Deadline is Midnight tonight! pic.twitter.com/5STz7T5CpW

— HGTV (@hgtv) February 7, 2020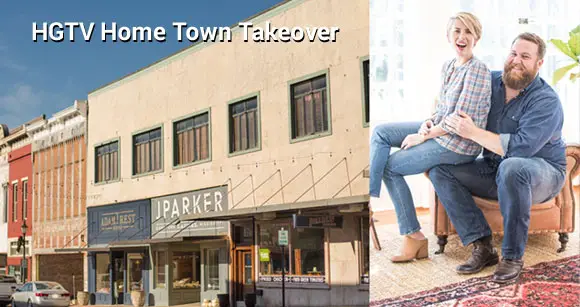 Ever since Ben and Erin Napier of the hit series Home Town helped transform Laurel, Mississippi, fans from small towns across America have flooded HGTV with requests to take on the renovation of their home town. Now you will get a shot at a life-changing, whole-town overhaul too.
Now through February 7, 2020, share your story about your own home town for a chance to have your town featured in this amazing project. Show, tell and sell the network on why your small town should be the one town featured in the upcoming event series, Home Town Takeover.
HGTV Home Town Makeover Criteria
Your home town must have a population of less than 40,000.
Homes must have great architecture.
Your town must have a Main Street that needs a facelift.
How to Enter the HGTV Home Town Takeover
After checking off the list above, head to the Home Town Makeover's website to upload your submission. The application asks a few questions, and includes a section for you describe what your town is like. To be considered, you must upload photos, but the site notes that a video is "even better."
HGTV Home Town Makeover Guidelines
You must be 18 years of age to submit your home town. You will not disclose any information disclosed to or obtained by you or your representatives concerning or relating to the Program. You grant HGTV a nonexclusive royalty-free license to exhibit, distribute, sell, license, modify and otherwise use and exploit your submission (photos, videos, story) by any means and in any media throughout the universe in perpetuity, including my name, voice and likeness to the extent that they are included in the Submissions. You can read full application requirements here.