Play #Ellen's Game of Games for your chance to win a prize pack containing each prize given to the studio audience at the Ellen DeGeneres show during each episode of "Ellen's 12 Days of Christmas".
Click Here to see ALL of Ellen's "12 days of giveaways" sweepstakes. 
Official Rules: US, 18+. December 9 – December 16, 2019. You may receive up to 100 Sweepstakes entries during the Entry Period, regardless of method of entry.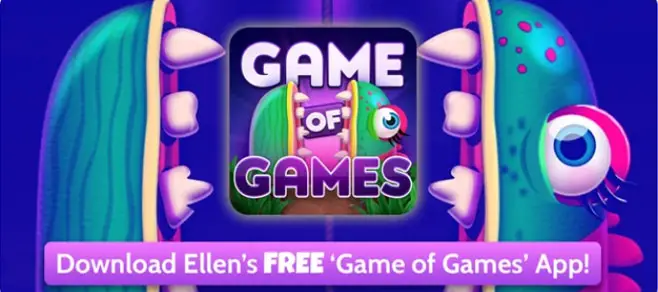 Option #1 Game Play Entry: Ellen's Game of Games app: Download the free Game of Games application  on the App Store or Google Play and follow the guidelines below:
Collect Candy Canes: After completing the tutorial, players are eligible to begin the "Game of Games 12 Days of Giveaways" event where players collect Candy Canes, a limited-time event currency, by winning mini-game matches as well as in prize boxes. As players earn more Candy Canes, they progress further along the event map/game board to earn more entries to the drawing for a chance to win the Prize.
Earning Candy Canes: To earn Candy Canes, players can choose to play the in-app game "Make It Rain" or "One Eyed Monster." Each time you win a match, you will earn the listed amount of Candy Canes. Winning a match also awards you a prize box, which when opened will contain additional Candy Canes. If the round is lost, you will not win any Candy Canes. You also have a chance to earn Candy Canes during rounds of each game when pulling "One Eyed Monster teeth" or "Make It Rain Umbrellas."
Map Reward Tiers: As you move along the event map by playing the games and collecting Candy Canes, you will reach event map reward tiers. At each reward tier you will redeem the Candy Cane collected for in-game rewards and Silver Tickets. The Silver Tickets can be used to enter the Sweepstakes.
The further you progress on the event map, the more Silver Tickets you will earn. By completing the entire event map, you can earn a maximum of 100 Silver Tickets.
How to Enter the Sweepstakes using your Silver Tickets: you must tap on the ticket box at the top right-hand corner of the event map. You will be prompted to tap on the green "Add Entries" button to submit an official entry form, which will include, among other things, your full name, address (no P.O. Boxes), email address and related registration information as prompted. You must complete and submit the entry form with all required information for your entry to be eligible
Option #2 Alternative Method of Entry: To enter without playing the App, hand print your name, complete address (no P.O boxes), email address, phone number, and date of birth on a piece of paper and mail it in an envelope with proper postage to:
Game of Games 12 Days of Giveaways Event Sweepstakes
c/o Ellen Digital Ventures
4000 Warner Brothers Blvd. Building 19
Burbank, CA 91522
You will receive 5 entries into the Sweepstakes per one mail in entry. Only one entry per envelope is allowed. All mail-in entries must be handwritten and must be postmarked and received during the Entry Period.
Grand Prize (1): A prize pack containing each prize given to the studio audience at the Ellen DeGeneres show during each episode of "Ellen's 12 Days of Christmas. The Prize pack may contain items such as gift cards, electronics, furniture, home décor, and vacation vouchers but due to the surprise nature of the show  exact items may vary.