Have you always imagined what it would be like to spin the Wheel, meet Pat and Vanna and win BIG money? Share why you'd make a great contestant and you could be on the show! Here's your chance to charm us with your witty candor.
Sometimes dreams do come true! If you're a fun, energetic and smart problem solver, and fit into one of the categories listed below, take a few minutes to fill out an application and submit a video.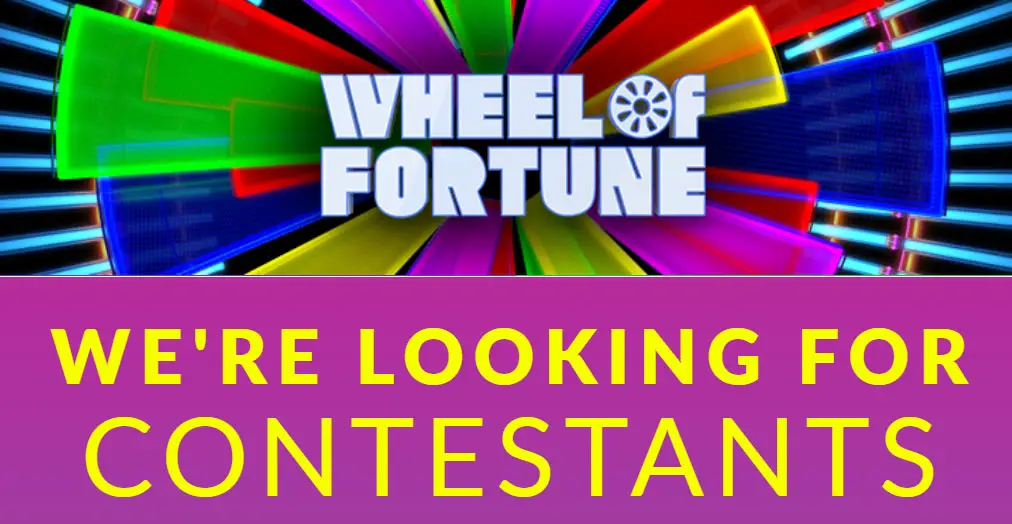 Adults: If you've been solving puzzles from your living room for years, now's the time to step up and show us what you've got.
College Students: If you're an undergraduate college student, it's time to put your problem-solving mind to the test.
Teens: If you're in high school and expect to be voted as "Most likely to buy a vowel," then you're in the right place!
Here are some tips to help you get picked as a Wheel of Fortune Contestant
Try to follow these suggested tips when creating your video
• Smile
• Be natural
• Tell us why you'd be a good contestant
• Tell us something interesting about yourself
• Don't look like you've rolled out of bed
• Don't record it in your office cubicle
• Speak up
• Don't ramble
• Less is more
• Keep your video under one minute
• Choose a place where you can speak up and act natural
• Don't tell us that being on Wheel is on your bucket list
• HAVE FUN!
Click Here to submit your audition video
Wheel of Fortune Contestant Search Guidelines: participants submit personal information that may also include a photo and/or video. Participant must be a legal resident of one of the fifty states of the United States or the District of Columbia and must be 18 years of age (If the age of majority in Participant's jurisdiction is older than 18, then Participant must be the age of majority in that jurisdiction) or older.
Please Note: if an individual is between the ages of 13 and the age of majority in his/her jurisdiction then this submission agreement must be entered into by the Minor's parent or legal guardian. Individuals under the age of 13 cannot participate in this Contestant Search, even with the consent of a parent or legal guardian. 
Participant is not eligible to be a contestant on the Show if Participant works for, or is related to, anyone who works for Sony Pictures Entertainment Inc., Sony Pictures Television Inc., Sony Pictures Television International, CBS Television Distribution Group, Quadra Productions, Inc., game show prize suppliers, Enteractive Solutions Group Inc. or any affiliated television stations or networks