Enter the Hallmark Channel's Very Merry Sweepstakes daily for the chance to win A BRAND NEW CHRYSLER PACIFICA plus a new prize every day!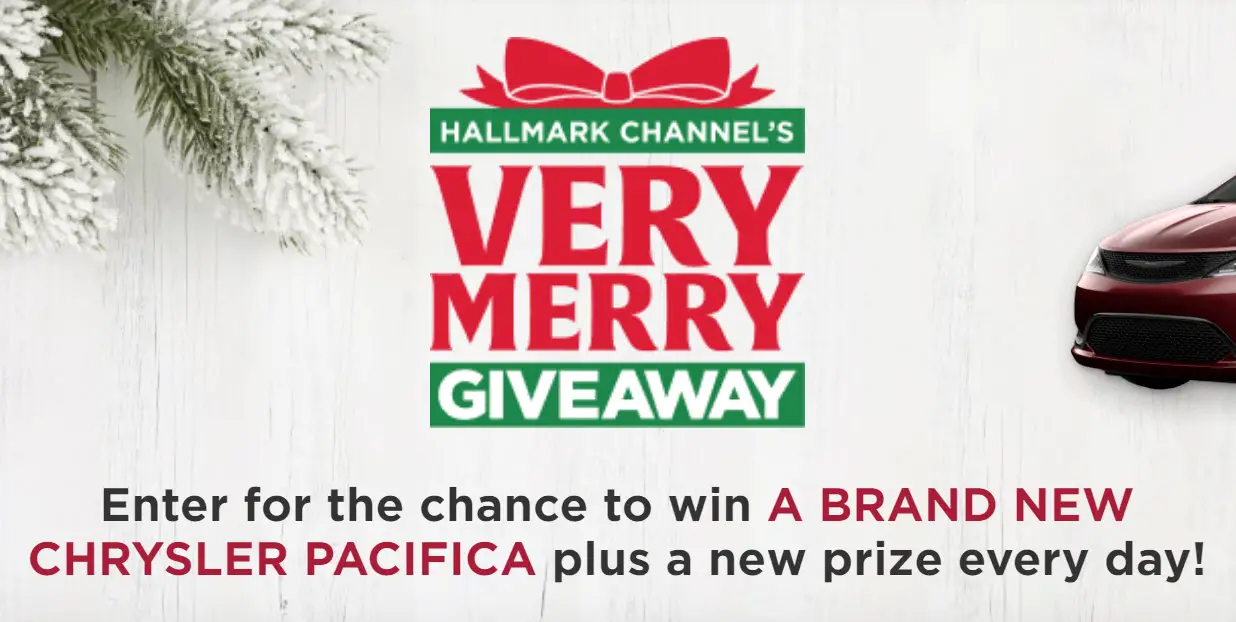 Official Rules: US, 21+. October 24 – December 28, 2019. One entry per person per day.
Any entries received after a particular Today's Entry Period will not be included in the subsequent Today's Prize Sweepstakes drawings, however, all eligible entries for the Today's Prize Sweepstakes will roll over into the Grand Prize Sweepstakes.
Each Day's Entry Period starts at 7:00 am ET on each calendar day during the Master Entry Period and ends at 11:59:59pm ET the same calendar day during the Master Entry Period.
Potential maximum limit for Grand Prize Sweepstakes is one Entry per day, one Pinterest Entry, and one Twitter Entry per day over the course of the Promotion. You must complete an Entry first in order to earn any additional Entries.
Grand Prize (1): $55,000 in credit to be used toward the purchase of one (1) 2020 Chrysler Pacifica Limited vehicle . Grand Prize must be used toward the cost of the Vehicle and any delivery/freight charges, sales tax, title charges related to its delivery to a Vehicle Dealership near Grand Prize Winner's residence. Any remaining unused value of the Grand Prize will be forfeited.
Daily Prizes (320):
Prize 1 October 24 (1) Hallmark Channel Watch Party Gift Set $ 45.97
Prize 2 October 25 (1) Ballard Designs Home Office Craft Station W/Hutch $ 2,199.99
Prize 3 October 26 Free For everyone Hallmark Channel Exclusive Clip
Prize 4 October 27 Free For everyone Hallmark Channel Exclusive Clip
Prize 5 October 28 (10) Hallmark Channel Wine Tumbler 2-pack $ 39.98
Prize 6 October 29 (10) Republic of Tea (2 Flavors) $ 25.00
Prize 7 October 30 (3) Charlie Brown Christmas Merchandise Pack $ 275.00
Prize 8 October 31 (25) Hallmark Movies Now Annual Subscription $ 59.99
Prize 9 November 1 (5) Crayola Kids Basket: Scribble Scrubbie Safari Tub Set, Scribble Scrubbie Peculiar Pets set, & Scrubbie Mega Tub Set $ 85.97
Prize 10 November 2 (5) Bundle CTC Edition $ 35.00
Prize 11 November 3 Free For everyone Hallmark Channel Exclusive Clip
Prize 12 November 4 (2) Hallmark Keepsake Ornament Set of 10 $ 214.66
Prize 13 November 5 (25) SiriusXM Gift Cards $ 50.00
Prize 14 November 6 (1) Adoption Ever After Gift Basket $ 50.00
Prize 15 November 7 (1) Savannah Bee Company Giftset $ 258.25
Prize 16 November 8 (1) Legoland Family four pack of 2-Day LEGOLAND® Resort tickets, plus a one-night stay at a LEGOLAND Hotel $ 1,000.00
Prize 17 November 9 (1) Hallmark Channel Super Fan Gift Set $ 79.97
Prize 18 November 10 (5) Hallmark Channel Movie Bingo & Mugs Set $ 44.97
Prize 19 November 11 (10) Grow Your Own Christmas Tree Jars $ 44.00
Prize 20 November 12 (1) Children's Sleigh $ 199.00
Prize 21 November 13 (1) Crayola Tween/Teens Basket $ 84.96
Prize 22 November 14 (5) Red Beach Cruiser $ 199.99
Prize 23 November 15 (5) Kendra Scott – Vanessa Drop Earrings & Corded Braclet Set $ 126.00
Prize 24 November 16 (5) Hallmark Channel Throw Pillow & Fleece Blanket Set $ 69.98
Prize 25 November 17 (10) Hallmark Card Pack – Featuring 5 cards from Write Before Christmas $ 25.00
Prize 26 November 18 (5) FabFitFun 2019 Winter Box $ 202.00
Prize 27 November 19  (1) Legoland Family four pack of 2-Day LEGOLAND Resort tickets, plus a one-night stay at a LEGOLAND Hotel $ 1,000.00
Prize 28 November 20 (4) Hallmark Channel Grill & Carrying Set $ 150.00
Prize 29 November 21 (5) Hallmark Channel Moscow Mule Gift Set $ 39.95
Prize 30 November 22 (10) Monopoly Games $ 39.99
Prize 31 November 23 (5) Graceland Throw & Snowglobe Set $ 49.98
Prize 32 November 24 (1) Hallmark Publishing- Holiday Book Bundle (12 Books) $ 176.88
Prize 33 November 25 Free For everyone Hallmark Channel Exclusive Clip
Prize 34 November 26 (20) Peppermint Twist Snow Tubes $ 24.99
Prize 35 November 27 (1) Adult Tobboggan $ 199.99
Prize 36 November 28 (5) Popcorn bowl & Air popper set $ 54.94
Prize 37 November 29 (5) Plaza prize giveaway: Unisex Slippers & Ornament $ 110.00
Prize 38 November 30 (1) Lacey Chabert Autographed Giftset $ 64.98
Prize 39 December 1 Free For everyone Hallmark Channel Exclusive Clip
Prize 40 December 2 (5) Cozy Up with Hallmark Channel Gift Set $ 59.97
Prize 41 December 3 (2) Happy the Dog Prize Packs $ 44.97
Prize 42 December 4 (5) Dayspring Baking Giftset $ 122.00
Prize 43 December 5 (10) Hallmark Channel Boat Totes $ 34.00
Prize 44 December 6 (3) Charlie Brown Christmas Merchandise Pack $ 275.00
Prize 45 December 7 Free For everyone Hallmark Channel Exclusive Clip
Prize 46 December 8 (5) Dollywood Gift Basket & Tickets $ 614.69
Prize 47 December 9 (1) The Most Cozy Pentatonix Movie Watching Bundle (PJs, socks & blanket) $ 160.00
Prize 48 December 10 (25) Keepsake Ornament Snowman Mugs $ 12.99
Prize 49 December 11 (5) Drybar Pre-Party Packs/Perfect Blowout Kits $ 199.00
Prize 50 December 12 (1) Legoland Family four pack of 2-Day LEGOLAND® Resort tickets, plus a one-night stay at a LEGOLAND Hotel $ 1,000.00
Prize 51 December 13 (5) Christmas in Evergreen Coffee Mug Sets $ 29.98
Prize 52 December 14 (1) Christmas in Evergreen Merch- Calendar (1x) $ 89.99
Prize 52 December 14 (1) Christmas in Evergreen Merch- Truck (1x) $ 39.99
Prize 53 December 15 (10) Monopoly Games $ 39.99
Prize 54 December 16 (5) HC Ugly Christmas Sweater $ 49.99
Prize 55 December 17 (5) Crayola Adult Basket: Take Note Dry Erase, Dual Tip Highlighter Pens, Felt Tip Pens, 24-Count Perament Markers, Coloring Writing Collection, 14ct Gel Pen, Erasable Highlighters, Signiture Gallery Designer, Lennon & McCartney Coloring Kit $ 142.90
Prize 56 December 18 (2) Hallmark Keepsake Ornament Set of 10 $ 214.66
Prize 57 December 19 (10) Republic of Tea (2 Flavors) $ 59.99
Prize 58 December 20 (5) Kendra Scott – Danielle Open Frame CZ Earrings & Elisa Necklaces $ 128.00
Prize 59 December 21 (2) Hallmark Bell Choir $ 149.99
Prize 60 December 22 Free For everyone Hallmark Channel Exclusive Clip
Prize 61 December 23 (1) Legoland Family four pack of 2-Day LEGOLAND Resort tickets, plus a one-night stay at a LEGOLAND Hotel $ 1,000.00
Prize 62 December 24 (2) Hallmark Cards Gift Wrap Sets $ 250.00
Prize 63 December 25 (2) When Calls the Heart Ornament Set $ 79.96
Prize 64 December 26 (5) Dayspring Throw Pillow Set $ 105.00
Prize 65 December 27 (5) Hallmark Channel T-Shirt & Socks Set $ 39.98
Prize 66 December 28 (1) Hallmark Channel Holiday DVD Bundle (Pack of 12) $ 120.00