Purine ONE is giving away Free True Instinct Pet Food coupons on Facebook. Purina ONE natural dog food and cat food formulas use high-quality ingredients for nutrition that can lead to visible differences in your pet's health.
Sign up for a FREE BAG of Purina ONE True Instinct Dog Food!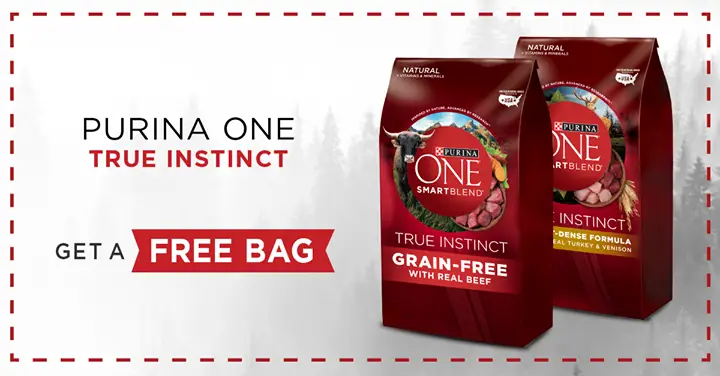 Just visit this post on Facebook, click Get Offer and fill out the form.
One bag per household. Free (Up to $9.99) on 1 bag of Purina ONE Dry Dog or Cat Food. While supplies last, coupon expires 4/1/20. You can expect your coupon by mail in 14-27 days. Check your e-mail for more information
By clicking Submit, you agree to send your info to Purina ONE who agrees to use it according to their privacy policy. Facebook will also use it subject to our Data Policy, including to auto-fill forms for ads.
BONUS COUPON: Take the 28-Day Challenge and get a $3 coupon for Purina ONE. From healthy energy and a shiny coat to bright eyes and strong, healthy teeth and gums, join over 500,000 others who have accepted the Challenge to see a difference in their pet.