Create your Datawallet, invite your friends, and you could win a share of $100,000 cash!
How to Enter: signup with your email, get verified, and get a $2 giftcard (first 2,000 signups).
IMPORTANT!! To be eligible free Amazon gift card (see below) you must use this link https://bit.ly/2TYpIZX so Datawallet knows you came from Sweeties Sweeps (not a referral link, just a tracking link they asked me to use) and sign up with your email address (as opposed to using Google or Facebook) so they can send you the Amazon Gift card.
Note: Only verified contestants are eligible to win a prize. To stay verified you must keep the plugin installed and active for th duration of the contest and do not delete the data from your Datawallet for any of the data sources that you submitted for verification.
How to Earn Points/Entries:
Install the plugin: 500 regular points
Upload your Amazon data: 250 regular points
Verified Status (for installing the plugin and uploading your Amazon data): 250 regular points in addition to the 500 regular points earned by installing the plugin and the 250 regular points earned by uploading your Amazon data
Upload Facebook, Foursquare, or LinkedIn data: 250 regular points per source
Gold Status (for uploading any three of the four data sources, i.e., Amazon, Facebook, Foursquare, and LinkedIn): 500 regular points in addition to 250 regular points earned per individual source
Invite a friend: worth 1 "bonus point" for every 2 regular points that friend earns, provided that the friend becomes a verified contestant (and note—"bonus points" can only be earned on regular points)
The more points you get, the higher up the scoreboard you go and the more likely you are to win a larger share of $100,000 – first prize being $50,000. PLUS The first 2000 people to signup and get verified for our contest get a $2 Amazon Gift card. Once you get verified it'll take about 48 hours to get you your Amazon Gift card.
If a tie occurs: the tie will be resolved in favor of the participant who uploads the most data in to their Datawallet, as defined by the number of megabytes they've uploaded.
Datawallet, as a company, is trying to help you own and control your data that's currently controlled and monetized by companies like Facebook and Google. There's a lot of cool things one can do when all of their data is together in one place they control, but likely most interesting to y'all is the fact we're going to help you sell your data on your terms for real monies!
For a copy of Sponsor's privacy policy please go to datawallet.com/privacy or write to Datawallet, Inc. with offices at 18 West 18th Street, 6th Floor, New York City, NY 10017 Attention: "Privacy Policy."
Prizes: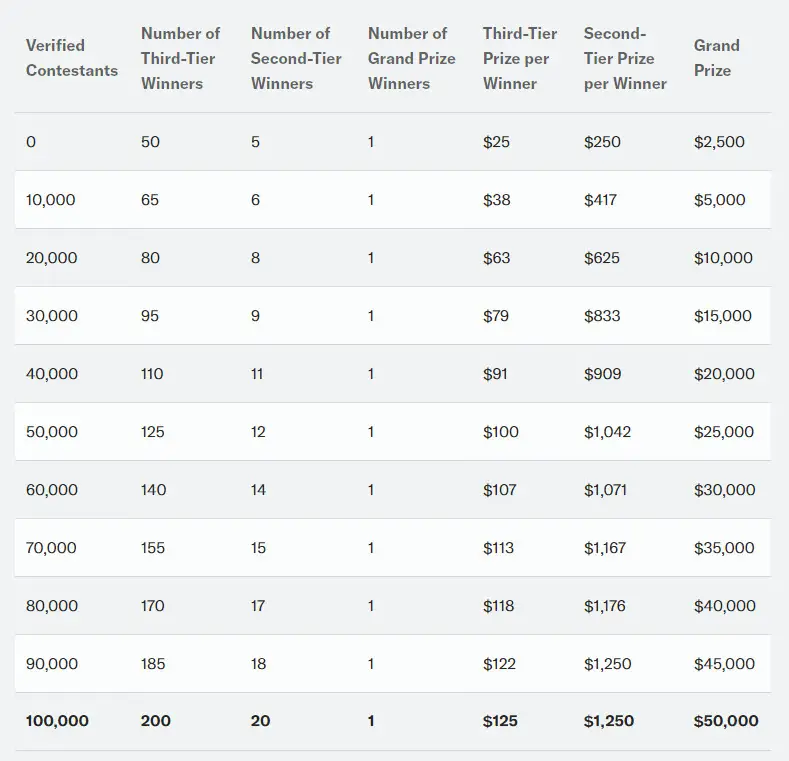 The final value of the cash pool will be determined by April 22nd, 2019, and any estimates of the cash pool shown up to this point may be inaccurate due to causes such as initially counting unverified or non-compliant users.
Winners List: A list of potential prize-winners will be posted on Sponsor's website on or about April 16, 2019 and the final prize-winners will be posted on Sponsor's website on or about April 22, 2019.
Official Rules: US, 18+. January 21 – April 16. One registration per person.