Whenever a Wheel of Fortune contestant land on the Mystery Wedge during the show and flip it over, it  could reveal $10,000. If they solve the puzzle correctly, they WIN and so could you. A SPIN ID will be revealed on screen. If it's yours, you've also won $10,000, just like the contestant! They flip over the wedge, and you "FLIP OUT" over winning.
If you are not a registered Wheel Watchers Club member, you can register by accessing the Website and following the online instructions to join the Wheel Watchers Club.
This Sweepstakes consists of eight individual sweepstakes drawings. Each Individual Sweepstakes has its own registration deadline, Show weeks and login date. See Registration Deadline chart below for the Registration Deadline of each Individual Sweepstakes.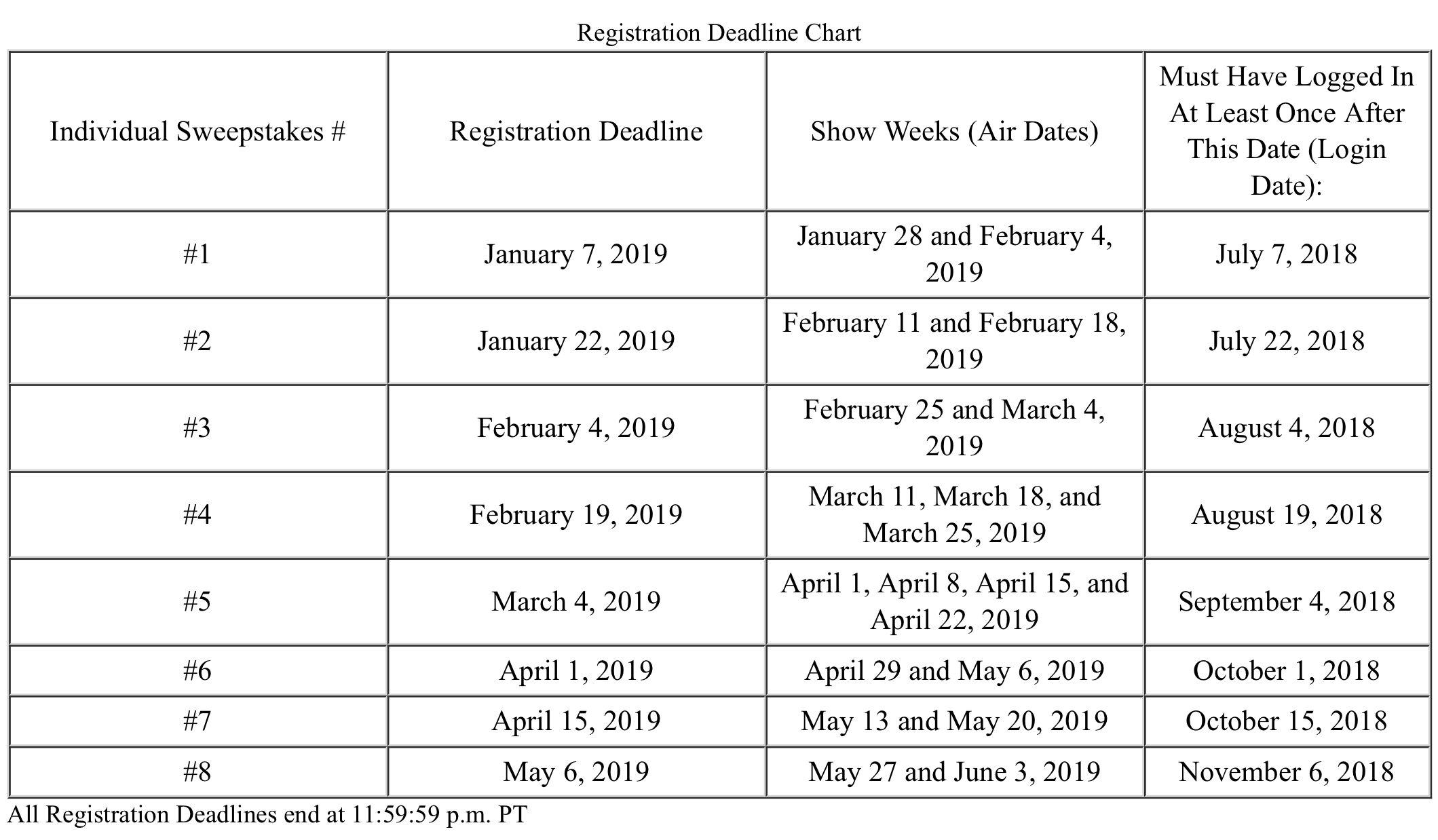 For each Individual Sweepstakes drawing, up to five SPIN ID Numbers for each Show Week (one SPIN ID Number for each day from Monday to Friday only) will be randomly selected from all eligible SPIN ID Numbers at the time of the Registration Deadline for that particular Individual Sweepstakes. Non-winning eligible SPIN ID Numbers from previous drawings will be retained for subsequent drawings and thus, will be automatically registered in subsequent Individual Sweepstakes. All drawings will be held on the day immediately following the respective Registration Deadline (beginning January 7, 2019), by the Sweepstakes.
On each of such Show broadcasts (Monday through Friday only), if during the Mystery Round, the Mystery Wedge is landed on by a Show contestant who then picks up the wedge and is able to solve the current puzzle, the one SPIN ID Number that was randomly selected in the Individual Sweepstakes drawing for that particular Show will be displayed on screen thereafter. If the Mystery Wedge is not landed on, or if the Show contestant does not pick up the wedge or solve the current puzzle then no prize will be awarded for that respective Show and no SPIN ID will be displayed on screen that night.
The registrant associated with a displayed SPIN ID Number is a potential winner and must then confirm his/her SPIN ID Number was displayed by logging in to the Website and following the online instructions to verify whether his/her SPIN ID Number was displayed on the Show. If such registrant does not complete such Online SPIN ID Verification within twenty-four hours of when their respective SPIN ID Number was displayed on the Show or has unsubscribed from Wheel Watchers Club membership at the time the Sweepstakes is played, he/she may be disqualified and forfeit any eligibility for that prize.
Grand Prize (up to 95 – one per show): $10,000 awarded in the form of a check
Official Rules: US, 18+, and who are registered and active Wheel Watchers Club member (free). January 7 – May 6, 2019. One entry per person. Limit one prize per household per thirty (30) day period of the entire Sweepstakes Period.