Test your wits during Applebee's #DollarZombie Dead Giveaway Facebook Livestream 10/17 from 12pm – 7:59pm ET. Be the first to comment with the correct answer to their gravestone riddles and you could win cash prizes every hour, including one $10,000 grand prize!
The DOLLAR ZOMBIE™ is Applebee's Drink of the Month and it's invading Applebee's nationwide. It's a mixture of rum, pineapple, passion fruit, cherry, lime and is garnished with a Vidal® gummi brain. Save one for yourself while there's still time.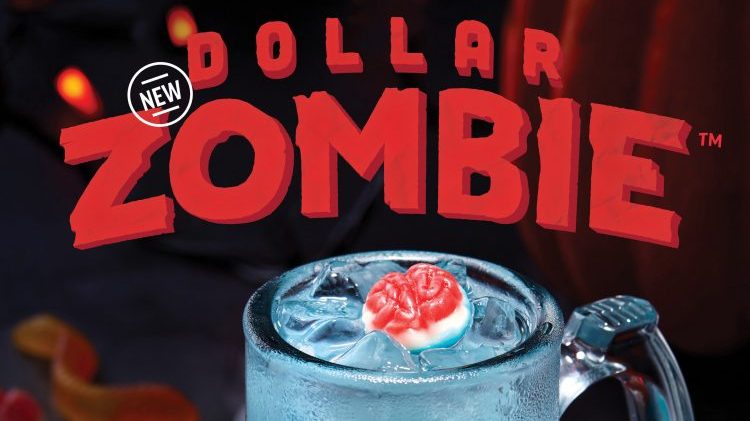 Official Rules: US, 21+. The Contest starts at 12:00 p.m. ET on October 17, 2018 and continues through 7:59 p.m. ET on October 17, 2018.
Applebee's will post a Facebook Live stream in connection with the Contest.
Periodically throughout the Entry Period, Applebee's Live Stream will display a series of riddles relating to the topics of Halloween and/or Applebee's products and services. They will display Riddles periodically during the Entry Period, with the exact time at which each Riddle will be displayed. Appleebee's may, in its discretion, display in the Live Stream hints or clues to aid in solving one or more of the Riddles.
Viewers of the Live Stream who wish to enter the Contest must post their proposed answer to a Riddle in the comment section of the Live Stream on Facebook.
The  eligible entrant who first submits an Answer during the Entry Period that correctly answers the Riddle, and complies with the Submission Guidelines will be the potential winner.
Grand Prize (1): $10,000 awarded in the form of a check
First Prize (7): $500 Gift Card
Second Prize (15): $100 Gift Card
Applebee's will determine in its discretion which prize is associated with each Riddle.