You could WIN a luxurious tennis vacation to a Greater Palm Springs resort from Wheel of Fortune! Perfect your serve, lounge by the pool and enjoy fine dining. Whatever you choose to do, this is a giveaway you'll LOVE! Tune in to Tennis Week on Wheel of Fortune, June 4 through June 8, for your chance to win.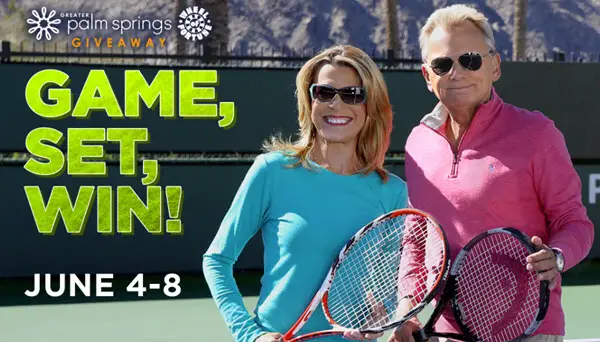 Get the Bonus Wheel of Fortune Round Puzzle Solution on the Code page. Sign for a Free Trail Secret site membership here. Follow @ssshotlist on Twitter for reminders
Click Here to Enter | Official Rules
Official Rules: open to US, 18+. Begins on June 4 and ends on June 8, 2018. One entry per person per day. Non-winning Sweepstakes Entries will NOT be retained for the subsequent daily sweepstakes drawings.
Entrants will receive one online entry into the Sweepstakes if they provide the correct Bonus Round Puzzle Solution from the episode of the Show corresponding to that daily sweepstakes. Bonus Round Puzzle Solution must be correct for that designated episode of the Show to be eligible for the corresponding daily sweepstakes.
Each weekday entry period begins at 3:00:00 p.m. PT and ends at 2:59:59 p.m. PT the following day.
To receive a Bonus Entry without joining the Wheel Watchers Club you must legibly print your Date of Birth, First Name, Last Name, Home Address (no P.O. Boxes), City, State/Province/Territory, Zip/Postal Code and Phone Number (including area code) on a standard sized postcard (no larger than 5" x 7"), enclose it in a postage-paid business size envelope (#10), and mail it to:
Greater Palm Springs Giveaway Bonus Entry – Daily Sweepstakes Date (specify which date you want to be entered)
P.O. Box 11415
Burbank, CA 91510
All information on the AMOE Bonus Entry must be completed in full, must be accurate and must be valid. To be eligible for a particular daily sweepstakes, your AMOE Bonus Entry labeled with that particular daily sweepstakes day must be received no later than June 13, 2018. Limit one AMOE Bonus Entry per mailing envelope and per person per daily sweepstakes. No copies, facsimiles or reproductions of AMOE Bonus Entry will be accepted.
June 4th Prize (1): Round-trip coach-class air transportation from a major gateway airport near each daily sweepstakes prize winner's residence in the fifty states of the U.S. or D.C. or Canada to Palm Springs, CA (daily sweepstakes prize winner is responsible for transportation to the major gateway airport and air transportation may include one or more stops); standard hotel accommodations (single room, double occupancy) for five nights at the Miramonte Indian Wells Resort & Spa; one custom 50 minute massage; one day usage of the Indian Wells Tennis Garden (subject to availability, racquet and ball rental included) and $500 spending cash (awarded in the form of a check made out in daily sweepstakes prize winner's name). ARV:  $3,395
June 5th and, June 7th Prize (2 – one per day): Round-trip coach-class air transportation from a major gateway airport near each daily sweepstakes prize winner's residence in the fifty states of the U.S. or D.C. or Canada to Palm Springs, CA (daily sweepstakes prize winner is responsible for transportation to the major gateway airport and air transportation may include one or more stops); standard hotel accommodations (single room, double occupancy) for five nights at the Omni Rancho Las Palmas Resort & Spa; two hours court time to play tennis (subject to availability, racquet and ball rental included); one private tennis clinic (subject to availability); and $500 spending cash (awarded in the form of a check made out in daily sweepstakes prize winner's name). ARV: $4,005
June 6th Prize (1): Round-trip coach-class air transportation from a major gateway airport near each daily sweepstakes prize winner's residence in the fifty states of the U.S. or D.C. or Canada to Palm Springs, CA (daily sweepstakes prize winner is responsible for transportation to the major gateway airport and air transportation may include one or more stops); standard hotel accommodations in a suite (single room, double occupancy) for five nights at the Renaissance Indian Wells Golf Resort & Spa; Welcome Amenity and Swag Bag consisting of a branded Renaissance Tote bag with branded blanket and spa products; one private pool cabana for one day; one dinner in one of the resort outlets; unlimited access to resort tennis courts (subject to availability, racquet and ball rental included); and $500 spending cash (awarded in the form of a check made out in daily sweepstakes prize winner's name).  ARV:$4,420
June 8th Prize (1): Round-trip coach-class air transportation from a major gateway airport near each daily sweepstakes prize winner's residence in the fifty states of the U.S. or D.C. or Canada to Palm Springs, CA (daily sweepstakes prize winner is responsible for transportation to the major gateway airport and air transportation may include one or more stops); standard hotel accommodations in a suite (single room, double occupancy) for five nights at The Westin Mission Hills Golf Resort & Spa; daily tennis clinics (subject to availability); semi-private tennis lesson (subject to availability), unlimited court time with ball machine (subject to availability, racquet and ball rental included); and $500 spending cash (awarded in the form of a check made out in daily sweepstakes prize winner's name).  ARV: $4,220
Overall Prize (1 – awarded to one of the daily sweepstakes prize winners): One Wheel of Fortune Bathrobe; one Blanket; one Sheldon Bobblehead; one Wheel of Fortune Baseball Cap; one Wheel of Fortune aluminum water bottle; one Wheel of Fortune Travel Mug; one Wheel of Fortune Playing Cards Deck; one Wheel of Fortune Grocery Tote; one Wheel of Fortune Flashlight Key Ring; and one Wheel of Fortune Pen. ARV: $206