Watch "Mike & Molly" weekdays during the Sweepstakes Period and look for the word of the day to enter for your chance to win. The Word of the day must be correct.
Get the Mike & Molly Word of the Day by logging into your Secret site account. Follow @ssshotlist on Twitter for daily reminders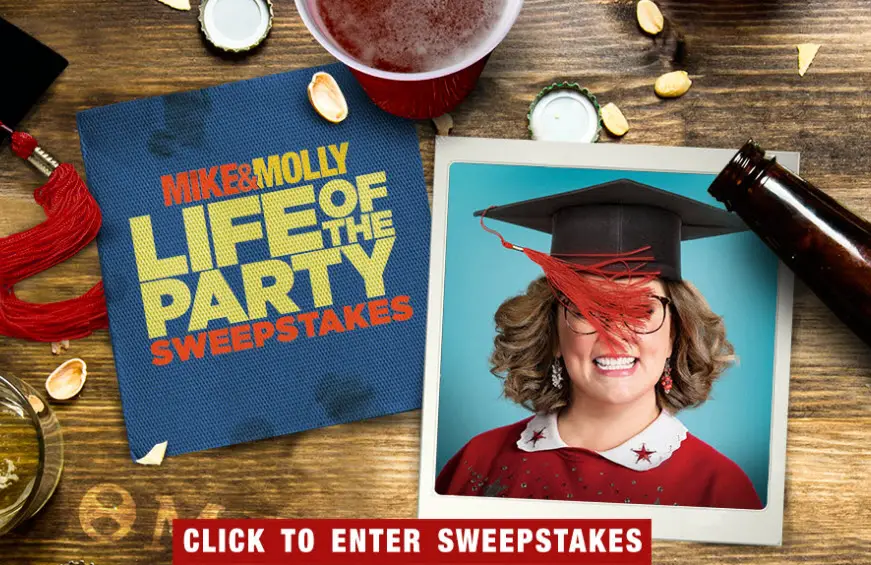 Click Here to Enter | Official Rules
Official Rules: US, 18+, age of majority. Begins on April 9 and ends on April 20, 2018. One entry per person per weekday.
Text: the Word of the Day to 34490
Grand Prize (1): Roundtrip economy class airfare for the Prizewinner and one guest to a U.S. city / location determined by Prizewinner and approved by Sponsor (in the event that the Prizewinner is two hundred miles or less from the determined city / location, Sponsor reserves the right, in its sole discretion, to provide ground transportation in lieu of air travel and/or provide $1,000 which may be awarded as cash, or cash equivalent, or in the form of a gift card to such Prizewinner and the difference in value will not be awarded to the Prizewinner) Standard hotel accommodations in the city / location determined by Prizewinner for three nights for the Prizewinner and one guest (one standard room based on double occupancy) Ground transportation for Prizewinner and one guest to and from the airport in the determined city / location A hometown advanced screening of "Life of the Party" on or around May 3, 2018 (date may be changed by Sponsor in its sole discretion) within 25 miles of the Grand Prize winner's home (if same can be accommodated as determined by Sponsor in its sole discretion) for up to 100 people Tickets are non-transferable and may not be sold, bartered or traded. All other charges, fees, and/or amounts (including but not limited to concession items and travel to the advanced screening) are not included in the Grand Prize "Life of the Party" merchandise for the Grand Prize winner as determined by Sponsor in its sole discretion. ARV: $4,550
National Runner-up Prize (one per weekday): $500 which may be awarded as cash, cash equivalent, or in the form of a gift card, as determined by Sponsor in Sponsor's sole discretion; Two passes to "Life of the Party". Tickets are non-transferable and may not be sold, bartered or traded. "Life of the Party" merchandise as determined by Sponsor in its sole discretion. ARV: $520
Local Market Prize (10 prize winners from each of the 50 Local Markets): Two passes to "Life of the Party" Tickets are non-transferable and may not be sold, bartered or traded. ARV: $20